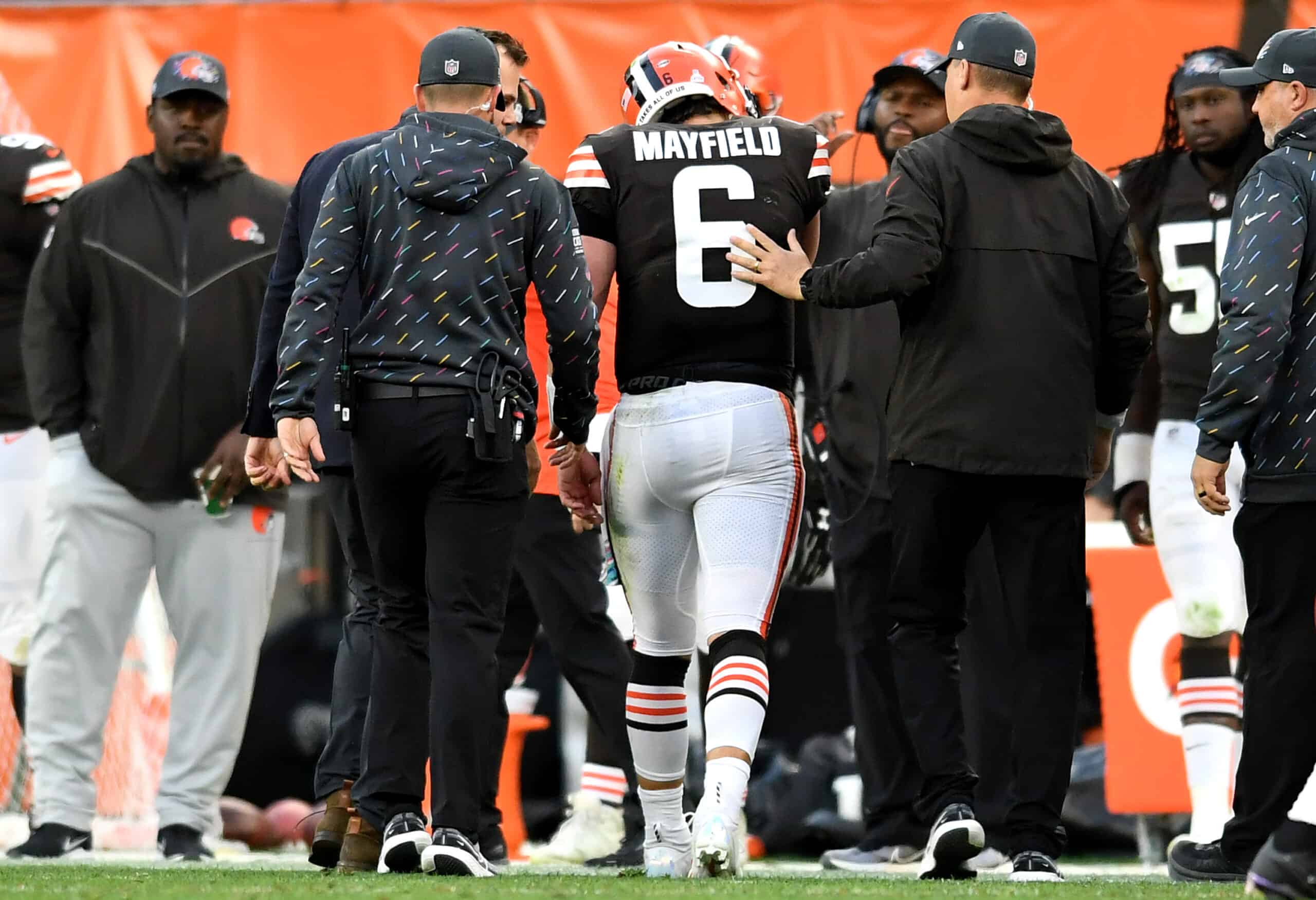 The Cleveland Browns injuries are turning more serious as the season wears on.
Quarterback Baker Mayfield, who suffered a partially torn labrum in his non-throwing shoulder in Week 2, reinjured it in the Week 6 game against the Cardinals.
Though he briefly went into the tent, he came back out and continued to play throughout Sunday's loss to the Cardinals.
After the game, he was spotted wearing a sling.
#Browns QB Baker Mayfield said he thinks he'll be able to play through shoulder injury. He said it dislocated again. His left arm is in a sling. "It feels like s***," he said.

— Nate Ulrich (@ByNateUlrich) October 17, 2021
Mayfield was scheduled for a Monday MRI to further evaluate it.
Mary Kay Cabot is reporting that Mayfield is seeking a second opinion after getting the Monday results.
Mayfield got his MRI with Browns team physicians from University Hospitals.
He is entitled to a second opinion through the NFL PA Collective Bargaining Agreement.
For that second opinion, Mayfield can select his doctor.
Reinjury
Prayers up for Baker Mayfield! Dude is tough as nails, so for him to lay there I know this was painful. #Browns

— Emmanuel Acho (@EmmanuelAcho) October 17, 2021
Mayfield's shoulder slipped out on Sunday after a strip-sack by J.J. Watt.
It is concerning that his shoulder is slipping out of the socket and repeatedly needing to be put back in.
This is happening while he is wearing a protective harness.
Decision Point
The decision of what happens with Mayfield will be dependent upon the doctor's evaluation.
If he is at risk of a more serious injury, it would make sense to sit him and let it heal.
There are 17 games in the season, and we are only approaching Week 7.
Potentially he could be back for a stretch run and a playoff push.
Case Keenum
Keenum will certainly get a lot more first-team reps this week.
He has not played much so the extra work will be beneficial if he plays.
Case Keenum
2 year stats
6 of 13 for 52 yards
He went 1 for 3 Sunday

— ChadP71 6elieve (@chadp71) October 18, 2021
Keenum will be on the field with a banged up offensive line (Wills, Tretter, Conklin), two injured running backs (Chubb, Hunt), and a tight end (Njoku) with a nagging injury.
This is not exactly an ideal situation to walk into.
Because the Browns play on Thursday, a definitive decision about Mayfield will be made in the next day or so.
We will know soon enough who the Browns starting quarterback will be against the Broncos.