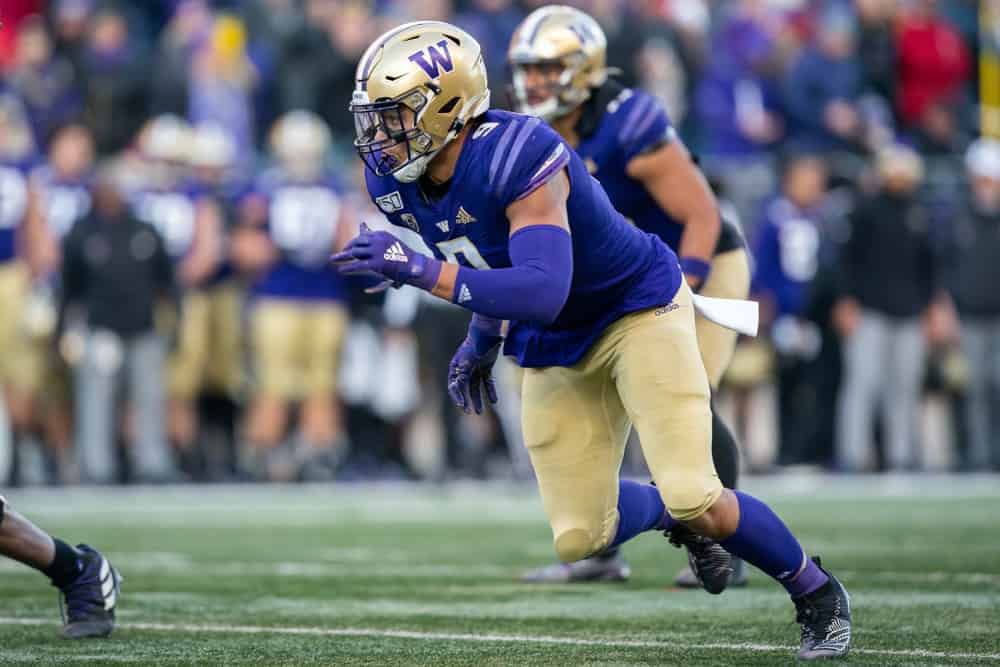 More draft talk, anyone?
With the official start of the new league year still about a week away, rumors and chatter is all there is to run with right now.
For the Cleveland Browns, plenty of attention is on what to do with their first-round pick, the 26th overall selection.
Much of the conversation revolves around defense, defensive end specifically.
Finding someone to line up opposite of Myles Garrett and be a consistent presence would take the Browns defense to the next level.
NFL Network Draft Analyst Daniel Jeremiah would agree.
He believes the team will draft Washington defense end Joe Tryon with the 26th pick.
Joe Tryon is a relentless pass-rusher who is going to make an immediate impact at the next level!

(@joe_tryon) pic.twitter.com/07CKjTjdZZ

— Kyle Yates (@KyleYNFL) March 2, 2021
Would It Be a Good Pick?
Taking Tryon in the first round fills an immediate need for the Browns defense.
They need someone to help Myles get after opposing quarterbacks, and Tryon certainly did plenty of that with the Huskies.
The more I've watched UW Edge, Joe Tryon the more I love his game.

He rushes with a plan! His ability to set up OTs is impressive.

His first step upfield sells the speed rush, his violent hands & motor is the key ingredient to work inside.

— Damian Parson 🏈 (@DP_NFL) March 5, 2021
Due to COVID-19, Tryon opted out of this past college football season.
However, he dominated as a sophomore in 2019. Joe appeared in 13 games, recorded 41 tackles, 12.5 of those in backfield, and tallied eight sacks.
"Setting the edge in the NFL will be no issue for this player," reads Tryon's profile over at thedraftnetwork.com. "He is explosive off the edge and projects with elite upside with pro coaching."
Washington breeds defensive STUDS 🔥

🗣️ @LeviOnw on @joe_tryon pic.twitter.com/iqARb9WZQI

— PFF Draft (@PFF_College) February 19, 2021
The 6'5", 262-pound end becomes even scarier when you focus on his athleticism.
With how talented and fast NFL offenses are anymore, defensive fronts need to be both strong and athletic.
Slow, inflexible guys struggle to find a home anymore.
Tryon provides both the strength and quickness needed from modern defensive ends.
#Patriots draft target: Washington EDGE Joe Tryon. Explosiveness to make plays behind the line of scrimmage and strength/size to set the edge at 6-5, 260 pounds.

Here's Tryon getting his arms extended to set the edge vs Penei Sewell. Gotta imagine Pats take notice of this rep. pic.twitter.com/3CP9ukycV7

— Evan Lazar (@ezlazar) March 1, 2021
NFL Projection
Browsing through clips and conversations about Tryon on social media, some have drawn comparisons to Steelers edge rusher Bud Dupree.
Dupree, who has been on the Browns' radar as a free agent, is exactly the type of player Andrew Berry is looking to bring in next year.
I doubt this front office team has a preference on whether that happens through the draft or through free agency.
What matters is the production of whoever they bring in.
A rookie is, of course, more unproven than a veteran.
This is undoubtedly the case with Tryon and Dupree (or any edge-rushing free agent Cleveland is interested in).
But, taking a chance on Tryon would be a less expensive option and one the coaching staff can groom as they see fit.
Tryon is one of what will be many defensive ends talked about with the Browns as the draft sits just weeks away.
If Cleveland strikes out on getting a partner for Garrett in free agency, the draft is where it will need to happen.
If Tryon is still on the board at 26, I wouldn't be shocked to see Berry take a chance on the former Huskie.