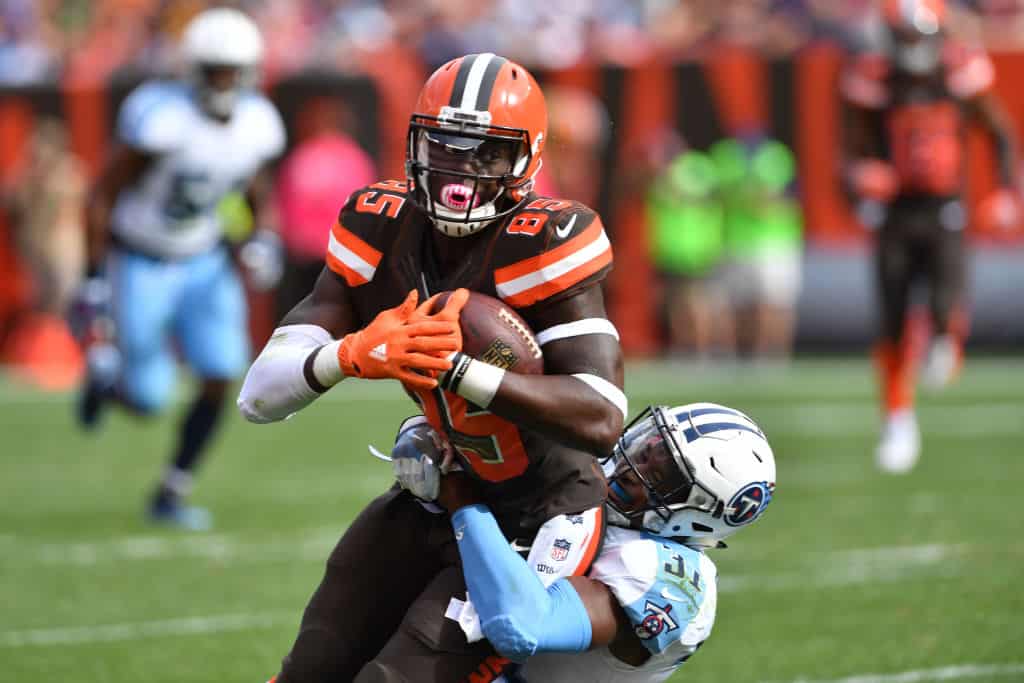 Everyone in the NFL has been shaken by what happened to Damar Hamlin on Monday night.
On Wednesday, Cleveland Browns tight end David Njoku was asked about the situation and shared that he, like all of the rest of us, is praying for Hamlin and his family with the hopes that Hamlin makes a full recovery.
What Njoku Said
Njoku talked about the physicality of the sport and how what happened to Hamlin could happen to any player.
David Njoku says he's praying for #Bills' Damar Hamlin and his family. Njoku acknowledges that an injury like this can happen to anyone and how difficult this is for everyone to suit up and play this weekend. #Browns @fox8news pic.twitter.com/N3kUji2KSN

— John Sabol (@John_Sabol) January 4, 2023
He acknowledged that he does not know Hamlin personally but admits that it affected him deeply.
Njoku said more than once that "it is tough" to deal with this.
Hamlin Is Improving
The best news of the day is that Hamlin appears to be showing small signs of improvement.
GREAT UPDATE! Doctors told the family that Damar Hamlin is headed in the right direction and are confident he will overcome in his recovery.

DETAILS: https://t.co/ywG0uzJNcn pic.twitter.com/2YQnyD0NQC

— Local 12/WKRC-TV (@Local12) January 4, 2023
It is unclear what those specific signs are, but it really does not matter because it feels like the whole country is cheering for him including President Biden.
NEW: President Biden told reporters he has spoken to the parents of Buffalo Bills' Damar Hamlin at length. Hamlin remains hospitalized after cardiac arrest on the field Monday night.

— Kelly O'Donnell (@KellyO) January 4, 2023
Hamlin remains in critical condition at the University of Cincinnati Medical Center.
A statement from the family of Damar Hamlin, via the NFL: pic.twitter.com/8573GKjDt1

— Adam Schefter (@AdamSchefter) January 3, 2023
On Tuesday, the family expressed their gratitude for all of the prayers and well-wishes and also acknowledged the professionalism and heroism of the first responders and healthcare professionals who have cared for Hamlin.
The football world has been unified throughout this horrible and scary ordeal.
Robert Griffin III shared a tweet saying that we should not be focused on the play and his collapse, but we should focus on the unity and compassion that exuded from all the players and coaches, and fans that witnessed it.
Please don't share the video of the Damar Hamlin play. Share this because we are all Praying for him and his family. pic.twitter.com/QnO7DpAo7u

— Robert Griffin III (@RGIII) January 3, 2023
Hopefully, we continue to hear positive reports in the coming days regarding Hamlin's condition.