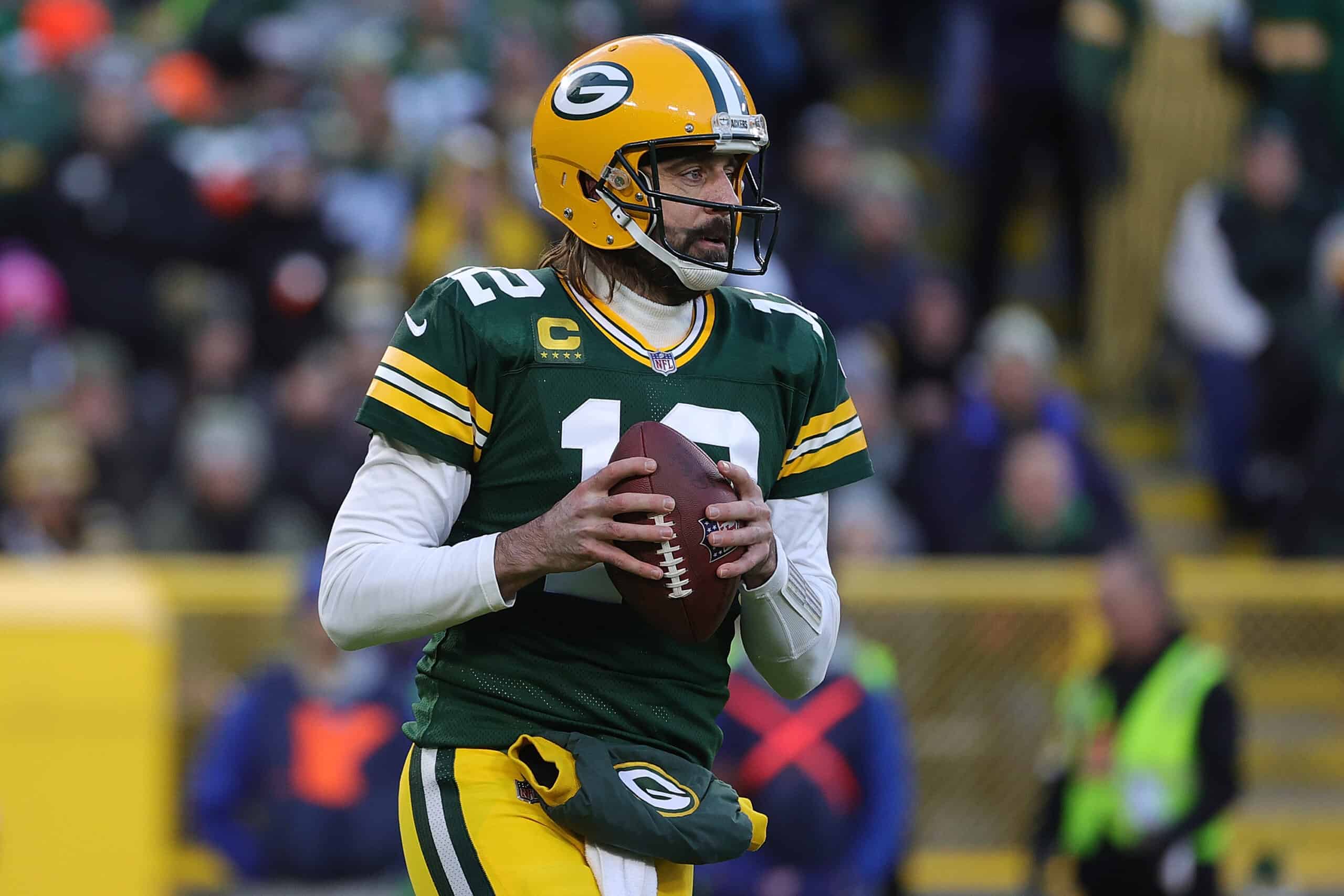 The Cleveland Browns have an imminent decision to make at the quarterback position at the end of the 2021 season.
Will they bring Baker Mayfield back for his fifth year (option already exercised), or will they orchestrate a trade to send Mayfield somewhere to restart his career?
Furthermore, if the 2022 Browns do not have Mayfield as their quarterback, who would assume the position?
It is not a surprise that Browns fans have mixed opinions about this.
Some have suggested future Hall of Famer and current Green Bay Packers quarterback Aaron Rodgers.
How realistic is it to assume Rodgers would join the Browns in 2022?
#browns lets start our campaign right now😁 @AaronRodgers12 pic.twitter.com/FiVROwvnbv

— Money Manziel (@yedoingtingz) November 29, 2021
There is some merit to the idea, but it is purely speculative at this point that the Browns and Packers would ever reach a deal.
Here are a few issues that could impede Rodgers from joining the Browns.
1. The Packers Win The Super Bowl
The Packers are 9-3 and in first place in the NFC North.
Though they have not mathematically clinched the division title, they are very close to doing so after the Minnesota Vikings lost to the Detroit Lions in Week 13.
Minnesota is in second place behind the Packers at 5-7.
The 2020 Packers nearly went to the Super Bowl, narrowly losing the NFC Championship to the Tampa Bay Buccaneers.
They are a good team who has come close to winning before and are playing very well in 2021.
If the Packers win the Super Bowl this season, Rodgers may stick around in Green Bay while setting his sights on back-to-back championships.
Happy 38th Birthday Aaron Rodgers🎂

• 3x NFL MVP
• 9x NFL Pro Bowler
• NFL 2010s All-Decade Leader
• XLV Super Bowl Champion

It cannot be overlooked that Rodgers has played his entire career (17 years) with one franchise – the Green Bay Packers. Happy B-Day 12 #GoPackGo pic.twitter.com/fsYUpqembl

— IKE Packers Podcast (@IKE_Packers) December 2, 2021
2. The Browns Make The Playoffs
This five-game final stretch of the 2021 season is critical for the Browns.
Their playoff aspirations are still possible, but they need to play well and win as many if not all five of those games with great performances from Baker Mayfield.
Ironically, Mayfield and Rodgers face off when their teams meet on Christmas Day at Lambeau Field.
If Mayfield performs well down the stretch, the Browns will be more likely to stick with him for 2022 knowing that he dealt with a lot of adversity and injuries in 2021 but still got the team to the playoffs.
@Browns @bakermayfield
Get the rest the team needs, because after the bye week every game is a must win.
Let's return to the playoffs!!! pic.twitter.com/qZat6BPHld

— Michael Rachubka (@MRachubka) November 30, 2021
3. Orchestrating All Of The Moving Parts
The Browns and Packers would not swap quarterbacks as the Los Angeles Rams and Detroit Lions did for the 2021 season.
Green Bay has Jordan Love waiting in the wings so they presumably do not need a starting quarterback.
That means the Browns would have to work separate deals; one would send Mayfield to a new team.
The other would be a deal with Green Bay to secure Rodgers.
Though the Packers have a potential out with Rodgers' contract in 2022, it seems unlikely that they would let him walk as the Texans did with JJ Watt.
He is too valuable to the Packers.
Conclusion
It is too soon to know if any of this is remotely possible.
I feel Ike a lot of #Browns fans need to hear this… Russell Wilson or Aaron Rodgers aren't coming here lol ever. Just end that pipe dream right now. Sheesh.

— Mike (@big_mike9169) November 29, 2021
There is a segment of the Browns fanbase that doesn't believe it can or will happen.
With a lot of football yet to be played in 2021, we will not know the likelihood of this idea for months.