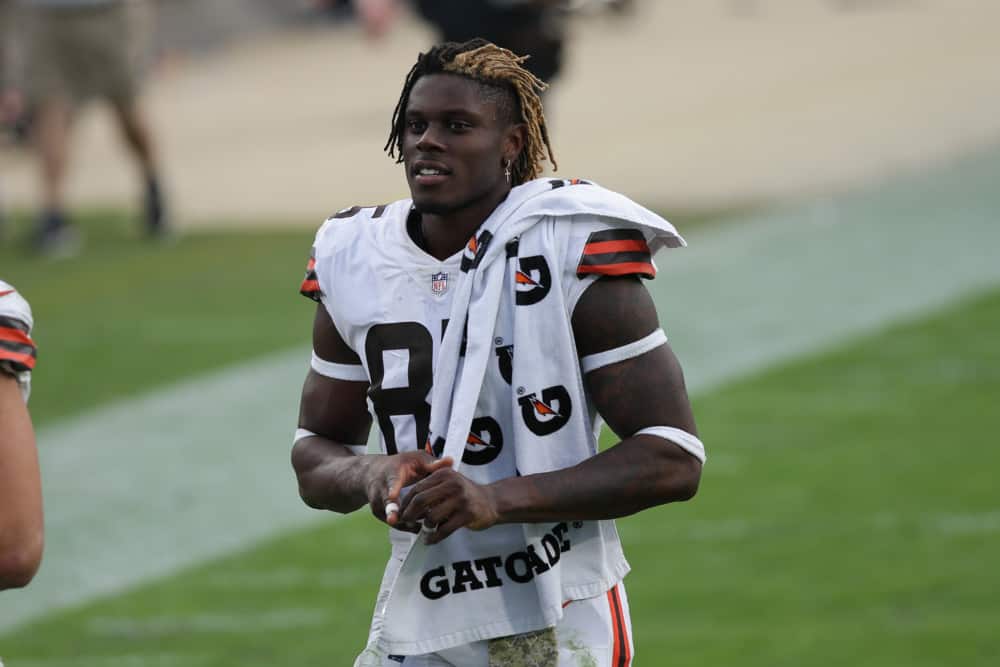 David Njoku's future with the Cleveland Browns was in doubt before this season started.
Andrew Berry made Austin Hooper the highest-paid tight end in football via free agency.
Then he drafted the NCAA Tight End of the Year in Harrison Bryant.
But he also picked up Njoku's fifth-year option, guaranteeing the former first-round draft pick a $6 million salary in 2021.
#Browns Andrew Berry, on picking up the fifth year options of Myles Garrett and David Njoku, says he envisions both being here for years to come.

— Mary Kay Cabot (@MaryKayCabot) February 25, 2020
That wasn't enough to make Njoku's new agent, Drew Rosenhaus, happy with the situation.
Rosenhaus wasn't going to get Hooper-type money for his client someday if he was the second or third option.
And so it was that Njoku asked Berry to trade him to another team.
But Njoku was coming off a down season and carried some baggage regarding blocking and drops.
Maybe Berry couldn't swing an adequate deal or maybe he didn't try very hard.
Handing Njoku Over To The New Staff 
Kevin Stefanski offered his thoughts on Njoku right from the start.
His new offense was designed to use multiple tight ends and Njoku's pass-catching ability was too good to trade away.
As far as the blocking, Stefanski had the guru of blocking on his staff.
#Browns Tight End, David Njoku, has been an instrumental part of the offense this year.

Njoku ranks 1st among #NFL TEs with a Pass Block Grade of 83.8, per @PFF.

As a pass-catcher, 77% of his Receptions have gone for a First Down.

He has a Passer Rating of 125.8 when targeted. pic.twitter.com/zIop9dlxQi

— The Hottest Take Sports Podcast (@Hottest_TakePod) December 22, 2020
Bill Callahan gets credit for working with the guards, centers, and tackles.
But Stefanski knew his prowess would carry over to the tight ends, too.
Njoku's pass blocking became a strength and he currently ranks as PFF's best pass-blocking tight end.
Worries about Njoku's commitment seem unwarranted as he ups his game in 2020.
It also helped he was the lone offensive star in the Browns' Week 1 debacle in Baltimore.
Njoku caught Mayfield's first touchdown pass and also made a spectacular contested catch for a big gain.
Njoku's (or Rosenhaus') Worst Fear Realized? 
Blocking is an important part of a tight end's role.
But it was Austin Hooper's 75 catches and 787 yards in just 13 games that got him paid.
It wasn't just that Njoku would be the second option at his position.
But also Stefanski's history of run-first offenses and relatively low target counts for his tight ends.
I've watched a Kevin Stefanski offense for 13 minutes and already believe that every player on offense should be a tight end.

— Alec Bojalad (@alecbojalad) September 13, 2020
In his last season at Minnesota, Kyle Rudolph and Irv Smith combined for 92 targets and 678 yards.
Njoku had 88 targets and 639 yards by himself during his last full season.
Through 14 games, Njoku has only 20 targets to Hooper's 50 and Bryant's 31.
While games missed to injury play a part, that is not what gets big contract offers for anyone.
It will be interesting to see if Rosenhaus pushes for an offseason trade or takes the fifth year payout.
Njoku Playing a Role in a Playoff Offense 
David Njoku is making the best of his limited opportunities.
Mayfield is comfortable throwing to him, and for good reason.
When targeting Njoku, Mayfield has a 125.8 passer rating, with 10 of Njoku's 13 catches going for first downs.
Besides his pass-blocking grade, Njoku has shown a willingness to engage in run blocking too.
Baker throws a dart to David Njoku for the TD. #Browns take the lead 24-20.

— Everything Cleveland (@EverythingCLE_) October 25, 2020
Nick Chubb and Kareem Hunt don't rattle off chunks of real estate with lightweight blocking from their tight ends.
Cleveland seems destined to be a playoff team this season.
Few saw that coming in the preseason, even with the bevy of stars at the skill positions.
Players like Njoku, accepting their role and excelling at it, make a difference in a playoff run.
And maybe help the Browns do more than just make it to the postseason.