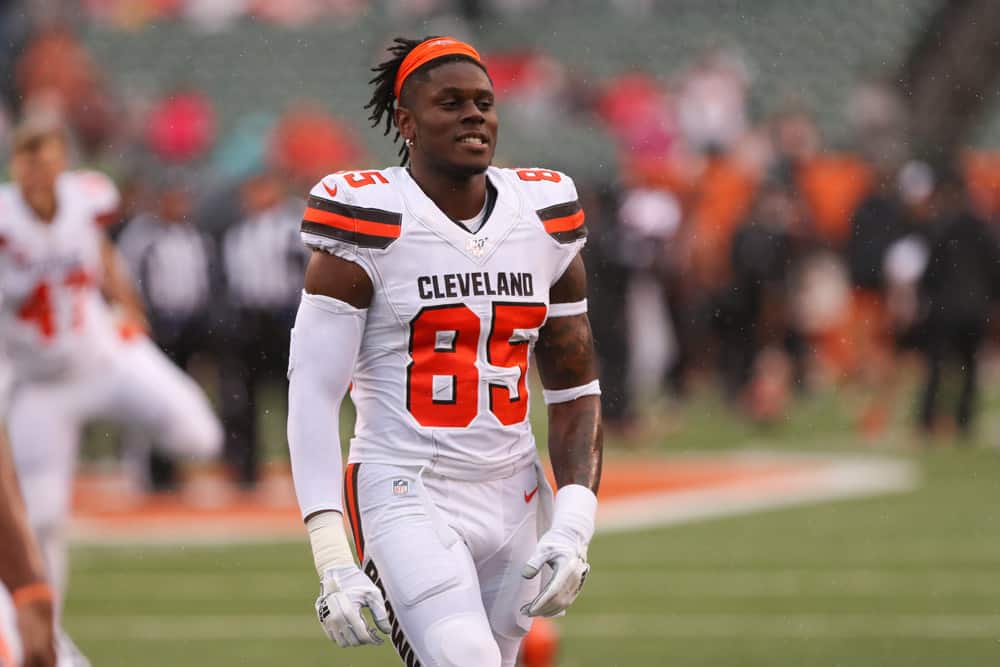 The Cleveland Browns struggled heavily on offense last season, which was a big factor as to why they missed the playoffs.
One of the biggest areas of concern from last season was at the tight end position.
Cleveland added reinforcements with Pro Bowl tight end Austin Hooper during the offseason.
Despite the Browns adding another tight end, David Njoku hopes he'll be able to turn it around next season.
"My No. 1 goal is to stay healthy," Njoku said, via the team's website. "If I can stay healthy, the sky is the limit. It's going to be special. We have all the tools here, and we have a great coach, so we're really excited to put it all together."
Njoku's NFL Career
The Browns selected Njoku with the No. 29 pick during the 2017 NFL Draft.
The expectations were extremely high for Njoku when he first came into the league because of how high he was drafted.
He finished with 32 receptions, 386 receiving yards, and four touchdowns through 16 games (five starts) during his rookie campaign.
Njoku followed that up with 56 receptions, 639 yards, and four touchdowns during 16 games (14 starts) in his sophomore season.
It was a fairly solid beginning to Njoku's career, but that came to a screaming halt last season.
In addition to a concussion, Browns TE David Njoku suffered a wrist injury Monday night that could require surgery, per source. Njoku getting additional medical opinions to find out if surgery is necessary and how long he would be sidelined.

— Adam Schefter (@AdamSchefter) September 18, 2019
He missed almost all of the regular season after suffering a broken wrist and concussion on the same play.
Njoku finished the year with five receptions, 41 yards, and one touchdown through four games.
He looks to put his injury-riddled 2019 campaign behind him and hopefully continue to get better in 2020.
Browns Tight End Depth
The Browns made Hooper the highest-paid tight end in the league this offseason.
Cleveland gave Hooper a four-year deal worth $44 million, so he's going to be a big part of their offense going forward.
Hooper has combined for 146 receptions, 1,447 yards, and 10 touchdowns over the last two seasons.
Although, Hooper is not the only tight end that the Browns decided to bring in this offseason.
With the 115th overall selection in the 2020 NFL Draft, the Cleveland Browns select…

Harrison Bryant, TE, FAU pic.twitter.com/PofELRlw8d

— PFF (@PFF) April 25, 2020
The Browns decided to take Florida Atlantic tight end Harrison Bryant in the fourth round of the 2020 NFL Draft.
He hauled in 65 receptions, 1,004 yards, and seven touchdowns through 13 games during his senior campaign.
Bryant is expected to compete with Njoku for the second tight end spot during camp.
Can Njoku Turn it Around in 2020?
The Browns hired former Minnesota Vikings offensive coordinator Kevin Stefanski as their new head coach this offseason.
He favors multiple tight end sets, which is likely why the Browns stacked up at the tight end position.
Browns offensive coordinator Alex Van Pelt mentioned that the organization already plans to heavily utilize the tight end spot this season.
Van Pelt also said that Njoku has an ability to get out in space create matchup issues for the opposing defense.
DAVID NJOKU'S GOT WHEELS! 👀 pic.twitter.com/5WSOOLvKW4

— Cleveland Browns (@Browns) December 23, 2018
The Browns obviously have a plan to use Njoku since they already accepted his fifth-year player option for the 2021 season.
It's not outrageous to believe that Njoku can bounce back, assuming he's able to stay healthy next season.
He most likely won't see as big of a workload as he did in previous seasons since the Browns have more depth at the tight end spot now.
It's unlikely that Njoku ever progresses into a superstar tight end, but he could very well become a reliable option for the Browns going forward.