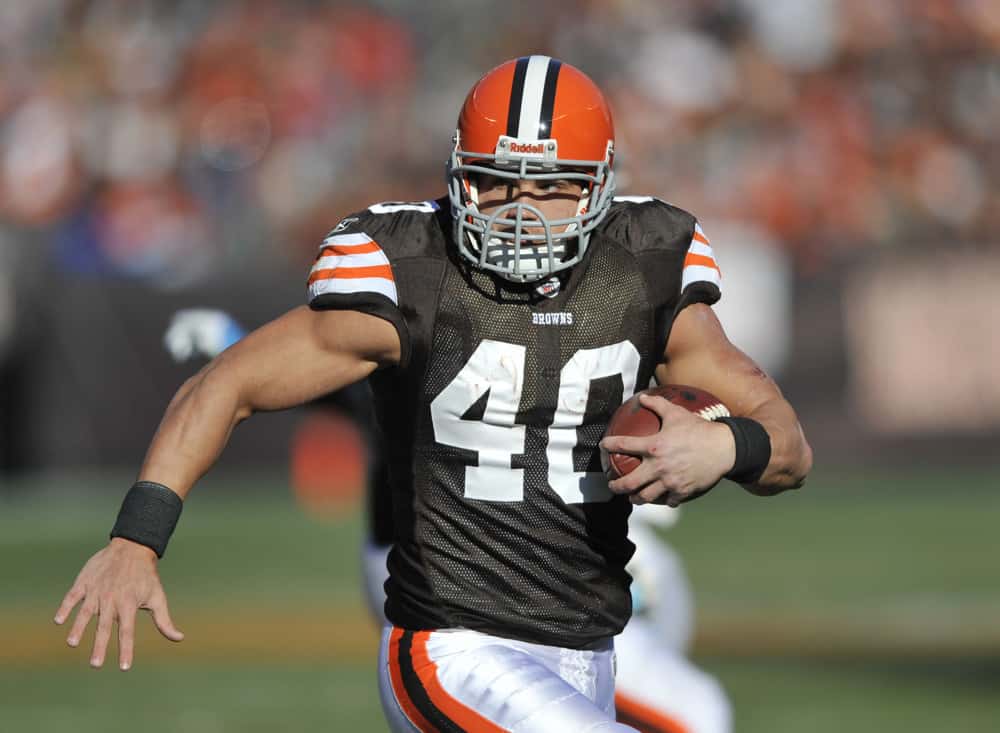 A former Cleveland Browns running back wishes he never would have left the city.
Peyton Hillis expressed some regrets about his seven-year NFL career during a Monday appearance on 92.3 The Fan's "Bull and Fox" show.
"I wish I would've retired in Cleveland," Hillis said. "I wish that I could've played there for 10 more years because I mean honestly, even my wife said, 'We loved our time in Cleveland more than we loved anywhere else, even in Arkansas.' I mean we just enjoyed Cleveland, and every time we go back, we try to find an excuse to go back to Cleveland, all the time, even to this day.

"There's a lot of things I wish I had done differently, not just for me but for the fans also," Hillis said. "I was young and stupid. What can I say?"
It includes when Hillis decided not to play in Week 3 of the 2011 season against the Miami Dolphins because he had strep throat.
"I probably should've played through that even though I did have it and the head trainer did send me home without any choice of my own," Hillis said. "By the time I got home, [Mike] Holmgren called me and [said], 'where you at?' And, I told him what happened, so I think that was even a miscommunication.

"But at that point, it was something I was more of a 'yes man' and I just obeyed, and so I just did it and then it looked bad upon me on the later end and I see that. Yeah, I wish I would've played. There's no doubt about it, and if I could go back and do it differently, I would."
Hillis also discussed what his contract negotiations were like behind the scenes when his rookie contract expired at the end of the 2011 season.
"I really did feel like the fans had a misrepresentation of what was really going on," Hillis said. "To me, I don't know how news is getting out or how things were being said, but it wasn't [anything] to what they said it was. And, they would say they were offering me contracts that they weren't and that I was denying them, which they didn't even ask me about any contracts since that was in the lockout year and you couldn't even negotiate contracts for the longest period of time.

"Cleveland is very lucky to have a lot of those guys out of there because I just don't like a liar. It was one of those situations where I think they knew I wanted to be in Cleveland and so they would tell me one thing and tell the news a different thing, and so it was just confusing and I don't know really where it all went bad. It was just a terrible situation."
At the time, Tom Heckert was the Browns' general manager.
The Browns fired Heckert in December 2012.
In 2012, Hillis wound up signing a one-year, $2.8 million deal with the Kansas City Chiefs.
Before retiring, Hillis played for the Tampa Bay Buccaneers in 2013 and for the New York Giants from 2013-2014.
Despite some of Hillis' regrets, he reflected on his first season with the Browns in 2010, when he ran for 1,177 yards and had 13 total touchdowns.
It led to Hillis getting selected as the cover boy for the "Madden NFL 12" video game.
"When it first started out, they said it was going to be [a] face-off, fan voting, but I didn't really believe 'em," Hillis said. "I thought that they're going to try to trick it any way they wanted to towards their favor, and that's the way I looked at it.

"But every week, when I was winning every week, I was thinking, 'Wow, this may be legit. The fans are actually doing this for me,' and once I finally understood that it was actually was the fans doing it, I was so proud that Cleveland thought so [highly] of me and its fans. And, it was a surreal moment where I took it all in and I was so proud, not for myself but it seemed like it was a win-win for me and the fans to where we can give something back to Cleveland."
Hillis is starting a Cleveland sports podcast called "Movin the Chains" with Keith Migra.
The first episode is due out on Tuesday night.
"I wish I would've made some different decisions in my career because I think that it would have led to different outcomes, but overall, I believe that I had a great career from especially how everything started out," Hillis said. "I think that it was great, so I'm very blessed and very lucky."
Every Tuesday from 7:30pm-8:30pm EST. https://t.co/KlQ04uX6TR pic.twitter.com/bqb8nZMu3S

— Peyton Hillis (@thepeytonhillis) June 6, 2020