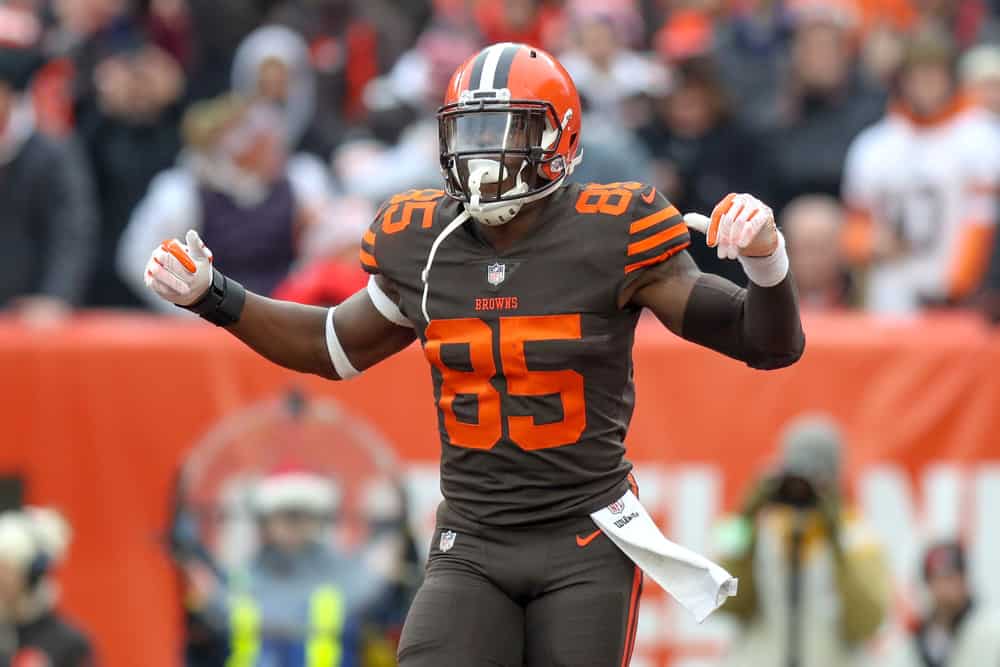 The Cleveland Browns have made some major improvements throughout the offseason.
One of the biggest additions was signing Pro Bowl tight end Austin Hooper.
He is expected to be the main option at tight end during the 2020 season.
Former first-round pick tight end David Njoku is still on the roster, but will battle for playing time.
However, Browns offensive coordinator Alex Van Pelt believes Njoku can have a bounce back year in 2020.
He spoke about Njoku during a recent Zoom meeting.
#Browns OC Alex Van Pelt said TE David Njoku has been great during meetings. Expects him to bounce back after down year.

— Scott Petrak ct (@ScottPetrak) June 3, 2020
The 23-year-old does have plenty of potential, but is coming off a rough 2019 campaign.
Is it too late for Njoku or can he have a bounce-back year this upcoming season?
Njoku's Career
The Browns selected Njoku with the No. 29 overall pick during the 2017 NFL Draft.
He came into the league with high expectations and has not quite lived up to them yet.
Njoku hauled in 32 receptions, 386 receiving yards, and four touchdowns through 16 games during his rookie campaign.
He followed that up with 56 receptions, 639 receiving yards, and four touchdowns in 16 games (14 starts) in 2018.
Sadly, the 2019 season went poorly for Njoku, but it wasn't all his fault.
In addition to a concussion, Browns TE David Njoku suffered a wrist injury Monday night that could require surgery, per source. Njoku getting additional medical opinions to find out if surgery is necessary and how long he would be sidelined.

— Adam Schefter (@AdamSchefter) September 18, 2019
He suffered a broken wrist and a concussion during the same game that sidelined him for most of the regular season.
Njoku hauled in five receptions, 41 receiving yards, and one touchdown through four games last season.
It appears the Browns still believe in Njoku since they did pick up his fifth-year player option for the 2021 campaign.
Cleveland did add some depth over the offseason, so Njoku will need to prove he belongs after an injury-riddled season in 2019.
Browns Tight End Depth
The Browns struggled to find much consistency at the tight end position last season.
Once Njoku went down, Cleveland was forced to use mediocre options and it cost them.
However, Cleveland wasted little time this offseason adding depth at the tight end spot.
They brought in a two-time Pro Bowl tight end in Hooper who is going to give the Browns offense a huge lift.
The Browns have signed TE Austin Hooper to a 4 year $44 Million contract. pic.twitter.com/nJ3xVhPTxf

— Everything Cleveland (@EverythingCLE_) March 16, 2020
The Browns made Hooper the highest-paid tight end in the league this offseason.
He recorded 75 receptions, 787 receiving yards, and six touchdowns through 13 games last season.
The organization also added Florida Atlantic tight end Harrison Bryant during the 2020 NFL Draft.
He hauled in 65 receptions, 1,004 yards, and seven touchdowns through 13 games his senior year.
Cleveland is much stronger at the tight end spot than they were a season ago.
Can Njoku Be Successful in 2020?
Last season, everything seemed to fall apart for Njoku and it wasn't all his fault.
He won't be asked to carry as heavy of a load with Hooper on the roster now.
Njoku is expected to battle with first-year rookie Bryant during camp and throughout the preseason.
The Browns clearly have a plan to use Njoku is their offense otherwise it wouldn't make sense for them to accept his player option for next season.
It's unlikely that Njoku lives up to the expectations of being a first-round selection.
However, he has shown that he can be a reliable option as a starter in the NFL.
Browns fan shouldn't expect Njoku to be a Pro Bowl caliber player, but he could very well bounce back in 2020, assuming he stays healthy.