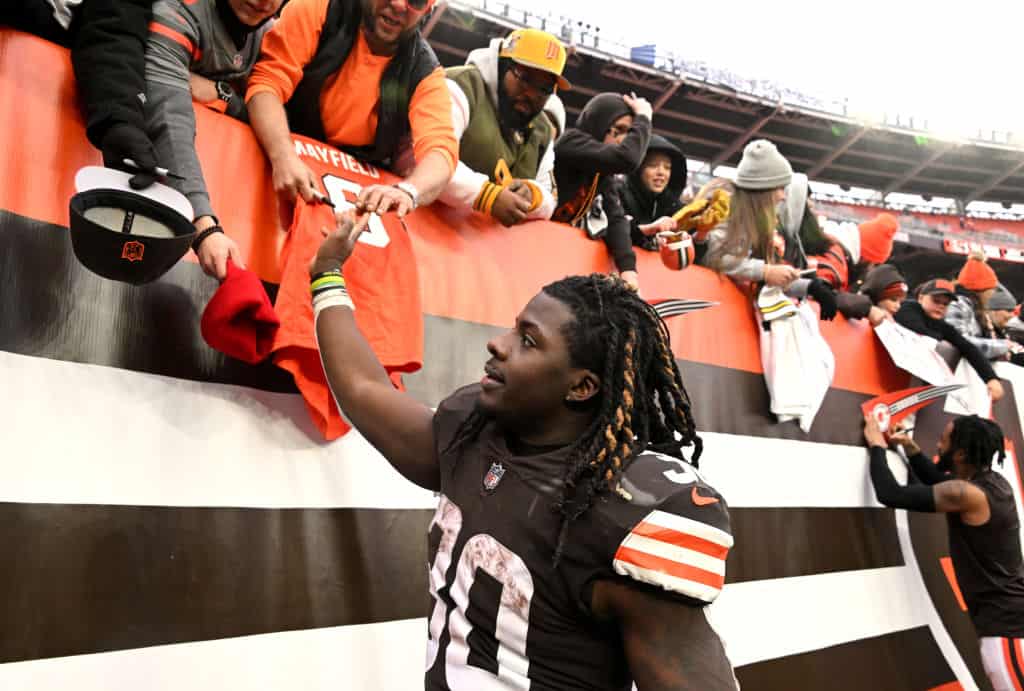 Cleveland Browns fans know that running back D'Ernest Johnson was one of the best stories of the 2021 NFL season.
He worked long and hard to get his chance to compete in the NFL hence earning the nickname "Slow Grind".
Johnson's journey was spotlighted on the fourth hour of the Today Show on Friday morning with Hoda Kotb and Jenna Bush Hager.
Persistence Paid Off
Johnson credited his faith and support system for giving him the perseverance to continue.
His story has been heard by legions of Browns fans and spotlighted on Building the Browns, Episode 10, appropriately called "Trust the Process".
Johnson begged for tryouts and never gave up even as doors kept closing on him.
He earned a living as a fisherman in Florida while he was waiting for his football opportunity to crystallize.
Such a good episode of Building the #Browns. @DernestJohnson2 is such a easy guy to root for. He's becoming one of my favorite players and people. https://t.co/95rgfanwbc

— Mark (34-21) (@ItsReallyMarkCM) November 13, 2021
Today Show Surprise
Kotb and Bush Hager surprised Johnson with a video of players from his high school.
Johnson's journey has inspired them to continue pursuing their dreams.
Fisherman turned NFL star @DernestJohnson2 joins us to talk about his journey to the NFL and gets an emotional surprise from his high school. pic.twitter.com/e3sf8USMv6

— TODAY with Hoda & Jenna (@HodaAndJenna) February 11, 2022
At the end of the video, Johnson's brother Tshumbi speaks about him.
Grateful For His Aunt
Johnson also takes every opportunity to thank his aunt for all that she did to make him who he is today.
He lived with his aunt as a child and she was an influential and loving person in his life.
.@DernestJohnson2 just talked about his aunt on @TODAYshow. Here's their story: 'Smile, smile, smile': Aunt who raised #Browns' D'Ernest Johnson still running alongside a Pop Warner fence https://t.co/H3v7hmnTo7 via @beaconjournal

— Marla Ridenour (@MRidenourABJ) February 11, 2022
Johnson's Future With The Browns
Of course, this topic did not come up on this morning's episode of Today.
Fans love Slow Grind and hope he remains with the Browns in 2022 and beyond.
He just completed his third season on a three-year deal with the team.
Johnson was steady when called upon in 2021 to carry the load.
If the Browns do not re-sign him, he has certainly earned his NFL opportunity and will be a member of a team next year.
This is just one of many difficult roster decisions the Browns need to make in the offseason.