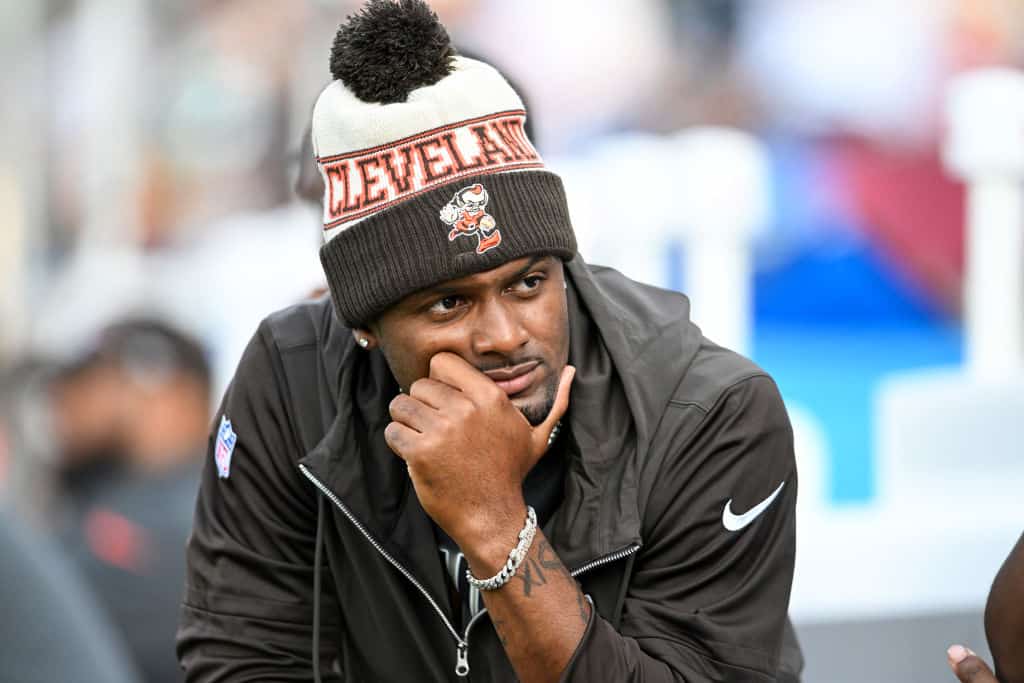 Deshaun Watson's shoulder is getting a lot of attention from the Cleveland Browns beat writers and fans.
So is his habit of running into the defense without sliding over most of his career.
But he told Mark Kay Cabot that he's okay and expects to face the Baltimore Ravens.
Talked to Deshaun Watson (shoulder) in the locker room for a sec. He didn't want to elaborate but said he's okay and expects to face the #Ravens

— Mary Kay Cabot (@MaryKayCabot) September 29, 2023
Watson offered some insight to reporters about how he's played through injury in the past.
Cleveland's franchise quarterback missed one game during his three years as a starter in Houston.
But it remains to be seen if the Browns coaches and medical staff let him play this weekend.
Watson famously played a week after suffering a bruised lung and fractured ribs.
At the time, he was told he could not fly due to concerns about air pressure affecting his breathing.
So he drove to Jacksonville, started, and won the game against the Jaguars.
#Browns Deshaun Watson at practice today. Light work for the QB in the open portion as he continues taking it easy on the throwing shoulder that got banged up last week.

Nothing substantial on Watson's shoulder, just an arm sleeve and what appears to be some kinesiology tape. pic.twitter.com/V0ivaGbj2f

— Camryn Justice (@camijustice) September 29, 2023
In a different game, he completed a touchdown pass while bleeding profusely from a cut above his eye.
Watson was able to break a tackle and shrug off the hand that got into his facemask and continue the play.
And it seems unlikely a "banged up" shoulder will keep him out of a division game this time.
That doesn't mean the Browns aren't preparing for the worst scenario.
Rookie Dorian Thompson-Robinson says he is ready if called upon.
Although he dismissed any rumors of special preparation for Sunday.
#Browns QB Deshaun Watson is officially being listed as questionable with a shoulder injury that has limited him in practice this week.

— Ian Rapoport (@RapSheet) September 29, 2023
And Myles Garrett told reporters the defense will kick it up another notch if Watson needs to sit it out.
One big clue could come later today when the team announces practice squad call-ups.
If P.J. Walker is not active, it can only mean the Browns are confident about Watson's availability.