The Cleveland Browns 2019 football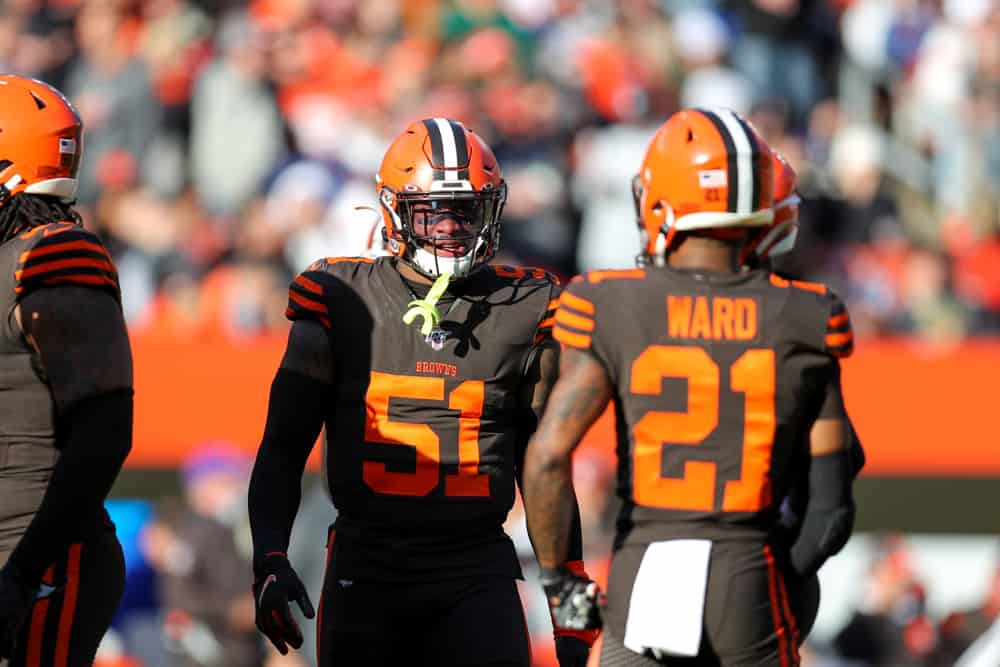 This season has been a colossal disappointment.
You know it, the Browns know it, everyone knows it.
There's no point now going back through all the misery fans have faced the last 3 or 4 months.
So, let's take a look at something that is going right for this team.
John Dorsey and the personnel staff in Berea are doing a heck of a job drafting players.
There's an argument to be made that he messed up the offensive line and is therefore partially responsible for the stunted development of Baker Mayfield, however on draft day Dorsey is getting it right.
John Dorsey has been responsible for 2 drafts in Cleveland, after taking over for former City of Jacksonville Housing Authority board member Sashi Brown.
The proof of his successes is in the depth chart.
A quick scan of the posted depth chart for the final week of the season shows 5 rookies currently starting and another 4 second-year players starting.
9 players out of 28 positions, including special teams positions such as long snapper and holder, etc., have entered the league in the last two seasons.
That's a pretty substantial number, considering the talent that lies on the roster in other positions.
This should tell Browns fans multiple things.
The first thing it tells Browns fans is that the organization is building something organic from the ground up and through the draft.
The Browns are not an organization or a brand that can afford to build solely through free agency.
With some exceptions (Jarvis Landry) most high-quality free agents aren't willing to come to Cleveland unless the offer is far and above what anyone else is offering.
Two decades of the worst football in the NFL will do that to you.
That leaves the Browns with essentially one option, build through the draft.
For much of the last two decades the Browns have tried this, but with virtually no success.
How many of those number 1 overall picks have been any good?
How many of the Browns' first-round picks have been any good?
While there are the intermittent success stories of Joe Thomas and Joe Haden, most of the Browns' first-round picks have been incredible failures.
Remember Courtney Brown, Trent Richardson, and Corey Coleman?
Mike Holmgren was so hot for Trent Richardson he traded the Browns' 4th, 5th and 7th-round picks to move up from No. 4 to No. 3 to draft him

— Michael David Smith (@MichaelDavSmith) March 12, 2015
John Dorsey appears to be turning that record around.
2018's draft class racked up Pro Bowler's Denzel Ward, Pro Bowler and likely rushing champ Nick Chubb, and of course, the talented Baker Mayfield.
This year's class includes stud linebacker Mack Wilson, who improves every week he plays, and the reliable and accurate kicker, Austin Seibert.
Also included in this rookie class is the undrafted punter, Jamie "The Scottish Hammer" Gillian, who has been terrific.
The other thing Browns fans should take from rookies or "sophomores" on starting in 9 positions is that growing pains should be expected.
Sure, those 9 1st or 2nd-year players are very talented, but young players are notoriously inconsistent.
So, when you're relying heavily on them, you're bound to hit some bumps along the way.
It should be no surprise then, that the Browns have looked great in some games this season, and dreadful in others.
This is a team that destroyed the Ravens in Baltimore and also capitulate to the hapless Arizona Cardinals.
This is a young team that is still trying to figure it out.
Fans should have known better than to buy into the hype surrounding this team.
Remember, this is a team that is just 2 seasons removed from going winless.
How were they supposed to make it to the Super Bowl so soon?
To pencil Baker and co. into February football just because they picked up Odell Beckham Jr?
We were all naïve.
The New York Giants have just agreed to trade Odell Beckham Jr. to the Cleveland Browns.

The trade signals that the Browns are legitimate contenders for a playoff, maybe even a Super Bowl. (Yes, we just said Super Bowl and Browns in the same sentence.)https://t.co/25Fc42c63H

— FiveThirtyEight (@FiveThirtyEight) March 13, 2019
However, Browns fans should be hopeful because what John Dorsey and the rest of the Browns front office staff are building is going to lead to success, but it just takes time.
The Browns have a chance on Sunday to win 7 games in back to back seasons for the first time since 01-02.
That's pretty great, considering the last 5 years of epic Browns futility.
Browns fans, you have a right to be disappointed with the way this season has played out, but take heart, the future is bright.