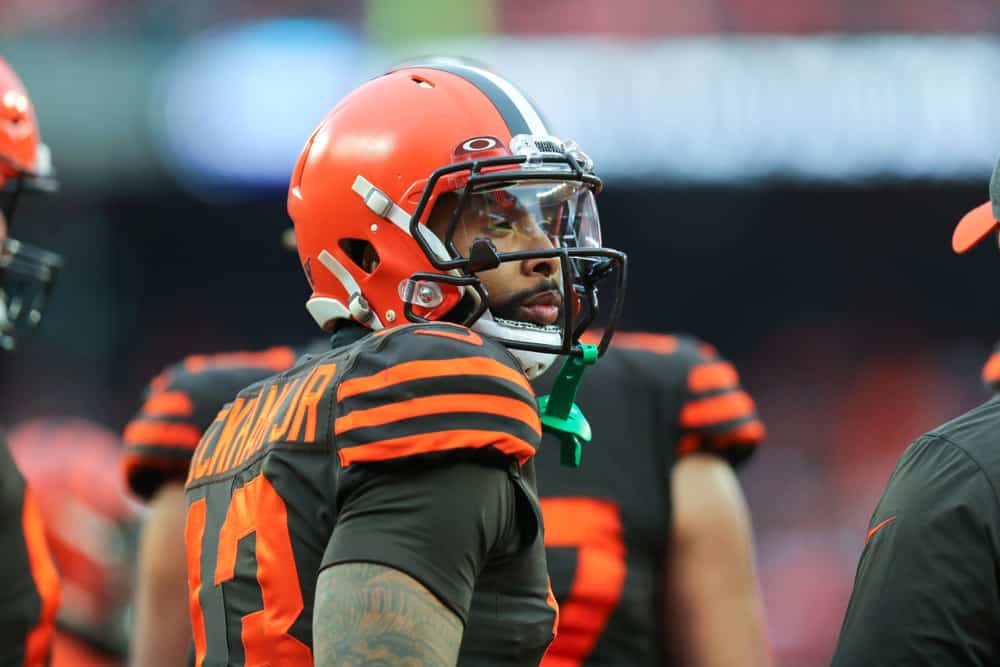 Maybe it is because Cleveland Browns fans have settled their differences about Baker Mayfield.
Or perhaps we were tired of debating Jadeveon Clowney's value to the Browns.
But for some reason, Monday morning sports radio and social media turned their attention to Odell Beckham Jr.
Are the Browns looking to trade Odell Beckham Jr.? https://t.co/lEJqIdm4lg pic.twitter.com/E79TbQHAoi

— TSD NFL (@TSD__NFL) April 11, 2021
Specifically, whether or not Andrew Berry will trade OBJ before this month's NFL draft.
Odell Beckham trade rumors are not new, and they are likely to persist right up until his retirement.
But after a recent lull in the conversation, they emerged with renewed splendor, thanks to Mary Kay Cabot.
Cleveland.com's Browns reporter made a fairly un-newsworthy statement to WKRK radio this weekend.
"I don't think that there will be a trade partner for him out there. I think he's going to be on the team this season," she said. "But I would also say…  if someone did come and make an offer to the Browns for Odell, I still think that they would listen to it. I don't think they're 100 percent locked into having to have him on the team this year."
So, Mary Kay says no other team wants OBJ, so he'll play for the Browns… unless someone makes an offer.
In which case, Andrew Berry will listen to the offer, because she doesn't think they're committed to Beckham.
Let's Start With MKC's Comment
In Cabot's defense, she was asked a specific question and did not offer her comment unsolicited.
But she still hedges a lot of bets to assure she can save face regardless of the outcome.
Her assertion that no team wants Odell Beckham Jr is only correct with a caveat.
Teams might not want to trade for Beckham at his current contract price coming off a serious injury.
The Browns will listen to trade offers for Odell Beckham Jr. – Dianna Russini | Get Up https://t.co/hTNwIBlmdh

— The Chestnut Post (@TheChestnutPost) April 12, 2021
But despite public conversation, you won't find any NFL players or coaches who wouldn't want OBJ on their team.
As far as saying Andrew Berry would listen to trade offers for Beckham, that is a given.
Berry's kneejerk answer to trade rumors and free agents is he will consider anything that improves the team.
If someone offered a top-notch edge rusher in exchange for his house, Berry would mull the offer.
But that doesn't mean Mrs. Berry should start packing up her kitchen.
And as far as not being "100% locked in" on Beckham as the second wide receiver, don't be so sure.
As beloved and valuable as Rashard Higgins is, he doesn't pull two defensive backs 40 yards downfield every play.
The Bad Statistical Argument For Trading OBJ 
Several radio pundits and Browns scribes jumped all over Mary Kay's "trade prediction."
And almost to a person, they cited Baker Mayfield's statistical variance with and without Odell Beckham on the field.
Of course, this is a ridiculously tainted statistic, given the circumstances during their limited games together.
On the one hand, there is Mayfield's near-rookie-of-the-year 2018 season and his resurgent second half of 2020.
In between, there is the Freddie Kitchens season and Mayfield's first 7 games under Kevin Stefanski.
Cleveland Browns willing to trade Odell Beckham Jr., 3 potential destinations https://t.co/2zi0Bqq867 Hell will freeze over before Cleveland trades OBJ for a 2nd Rd pick in 2021 offseason….

— William Coffman (@Coffman_Law) April 11, 2021
Nobody will argue this is a Jekyll-and-Hyde comparison of Baker Mayfield's performance.
But what should be argued is that it reflects on any Beckham and Mayfield connection or potential.
Odell Beckham and Jarvis Landry sport about the same catch percentage over their first 2 seasons with Mayfield.
Stefanski altered Landry's usage to improve his effectiveness considerably as the 2020 season rolled on.
There should be no doubt Stefanski has big (and productive) plans for Beckham in 2021.
Looking At The Money Issue 
Cleveland plans to carry Landry and Beckham on their 2021 roster at a cost of $31 million.
Odell Beckham carries one more year of dead-cap money, meaning a trade or renegotiation is the only option.
But Andrew Berry knows Beckham's trade value is probably as low as it will get right now.
The earliest Cleveland should consider a trade is the in-season deadline after Beckham puts health concerns to rest.
Another option is to renegotiate Odell Beckham's contract.
Browns willing to trade Odell Beckham Jr.; here are three potential destinations https://t.co/S3GiZn8G86 via @yardbarker

— Stan Chrapowicki (@POLEPAW) April 11, 2021
It is reasonable to think the oft-injured receiver would consider more guaranteed money at a lower salary.
But it is more likely Beckham will bet on himself, even knowing he could be a cap casualty entering 2022.
Beckham's gamble would pay off if Stefanski and Mayfield give him a 2019-Stefon Diggs-type of stat line.
In Stefanski's last Vikings offense, Adam Thielen (now played by Landry) got more targets and Diggs (OBJ) got deeper targets.
That game plan helped put Minnesota into the playoffs and it paid off nicely for Diggs in free agency, too.
Not that Browns fans would condone releasing Beckham after a season like that.