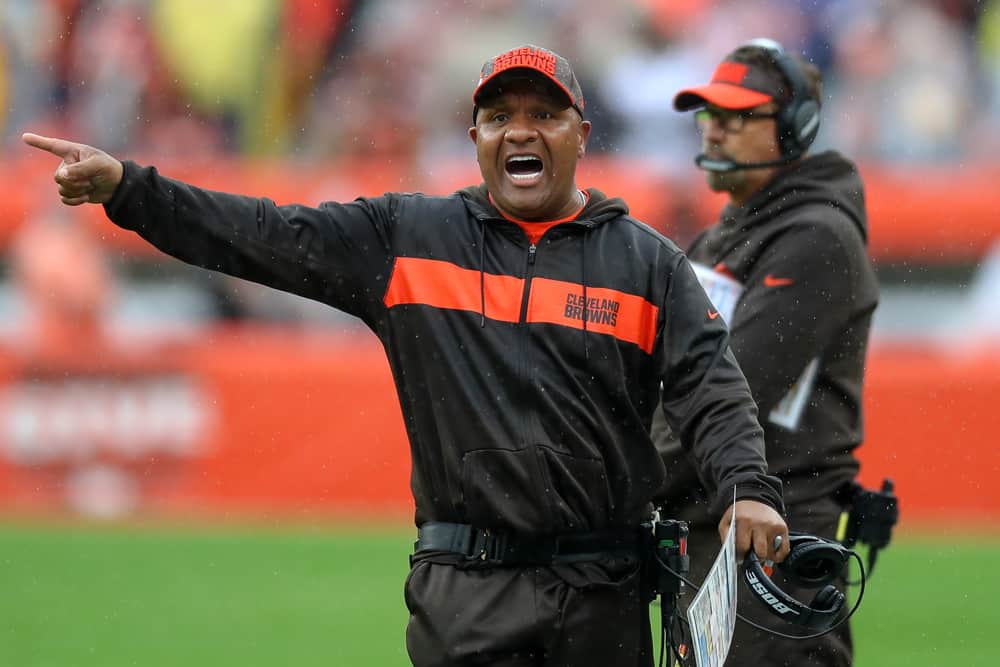 The Cleveland Browns have a history filled with great head coaches.
There was Paul Brown, who helped form the team and led the Browns to numerous championships.
Brown's successor, Blanton Collier, also led the team to a title in 1964.
Sam Rutigliano coached Cleveland during the Kardiac Kids heyday.
Marty Schottenheimer saw the organization lose two heartbreaking AFC Championship games versus the Broncos.
However, the Browns have also had their share of stinkers as head coach, especially since they re-entered the league in 1999.
Just for context, Freddy Kitchens and Rob Chudzinski only lasted one year.
Chris Palmer lasted only two years, as did Eric Mangini, Pat Shurmur, and Mike Pettine.
Another coach for the Browns, Hue Jackson, led the team for two plus years and was let go after eight games in 2018.
Lately, Jackson has ramped up a personal vendetta against his former team that shows no signs of stopping.
Over the course of the past few years, he has consistently shared with the media how he was wronged by Browns management and ownership.
The accusations leveled by Jackson at his former team include a tale of broken promises, personnel mishaps, false narratives, and disagreement over how to run a pro football team.
Hue Jackson claims the Browns lied to him on the team's rebuild and is currently writing a book on his time with the team.

"I think I became the fall guy" https://t.co/N8pR96zdau pic.twitter.com/Gm1SUeNDJl

— Sports Illustrated (@SInow) March 29, 2021
Jackson has continued to give the Browns grief because his buyout period from Cleveland expired this year.
Since that time, he has made sure to tell anyone within ear shot that the team's failures during his tenure were not entirely his fault.
It cannot be avoided, however.
Jackson was 3-36-1 as Cleveland's coach between 2016-2018.
This record includes the 0-16 season of 2017, the only time in the organization's history where they did not win a game.
So, it must be asked, was Hue Jackson the worst coach in Cleveland Browns history?

Jackson's Accusations
Before answering that question, here is a quick reminder of the multitude of sins Jackson has shared with the media about his time in Cleveland, dating back to 2019:
Did the Browns Quit on Jackson?
When Jackson was hired in 2016, there were a number of people who believed he was a great hire.
Not only were media members on board with the hire, so were a couple of Browns leaders.
"This is finally the first time we've had a coach that everybody else wanted," says former corner Joe Haden.  "Everybody was like, 'Yo, he could have went a lot of different places,' but he [Jackson] ended up coming here to us, and that just made us feel special, that we got a coach that other people wanted. And from the first day he came in here, we could see why — just the way he's able to communicate, the way he's able to get involved with the players and the way he's able to make you want to do whatever he wants you to do, basically."

"He [Jackson] knew what he was talking about, he'd had experience as a head coach, and he was ready to demand excellence out of everybody," said former All-Pro Joe Thomas.  "And [he made it clear] that losing was not acceptable anymore. It was just the presence that he has in front of the team. There were no prepared remarks. He was not reading off of a PowerPoint. Everything was coming from the heart. And you could see how important this game is to that man, and I think that was a moment when everyone said, 'I think this is a guy you can fight for.' "

From guard Joel Bitonio in 2016: "I love the [expression] 'culture change,' because — of course — when you get a new coach, everybody says that. But there really is a difference. Guys are buying in. We are moving in the right direction."

https://twitter.com/SportsCenter/status/1088480315021103106
There is no doubt that these core players believed Jackson meant what he said at the time regarding changing the losing culture in Cleveland.
However, too many losses can derail any well laid plans.
By the time 2018 rolled around, the Browns were in a position to win, yet they were stuck in neutral and sitting at 2-5-1 when Jackson was fired.
Interim coach Gregg Williams took over the same team for the last half of 2018 and coaxed five wins from his squad.
This bears repeating.
In eight games, Williams won two more games than Jackson did in two and a half years.  Ouch!
Gregg Williams has more wins in 6 games as the Browns head coach than Hue Jackson did in 2.5 seasons. pic.twitter.com/Kxj0JkuOcZ

— SportsCenter (@SportsCenter) December 16, 2018
Is Jackson's Coaching Career Tarnished from his Time in Cleveland?
Jackson won three games as Browns head coach.
To be fair, the likes of Palmer and Pettine only won three games at one time.
However, the difference is that both Palmer and Pettine won three games during a single season (2000 and 2015 respectively).
Jackson won that amount in two and a half years.
Furthermore, Palmer was leading a ragtag crew of discarded players and draftees when he led the organization.
At the time, the Browns were an expansion team and not expected to be competitive until their core base was established.
Despite the inconsistency in personnel, Palmer won five games in his two years as coach.
That begs the question, were the 2016-2017 Browns actually worse than the 1999-2000 expansion Browns?
In other words, was Jackson actually working with an expansion level team during his tenure.
Some may say yes, but many others disagree.
Maybe Jackson's career is not technically "tarnished."
However, look back at the past decade and we find that only Pat Shurmur became a head coach again after leaving the Browns.
That's not exactly a great sign.
What is Hue Jackson's biggest regret? Leaving Cincinnati for Cleveland: https://t.co/tn9fIK0TIh pic.twitter.com/zPCFBPU2e6

— AllBengals (@AllBengals) October 13, 2020
Is Mayfield in a Bad Offensive System?
I shouldn't have to address this given the fact the Browns made the 2020 postseason, won their first playoff game since 2002, and nearly took down the Chiefs in the Divisional playoffs.
However, since Jackson said it, let's look at his claim.
Ex #Browns HC Hue Jackson comes out to defend QB Baker Mayfield:

"You take away from who he is" alluding to having Baker under center. Says he operates best from shotgun formation. pic.twitter.com/7K0q0jJvso

— MoreForYouCleveland (@MoreForYou_CLE) October 23, 2020
In 2018, Mayfield had a quarterback rating of 51.2.
Last season, he was consistently on his back under the weight of 40 sacks and his QBR was 54.4.
In 2020, under the direction of Stefanski and in the midst of the best Browns season since 1994, Mayfield's QBR was 72.2.
He also threw the fewest interceptions in his career (8) and the second most touchdowns of his career (26).  What am I missing?
Baker staring down Hue Jackson is everything pic.twitter.com/0q9okp8iPe

— WTP (@WTPsports) December 23, 2018
Who will "Account" and for what?
I get that Jimmy and Dee Haslam haven't been the best franchise owners since taking over the Browns in 2012.
They are already on their seventh head coach (counting Shurmur and Williams) in less than a decade.
However, this current head coach seems to be pretty good.
Stefanski has done a masterful job bringing in good assistants and designing game plans to match the talents of his players.
The 2020 draft and free agency period brought in some good additions.
People are excited to see who the team will add when the draft comes to Cleveland in a few weeks.
Optimism is high and the organization should prosper in 2021.
Whatever happened in 2016, 2017, or 2018 is now firmly affixed in the rearview mirror.
Is anyone really going to care what went on behind the scenes when Jackson was coach when the team is an early 2021 Super Bowl contender?  I don't think so.
It's also odd to hear Jackson complain about Browns ownership when he was so glowing about the Haslam's when he was hired.
"The Haslams are great owners," Jackson said. "There is not anything that Jimmy and Dee would not do for me or for this organization if we thought we needed it. Matter of fact, I've told them they do too much. I'm being very honest when I say that: We're over the top — and I hate to say it that way — when it comes to doing everything for our players. And I've made that statement [to the Haslams]: 'I think we do too much."
Football and Analytics
Funny thing about digital media.
These days you can find the spoken word on all things in an instant.
A very quick look back to Jackson's hiring by the Browns revealed this nugget about football and analytics.
"I didn't go to Harvard or Princeton; I went to the University of Pacific," Jackson says. "But Paul [DePodesta] and Sashi [Brown, former executive vice president] are very down to earth; they are no egos, and they're not interested in credit or any of that, just in being the best they can be. And so it felt very genuine. Everybody talks about analytics; I just see it as another tool that's in our chest."

"We were able to do something a lot of people didn't think would happen on draft day," Jackson says. "We want to be a sustainable, winning football team for years to come. So you have to build it the right way. And I think we came up with a great plan, and we're working it. And I know a lot of people at first couldn't see it, understand it, and deservedly so … but we're not here to appease the media and appease everybody. Everybody's not gonna like what we're doing. But I think football people will look back and say, 'These guys are smart, and they're trying to do it the right way.' "

https://twitter.com/wlee313/status/1377751137370075142
The model of football and analytics may not have worked well in 2016 or 2017, but is that because of DePodesta and Brown?
Or because the coach was not good enough?
Sashi Brown himself was forthcoming about the two methods when Jackson was brought aboard.
Based on Brown's comment, it sure didn't look like the team was football versus analytics.
"The core of what we're doing is just football," Sashi Brown insists. "We're not asking Hue to come out here with a calculator to figure out what play we're gonna run on third down. We're not selecting players based on some algorithm. We are watching tape, practicing, hitting the bag. We're a football organization first.  My job is to try to make decisions, so whether it's football or anything else, I always want the best information. People call it analytics; we call it our research department. That's really what it is. I think anybody who's in any company understands there's a research and development department that tries to push them ahead and challenge, 'OK, you've done it the same way for a period of time; is there a way to do it differently, better? What can we learn from our failures and mistakes and missteps?'"
Did Berry and Browns Management Lie?
Who can't know what was promised behind closed doors.  It's the dreaded "he said, she said" argument.
Maybe Berry, DePodesta, the Haslams, et al. did promise Jackson something.
Would this be the first time in sports history that a GM or owner has promised something and then backtracked?
Yes, it sucks for Jackson, but as Shakespeare wrote, it is much ado about nothing.
Hue Jackson claimed he was offered a secret contract extension during Browns 0-16 season https://t.co/FOovzs6CcC pic.twitter.com/EOVQbmu3a7

— For The Win (@ForTheWin) March 30, 2021
Botched Personnel Decisions
Jackson has worked with some good quarterbacks through the years.
He has tutored the likes of Carson Palmer and Joe Flacco.
Jackson liked Jared Goff before the 2016 draft.
However, when Goff was scooped up by LA in that draft, Jackson touted Robert Griffin III as the Browns' savior.
That savior played one season in Cleveland (2016).
Then there is Cleveland's botched trade for McCarron.
Yes, Browns management fumbled the ball when it came to the McCarron trade.
Once again, it must be asked, "Does anyone care?"
It would be different if the quarterback in question was the likes of Russell Wilson or Patrick Mahomes.  But AJ McCarron?
If you can't name at least 5 of these 6 qbs Hue Jackson used in 2016 you're not a true Browns fan pic.twitter.com/oKcwor4ky8

— Jimmy (@jimmy_koski) December 23, 2018
For those not familiar with McCarron, he was a 5th round draft pick of the Bengals in 2014.
From '14-2017, he was a backup on the Cincinnati roster before spending 2018 with the Bills and the Raiders.
During the past two seasons, McCarron has held a clipboard behind Deshaun Watson in Houston.
In other words, Jackson is making a big deal about the Browns botching a trade for a career backup.
Looking back on the blunder, Cleveland fans should rightfully say, "Whew!  That was close!"
Regarding the 'last minute' decision on Garrett, most people would agree that drafting the edge rusher from Texas A&M was a great decision.
He has been a boon for the organization since his arrival and is one of the best defensive ends in the game.
The Browns didn't let Jackson know until the last minute?  Bad on them, good for the team.

This Wasn't the First Time…  
The question of whether Jackson was the worst head coach in Browns history could end here, but let's go a little further.
As we all know, Cleveland was not Jackson's first head coaching experience.
That came in 2011 when he was named the head man of the Raiders.
On January 18, 2011 Hue Jackson was named the head coach of the #Raiders. pic.twitter.com/kmIkHfIYfd

— AFL Godfather (@NFLMAVERICK) January 18, 2021
After a career spent as a college and pro assistant running various aspects of the offensive side of the ball, Jackson was named as Oakland's coach after the team fired Tom Cable.
Cable's team finished the 2010 season 8-8.
Owner Al Davis was not happy with the direction the organization was headed and let him go.
Jackson was then promoted from offensive coordinator to the head spot.
Jackson certainly appeared to be the fan and organization favorite at the beginning.
He was well liked by Davis and Jackson's offensive acumen was exciting to his players.
The Raiders started the '11 season with a 7-4 record and at that point looked to return to the postseason for the first time since 2002.  That's when the wheels fell off.
Earlier in the season, a day before their Week 5 game against Houston, Davis passed away at the age of 82.
Then, during their Week 6 game against Cleveland, starting quarterback Jason Campbell went down with a collarbone injury.
Jackson quickly sprang into action and persuaded Raiders management to trade for Bengals quarterback Palmer.
Palmer was disgruntled with Cincinnati and wanted out.
He was already familiar with Jackson from their time together at USC where Jackson was offensive coordinator and quarterbacks coach from 1997-2000.
The Raiders gave up a 2012 first-round draft pick and a conditional first-round pick in 2013 for Palmer.
Raiders Head Coach Hue Jackson and QB Carson Palmer addressing the media pic.twitter.com/BNBSCQ40

— Las Vegas Raiders (@Raiders) October 18, 2011
With Palmer on board, the team lost four out of their last five games.
For the second year in a row, Oakland had an 8-8 record.
After their last game of the season on January 1, 2012 (a 38-26 loss to the Chargers), Jackson let loose a tirade partially directed at himself, but mostly at his players.
"At some point in time, as a group of men, you go in the game and you can say whatever you want about coaches, you win the game. Here's your time. Here's your time to make some plays," Jackson said after the game. "We didn't get them stopped and we didn't make enough plays. Yeah, I'm [ticked] at the team. Like I tell them, I always put it on me, but I am [ticked] at my team because when you have those kind of opportunities, you've got to do it and we didn't do it."
The following day,
Jackson further explained
, "The year is over now; now I can tell you what I really feel, and what's really on my mind."
Days later, Jackson told the media:
"As the head coach of this football team I would hope that the organization understands that I have a pretty good idea of where we need to go," Jackson said at the time." Because if not, then I shouldn't be where I'm sitting."
Not long after, a new General Manager, Reggie McKenzie, was hired and decided Jackson's services were no longer needed.
"There comes a time when change is necessary," McKenzie said at the time.  "For the Raiders the time is now. The Raiders organization, with respect and deference for all its tradition and history, is about to embark on a new era."

"We no longer need your services," Jackson said he was told.  "(McKenzie) is going to gut this place.  He wants to bring in his own guys. No job is safe right now," Jackson told CSNBayArea.com.
Many media members and former Raiders players could see the writing on the wall after Jackson's team set an NFL record of 163 penalties for 1,358 yards during the 2011 season.
It also didn't help that Palmer did not have a great year, passing for 13 touchdowns, 16 interceptions, and a 53.5 quarterback rating.
.@RAIDERS under Hue Jackson set 2 @NFL records (penalties, penalty yards). Oakland went 8-8 this season » pic.twitter.com/4EcGgQUE

— SportsCenter (@SportsCenter) January 10, 2012
"All the Raiders had to do was to win on January 1, and they would have been in the postseason," former Raiders quarterback Rich Gannon said in 2011.  "So a disappointing finish. And to make matters worse, Hue Jackson went ballistic at his postgame press conference. Those comments were heard around the league. I think they surprised some people. And not only that, but his comments about moving forward how he would have more control, and he'd want more control and want to do more things in terms of the personnel. I think when you listen to those comments, and you are Reggie McKenzie, and you're coming in you say to yourself, 'Wait a second, this is not how we're going to do business.' And I'm not surprised with the change."
Similarities
All this should sound familiar.
Jackson is hired by an NFL team as head coach and comes in with fanfare and great expectations.
He has visions of grandeur about certain players, believing them to be better than they are.
Then, all his promises fall flat.
He is let go by the organization that hired him, and Jackson casts aspersions on his former employer.
His career may not have been tarnished after leaving Oakland, but when similar sets of circumstances happened again in Cleveland, that's a trend.
No amount of varnish will clear away that tarnish.
It should be safe to assume that Jackson has burned his bridges in most NFL circles.
He may be hired as an assistant, but any team considering him as a head coach is only asking for trouble.
It's also reasonable to guess he could return to the college ranks as a position coach or coordinator.
As it stands now, given his record and his ongoing diatribe against the organization, it can be safely and reasonably stated that Hue Jackson was the worst coach in Cleveland Browns history.