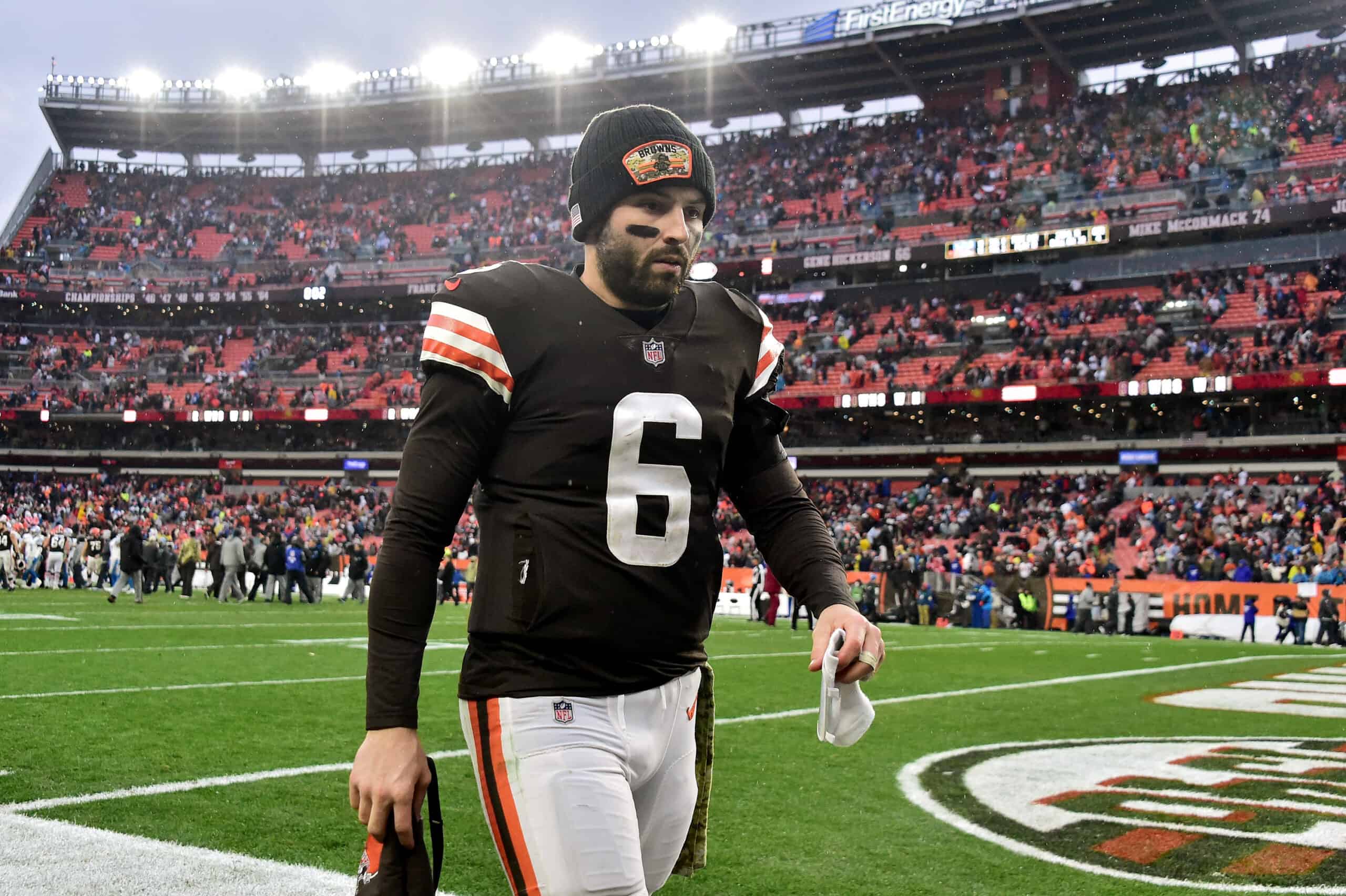 During this past offseason, there was a lot of speculation about the Cleveland Browns extending Baker Mayfield.
It seemed like the only two people not interested in signing Mayfield were Andrew Berry and Baker Mayfield.
But each of them had good reasons for delaying a new deal, especially since he was locked up through 2022.
Berry could point towards Mayfield's 2019 season and wonder if that was closer to expectations than 2020.
#Browns Baker Mayfield: We need to make more plays, play with bit more confidence. pic.twitter.com/TfW21bKHyE

— Scott Petrak ct (@ScottPetrak) November 29, 2021
And Mayfield's reason was Berry's risk; that a second consecutive playoff appearance would bump up Mayfield's price.
There were more practical reasons to put off negotiations, not the least of which involved salary cap limits.
When Buffalo extended Josh Allen early, the Mayfield camp feared injuries or other factors warranted the same.
But Mayfield has always bet on himself, and he knew a 2021 season closer to the second half of 2020 would pay off.
But 2021 Looks More Like 2019
Baker Mayfield is definitely not the only reason Cleveland fell short of expectations so far.
The list of accomplices starts with Kevin Stefanski, who all but abandoned his Mayfield-centric offensive scheme.
Mayfield's torn labrum and chip fracture is probably not as big a factor as some fans think it is.
Baker Mayfield is the only NFL QB with a Passer Rating under 80 in each of the last 3 weeks. pic.twitter.com/fSjrlwIRBP

— NFL on CBS 🏈 (@NFLonCBS) November 29, 2021
But he was noticeably hobbled by a series of lower extremity injuries in several games.
Cleveland faced a more difficult slate of opponents, and defenses have a year of data under their belt.
But Mayfield, the guy who said he would change the culture in Cleveland, ran out there most weeks… and left us largely unimpressed.
Can Mayfield Master the Pocket? 
Kevin Stefanski had Baker Mayfield rolling out with and without play-action a lot last season.
Defenses adjusted a bit, and the result is a higher percentage of pocket passes for his quarterback.
That is not what Mayfield does best, affected by below-average field vision and slow decision-making.
Here's another play where everybody was upset with Baker Mayfield. Simple pass to Chubb in the flat, but it appears Baker just misses him. However, as @kurt13warner shows us, this is on Chubb, not Baker.

You and I aren't as smart as we think. #Browns pic.twitter.com/eFDLRC9V5Q

— Ed Greenberger (@EdGreenberger) December 2, 2021
Rollouts not only buy time against the rush, but they also give Mayfield quicker and simplified options.
The quarterback thrives in play-action, so it was good to see Stefanski increase that type of play in Week 12.
Mayfield arguably had one of his best performances against Baltimore, but can he be better behind his line?
Fast Reads and Fewer Sacks 
Mayfield's backers continuously cite the high number of sacks he's taken as a reason for his sub-par season.
And in the next breath, they complain wide receivers are not getting open for Mayfield.
But Mayfield is not a rookie, and after almost 4 seasons, it doesn't matter how many coaches he's had.
#Browns Andrew Berry said Baker Mayfield has fought through injury, like other players on the team, and while they know he's tough they expect him to perform at a winning level and that "We expect him to play his best football down the stretch."

— Camryn Justice (@camijustice) December 1, 2021
The fact is Mayfield is one of the slowest quarterbacks to get rid of the ball, and he can't throw receivers open.
There is a difference between "getting sacked" and "taking a sack."
Cleveland lacks a true #1 wide receiver, but they have several who win position battles and can adjust to coverage.
Can Mayfield Find a Touch? 
Baker Mayfield has a gun, owning the NFL's longest completion and incompletion by air yards.
But the best pass thrown by a Cleveland quarterback this season was a short gain to David Njoku in Week 6.
That was when Case Keenum saw Njoku run away from a defender and lobbed a perfect touch pass for a first down.
Jeremiah Owusu-Koramoah imagines growing up
on a team led by Baker Mayfield:
"As time goes on,
you guys will see how great a quarterback he is."

— Steve Doerschuk (@sdoerschukREP) November 29, 2021
Mayfield does not have that kind of touch and, possibly because of injuries, his accuracy is lacking this season.
Sometimes, passers throw high on purpose, but the ball is descending when the receiver gets his hands on it.
Mayfield's "high hard ones" are difficult to catch, and he is consistently behind receivers.
Is Baker Mayfield Coachable? 
Baker Mayfield famously told the press he would analyze and correct his own mistakes after the 2019 season.
It was in response to a question about whether he would utilize a passing coach in the offseason.
Kevin Stefanski and Alex Van Pelt had already noted things they planned to correct in Mayfield's game.
#Browns QB Baker Mayfield on whether this can still be a playoff team at 6-6: "I think so. It's going to be a true one-week-at-a-time mentality for us. We need to control what we can."

— 92.3 The Fan (@923TheFan) November 29, 2021
One specific item was his flawed footwork, something Van Pelt continues to work on this year.
Former NFL quarterback Kurt Warner recently pointed out how Mayfield starts off on the wrong foot.
It is something Van Pelt used as an example of "simple fixes" and another flaw that persists despite coaching.
Should Mayfield Leave Instagram? 
There is always somebody criticizing or challenging players and coaches, often just to rile them up.
And social media puts all the tripe right into the hands of their targets and their families.
Baker Mayfield is not the only player following and reacting to the steady barrage hitting multiple devices.
#Browns Andrew Berry on Baker Mayfield: "He's hyper focused and at the end of the day he's hyper focused on winning."

— Camryn Justice (@camijustice) December 1, 2021
And Cleveland fans are no meaner than those from other cities, but they can still be pretty brutal.
Mayfield uses positive emotion effectively, and he publicly handled the OBJ debacle very well.
But he is human, and Emily's contributions probably result from how she sees Mayfield reacts to critics.
Has Mayfield Lost His Teammates? 
In the Steelers' game, a gimpy Mayfield scrambled for a first down and took a late, hard hit out of bounds.
The crowd gasped and then cheered when he bounced up and pumped his fist in an emotional outburst.
And the rest of his teammates barely noticed, following the play with an uninspired series leading to a loss.
#Browns RB Kareem Hunt on GM Andrew Berry's expectation that Baker Mayfield will play his best ball of the season in the final five games: Baker is a competitor, he's our guy, he always gives it 100% each time he's out there. "I'm confident in him."

— Nate Ulrich (@ByNateUlrich) December 6, 2021
Players comment on Mayfield's desire and guts in playing through injury but fall short of lauding his ability.
Andrew Berry offered tepid support at a recent presser and more pundits claim Mayfield is headed out of Cleveland.
And it makes us wonder if Mayfield already lost the bet he made on himself before the season.