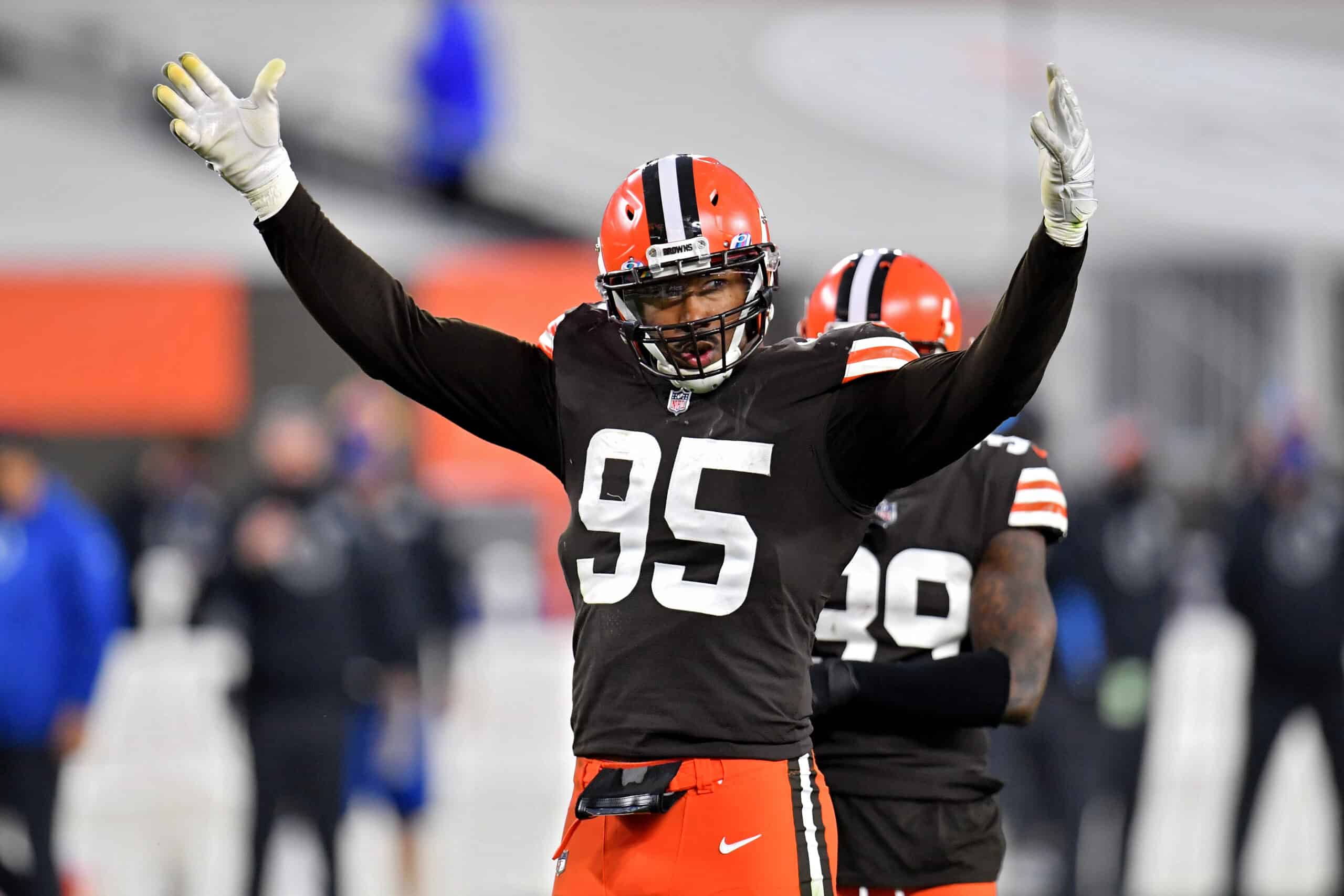 Andrew Berry's rebuild of the Cleveland Browns secondary might dominate the narrative.
But the defensive line presents the most competitive and entertaining training camp battles.
While the lighter guys argue about coverage skills, the guys up front are focused on another aspect.
Myles Garrett was getting this sack by any means necessary 😂

(via @Browns) pic.twitter.com/jLMD8bxlT4

— ESPN (@espn) September 27, 2020
They want to hit quarterbacks.
Cleveland boasts 3 former first-round draft picks in edge rushers Myles Garrett, Jadeveon Clowney, and Takk McKinley.
Andrew Berry added a veteran interior rusher in Malik Jackson to line up next to Andrew Billings.
But it might be the youngsters behind them that make the Browns' pass rush the best in the NFL.
Browns have the scariest pass rush in the NFL.

Didgeri-Do or Didgeri-Don't? pic.twitter.com/RXw7LVIJaG

— GMFB (@gmfb) June 18, 2021
That possibility provided a recent debate on the NFL Network's Good Morning Football program.
Three hosts offered 3 different opinions, but it got us thinking.
Do the Browns have the scariest pass rush in the NFL?
How Good Can The Browns Pass Rush Be? 
Nobody has to tell a Cleveland Browns fan how good Myles Garrett is.
But just in case, he owns the second-highest career sack rate in NFL history.
That is despite his fall off post-Covid last season.
Jadeveon Clowney is not big on sacks but consistently ranks among the leaders in quarterback pressures.
And Takk McKinley ranks fourth in Pro Football Focus's pass rush win rate since 2017.
Jadeveon Clowney with the vicious counter club. OT never had a chance after that. Sacks Brady! #PassRush pic.twitter.com/nBPuIWAvLp

— DLineVids (@dlinevids1) September 4, 2019
Both McKinley and Clowney are playing for their next contract in case they need more motivation.
Porter Gustin, Joe Jackson, and possibly Curtis Weaver are solid rotational pieces behind the starters.
Malik Jackson enters his 11th season trying to regain his Pro Bowl pass rush form next to Andrew Billings.
But rookies Tommy Togiai and Malcolm Smith could play big roles along with second-year tackle Jordan Elliott.
Better coverage from the rebuilt secondary will only enhance the effectiveness of the Browns pass rush.
Who Is The Browns' Competition? 
What could be better than a trio of former first-round draft picks on your defensive line?
Four might be better, which is why Washington is often mentioned among the best pass-rushing defenses.
Jonathan Allen, Daron Payne, Montez Sweat, and Chase Young certainly present a challenge.
And Matt Ioannidis and Tim Settle might provide the best backup pass rushers in the league, too.
There can also be a case made for bringing back an intact Super Bowl-winning pass rush.
#Falcons Takk McKinley with a 3-sack game. pic.twitter.com/wLmHzOIWOa

— Dov Kleiman (@NFL_DovKleiman) September 30, 2018
Tampa Bay came up big in the biggest moments last season and they expect to do it again.
An argument is also being made that the Pittsburgh Steelers pass rush will be better after losing Bud DuPree.
Alex Highsmith and the rest of the line think they will match last year's league-leading 45.1% pressure rate.
Aaron Donald (LAR), Khalil Mack (Chi), and Fletcher Cox (Phi) will keep their teams in the discussion.
And if Von Miller really is still the best player in Denver, Bradley Chubb pushes the Broncos up in the conversation.
The Browns Have The Scariest Pass Rush In The NFL
Whether Garrett, Clowney, and McKinley lead the best pass rush comes down to how you measure things.
Does it matter who has the most pressures, allows the shortest throwing time, or passing yards allowed?
Or is it all about hitting and sacking the quarterback?
Cleveland's defensive line is solid across the board, but the rest of the defense plays a role, too.
Andrew Berry added speed at linebacker and in the secondary, providing options to Joe Woods.
Jeremiah Owusu-Koramoah with the sack 🔥 pic.twitter.com/KaLfZBIg7c

— Notre Dame on NBC (@NDonNBC) October 12, 2019
The Browns blitzed at a lower rate than any other team last season.
But with better safety and corner play, can Woods resist sending a fifth player after the passer?
Or could Woods send out 5 defensive linemen sometimes, allowing McKinley to flank Garrett or Clowney?
His youthful and promising second tier offers even more possibilities for the defensive coordinator.
And that is why the Cleveland Browns could have the scariest pass rush in the NFL in 2021.