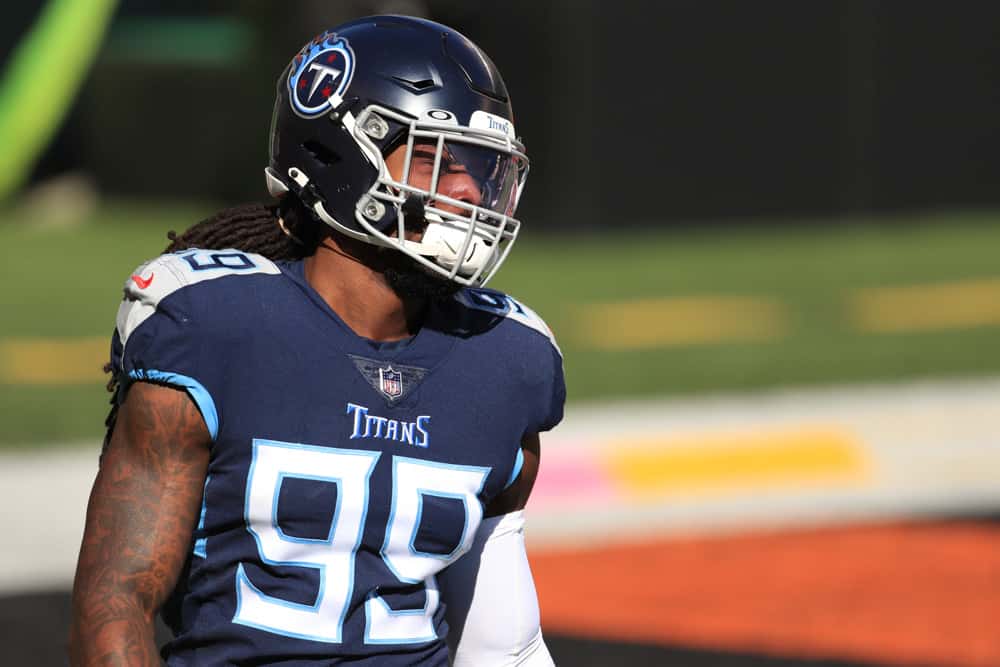 Finally, the Jadeveon Clowney saga is over after basically two years.
Last offseason, the Cleveland Browns showed strong interest in Clowney, but he decided to sign elsewhere.
A year later, Clowney became a free agent again and this time around decided to take Cleveland's offer.
Browns are giving former Titans' DE Jadeveon Clowney a one-year deal worth up to $10 million, per source.

— Adam Schefter (@AdamSchefter) April 14, 2021
The Browns were in desperate need of another pass rusher after the departure of Olivier Vernon.
Despite the injury concerns, Clowney gives the Browns defense a lift heading into the 2021 season.
However, is it enough of a boost to get the Browns into the Super Bowl?
Not Clowning Around
The front office has been serious about adding on the defensive side this offseason.
They've already made a handful of signings during free agency.
The NFL Draft is only a few weeks away, so the Browns might not be done adding on defense.
Before signing Clowney, the Browns added linebacker Anthony Walker and safety John Johnson III.
Both players are viewed as under-the-radar signings and were overlooked during free agency.
The Browns were able to add significant talent without breaking the bank this offseason.
Jadeveon Clowney's Contract
– $8M base
– $7M fully guaranteed
– 4 void years
– $3.6M 2022 dead cap#Browns Cap Hit
2021: $3.8M

Cleveland adds Clowney, John Johnson, Troy Hill, Malik Jackson, Tak McKinley at less than $15M of 2021 cap

Full Breakdown:https://t.co/xA4CgwVAzC

— Spotrac (@spotrac) April 15, 2021
At this point, the signing of Clowney is just the cherry on top.
A former No. 1 overall selection from 2014, but injuries have held Clowney back during his career.
At times, Clowney has shown the ability to be an elite pass rusher in the NFL.
He is a three-time Pro Bowl player and has two seasons with nine sacks or more.
There is no questioning that Clowney has the upside of being a top-tier pass rusher.
A Super Bowl Push?
The addition of Clowney was likely the Browns' last big splash this offseason, assuming there isn't a blockbuster trade on the horizon.
Does Cleveland have enough firepower on the defensive side to get through an offense like the Kansas City Chiefs?
The Browns certainly gave the Chiefs a challenge during the playoffs last season.
Despite a few below-average campaigns, Clowney has the potential to be an elite pass rusher.
He'll certainly take away some of the pressure from Myles Garrett in 2021.
The Browns already had decent odds at the Super Bowl in 2021, but does Clowney give them the extra boost that they needed?
Jadeveon Clowney will be rushing Qb's next to Myles Garret for the 2021-22 Season

Current Browns Futures 🔮
Super Bowl Odds +1653
Conference Odds +836
Division Odds +143

Bet Here📲https://t.co/JXrueLgqmy pic.twitter.com/2JhOhJ3kX9

— Official Bookmaker (@bookmaker_eu) April 14, 2021
Sadly, Clowney has only been able to play a full 16-game season once during his professional career.
The injuries continue to hold him back, which is a huge concern since he's not getting any younger.
Last season, Clowney only managed to play eight games with the Tennessee Titans due to injuries.
At full health, Clowney definitely gives the Browns much better odds at making the Super Bowl.
However, it's important to be realistic and keep the expectations to a minimum.
The signing of Clowney looks nice on paper, but he's not the final piece to the puzzle.
Cleveland needs to be smart on draft day and get another impact pass rusher for next season.
There is no such thing as too much depth, so adding another edge rusher cannot hurt.
On paper, Clowney does help the Browns, but fans shouldn't expect a career-year out of him in 2021.