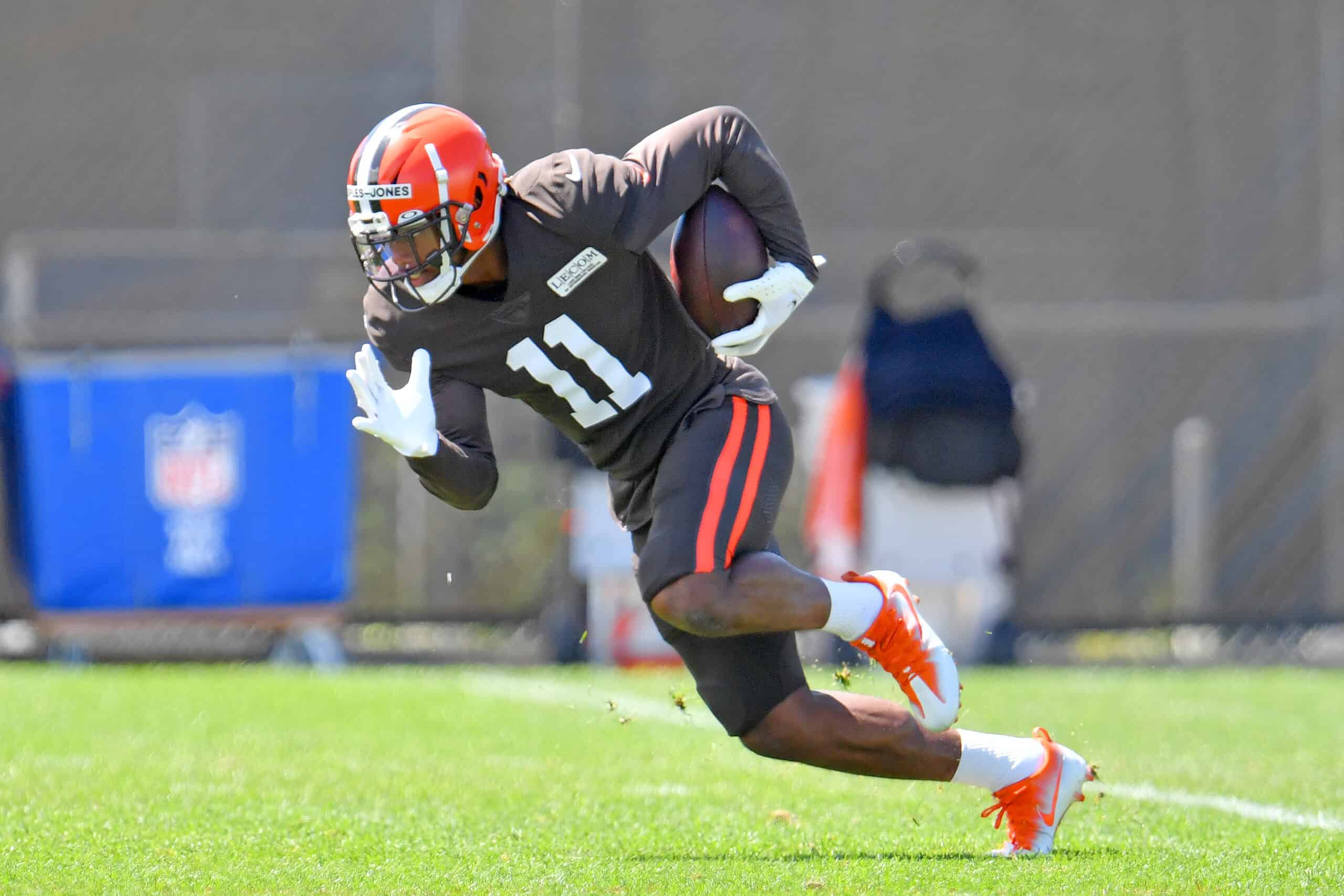 It's early in training camp, but there have already been a few players that are exceeding expectations.
This is exactly the time to make your presence known and prove your worth before the season begins.
One player who has been going above and beyond is wide receiver Donovan Peoples-Jones.
The former sixth-round pick could force his way into the Cleveland Browns weekly gameplan heading into the 2021 season.
The Peoples Champ
Last season, Peoples-Jones didn't have a huge impact in the receiving game.
Although, he was a main contributor when it came it punting and kick returns.
It appears Peoples-Jones has been working on his receiving skills over the offseason.
He made an incredible 60-yard reception earlier in camp that did not go unnoticed.
Baker Mayfield connects with DPJ on a 60-yard go ball for six. A.J Green beat in coverage. Peoples-Jones is cooking everybody. pic.twitter.com/0MhmpDyRqX

— Ellis L. Williams (@BookofEllis) August 4, 2021
It was just one play, but a step in the right direction as we inch closer to the start of the regular season.
Last season, Peoples-Jones finished with 14 receptions, 304 yards, and two touchdowns in 12 games.
Not too bad for someone who started the season buried on the depth chart.
He could quickly climb his way up the ladder, assuming he continues making plays like that.
A Star In The Making?
As always, there was not much hype surrounding Peoples-Jones when they selected him in the sixth round out of Michigan.
He was known for his excellent speed, but had technique and mechanical issues to work out as a receiver.
To be honest, Peoples-Jones was a project pick, but the upside for him to be a legitimate receiver is there.
"Donovan Peoples-Jones is absolutely lighting up training camp. Look at the size, the strides, the way he extends to make tough plays in traffic. The Browns got this guy in the sixth round, and it will be no surprise if Peoples-Jones eventually ends up being a legitimate star."

— Jarad Evans (@PFF_Jarad) August 5, 2021
The biggest problem is the Browns don't exactly have room for him with their current receiver group.
Obviously, Jarvis Landry and Odell Beckham Jr. are going to be the main offensive weapons.
After that, Rashard Higgins and Anthony Schwartz will spend plenty of time in the slot role.
Peoples-Jones will be fighting with possibly Schwartz and KhaDarel Hodge for playing time in Cleveland.
Despite where he lands on the depth chart, it's going to be fun watching Schwartz and Peoples-Jones run routes for the Browns in 2021.
Browns just got the fastest player in the NFL Draft, Anthony Schwartz💨

— PFF College (@PFF_College) May 1, 2021
Right now is the time for those players further back on the depth chart to show what they can do.
The Browns know that Peoples-Jones is a reliable returner, but clearly, he can be more than that.
He could very well climb his way up the depth chart, assuming he continues to progress as a receiver.
Fans shouldn't expect Peoples-Jones to be a starter anytime soon, but he could be a sneaky option for the Browns heading into next season.