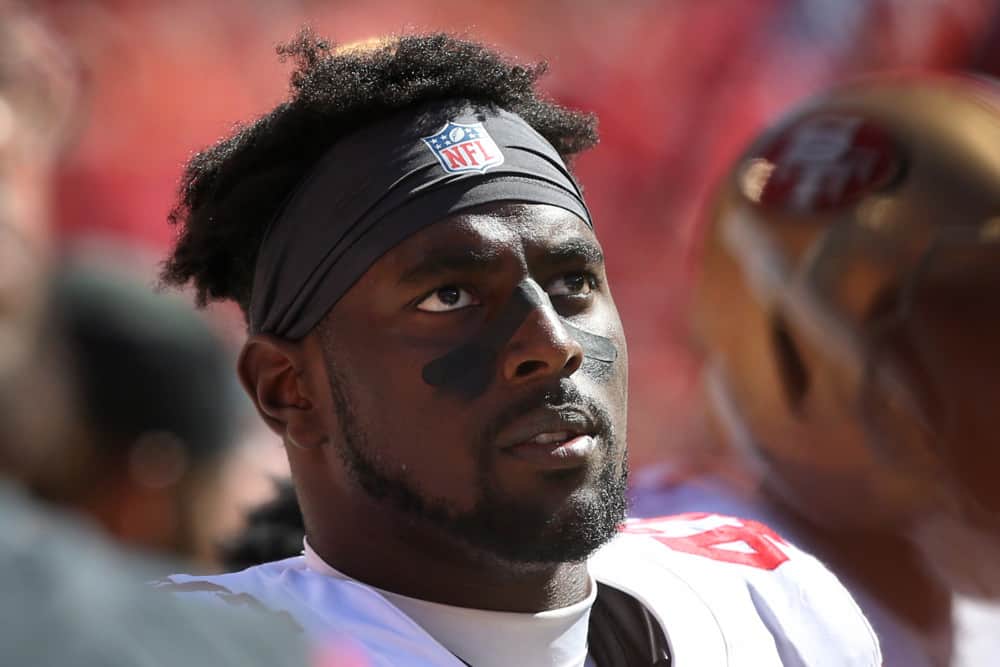 On Friday, the Cleveland Browns claimed linebacker Elijah Lee off waivers from the Detroit Lions.
We've claimed LB Elijah Lee via waivers from Detroit

Details » https://t.co/KaeaTVNqgT pic.twitter.com/mgYbTAEFwY

— Cleveland Browns (@Browns) October 30, 2020
Lee will need to go through COVID protocols before he's allowed to be on the active roster.
The 24-year-old linebacker is an intriguing addition to the Browns defense.
He is a former seventh-round pick by the Minnesota Vikings in 2017.
Lee has shown some flashes of promising play early in his career, so hopefully he can continue to develop his game.
What To Know About Lee
The Kansas State product put together strong numbers towards the end of his college career.
During his sophomore campaign, he finished with 80 tackles, 7.5 tackles for loss, and five sacks through 13 games.
That was his first chance to really shine at the college level and his game actually improved during his junior year.
In 2016, Lee finished with 110 tackles, 6.5 tackles for loss, and 1.5 sacks through 13 games with the Wildcats.
It's also worth noting that Lee finished with five interceptions during his time with Kansas State.
9 days until Kansas State football

#9 Elijah Lee was first team all Big 12 in 2016. His 5 interceptions were the most by a Wildcat linebacker under head coach Bill Snyder. pic.twitter.com/SdWid7TIPI

— The Kansas State Fan (@Thekstatefan) August 22, 2019
His range in coverage and ball skills made him an intriguing prospect coming out of college.
Somehow, he dropped to the seventh round where the Vikings took a chance on him.
Browns head coach Kevin Stefanski was actually there when Lee was drafted by Minnesota.
Lee never actually played a game for the Vikings, but did get some experience with the San Francisco 49ers.
He was claimed by the 49ers when Minnesota attempted to put Lee on their practice squad.
San Francisco added Lee to their active roster and gave him a chance to prove himself.
Lee's NFL Career
He spent three seasons with the 49ers, but only saw significant playing time in 2018.
That season, Lee finished with 65 tackles, one sack, and one fumble forced through 16 games (five starts) with San Francisco.
He wasn't given much of a chance after that season, so it's unclear what Lee really has to offer right now.
The biggest concern for Lee going into Draft Day was the fact he was undersized.
His technique needed to improve as well because he would often times get overpowered due to his lack of size.
Lee has reliable coverage skills, but clearly the 49ers didn't see him as a long-term option as a starting linebacker.
The Detroit Lions brought Lee aboard for the 2020 season, but he had a limited role.
He had two tackles in four games with the Lions before being claimed by the Browns.
It'll be interesting to see how the Browns use Lee going forward.
Lee's Role In Cleveland
Cleveland is expected to be without linebacker Jacob Phillips for a majority of the season.
The front office likely brought in Lee to help fill the void at linebacker.
The Browns haven't been able to get significant production from their linebackers thus far.
Malcolm Smith appears to be the best out of the bunch, but Lee should get an opportunity in Cleveland.
Lee was an intriguing athletic prospect out of college and still is relatively young.
There is a chance that he develops into a regular contributor on the Browns defense.
At worst, he should be an upgrade to their special teams unit.
Browns fans shouldn't expect Lee to turn into a starter, but it's worth taking a shot to see what he can do.