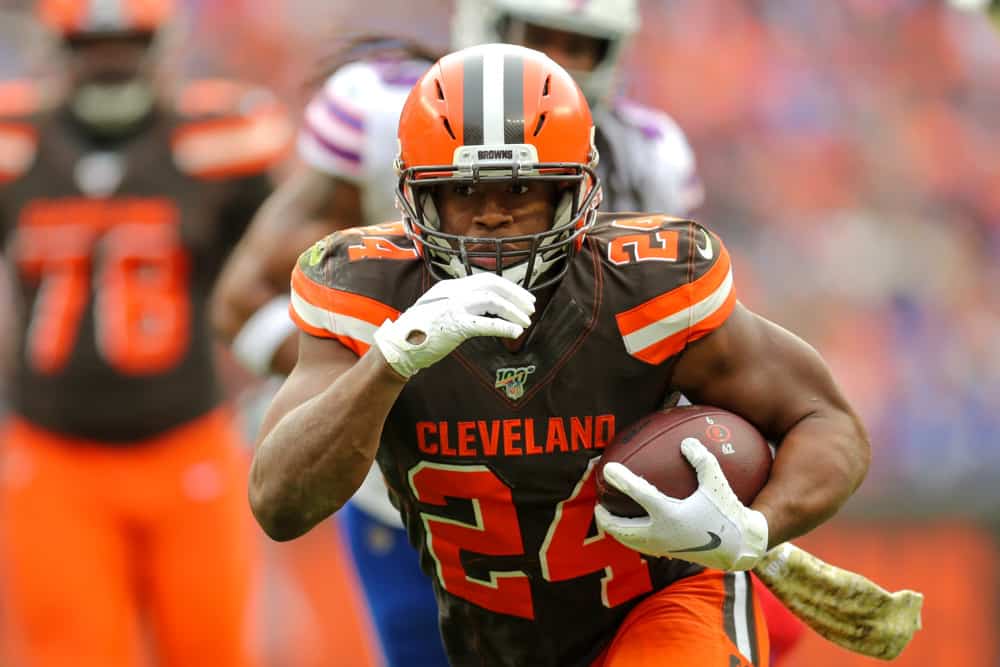 The Cleveland Browns entered Sunday's game against the Pittsburgh Steelers with the best rushing attack in football.
The Steelers had the second-ranked run defense and the showdown was on.
As we all know, the Steelers came out on top and it wasn't even close.
That was true for the Browns offense as a whole.
But specifically with the run game, it was tough to get anything going and not just because the team fell into a quick 10-0 hole.
The absence of Nick Chubb loomed large in this one.
#Browns were averaging 37.5 points/game on their 4-game win streak and led the NFL in rushing, w/ 188.3 yards/game. Today, vs #Steelers, they scored 7, and had just 75 rush yards. Ben Roethlisberger says of this Pittsburgh defense, "I'm glad I don't have to play them on Sundays."

— Aditi Kinkhabwala (@AKinkhabwala) October 18, 2020
Browns Miss Nick Chubb in Test Against Steelers
The offense had amazing flow to it against the Indianapolis Colts in Week 5.
That was the first full game without Chubb and the 32 points scored hid any glaring concerns.
But fans who checked out the box score saw Kareem Hunt only ran for 72 yards on 20 carries.
He followed up that performance Sunday with 40 yards on 13 carries and was slammed at the line of scrimmage on more than one occassion.
Of course, not all of the bad plays were his fault.
The offensive line got beat bad and Baker Mayfield not being able to do much allowed the defense to bring pressure all day long.
Having Chubb in there would allow for Hunt to be the backup and to be more of a focus in the passing game.
Most missed tackles forced rushing since the start of 2019:

1. Josh Jacobs – 91
2. Nick Chubb – 79
3. Derrick Henry – 75
4. Chris Carson – 74
5. Dalvin Cook – 66 pic.twitter.com/j8YLkOgJC7

— PFF (@PFF) October 17, 2020
The entire gameplan would likely have been different, even if it would not have been enough to overcome the undefeated Steelers.
Chubb ran for 1,494 yards in 2019.
Factor that figure into 2020 if he was healthy and you are getting nearly 100 yards per game.
That production is now missing from the offense and the combo of Hunt and D'Ernest Johnson is nowhere near the same as Hunt and Chubb.
The Reality of the Situation
The Browns will get Chubb back later this season.
And to be honest, the running game was not the main problem in Pittsburgh.
The problem is the missing production from Chubb.
His success takes pressure off Mayfield and opens up the play-action.
That was made clear earlier this season when he ran for over 100 yards against both Washington and Cincinnati in games where Mayfield didn't have to do much.
For those keeping track, Mayfield's high-mark on the year is the 247 yards he had against the Colts.
That figure expresses the need for a top rushing attack.
Jim Nantz and Tony Romo kept repeating how the Browns were technically the best running team in the NFL.
That is not the case with Chubb out and they don't have to be the best to have success.
There just needs to be flow on offense and that starts at quarterback.
🚨 Baker Mayfield PICK-SIX 🚨

(via @NFL) pic.twitter.com/Pf277WfRTt

— SportsCenter (@SportsCenter) October 18, 2020
Hunt and Johnson are simply not as talented as Chubb and stand no chance against opposing defenses continually bringing heat because Mayfield is not threatening as a passer.
That may also be true if Chubb is indeed out there if Mayfield cannot turn it around after a terrible game in Pittsburgh.