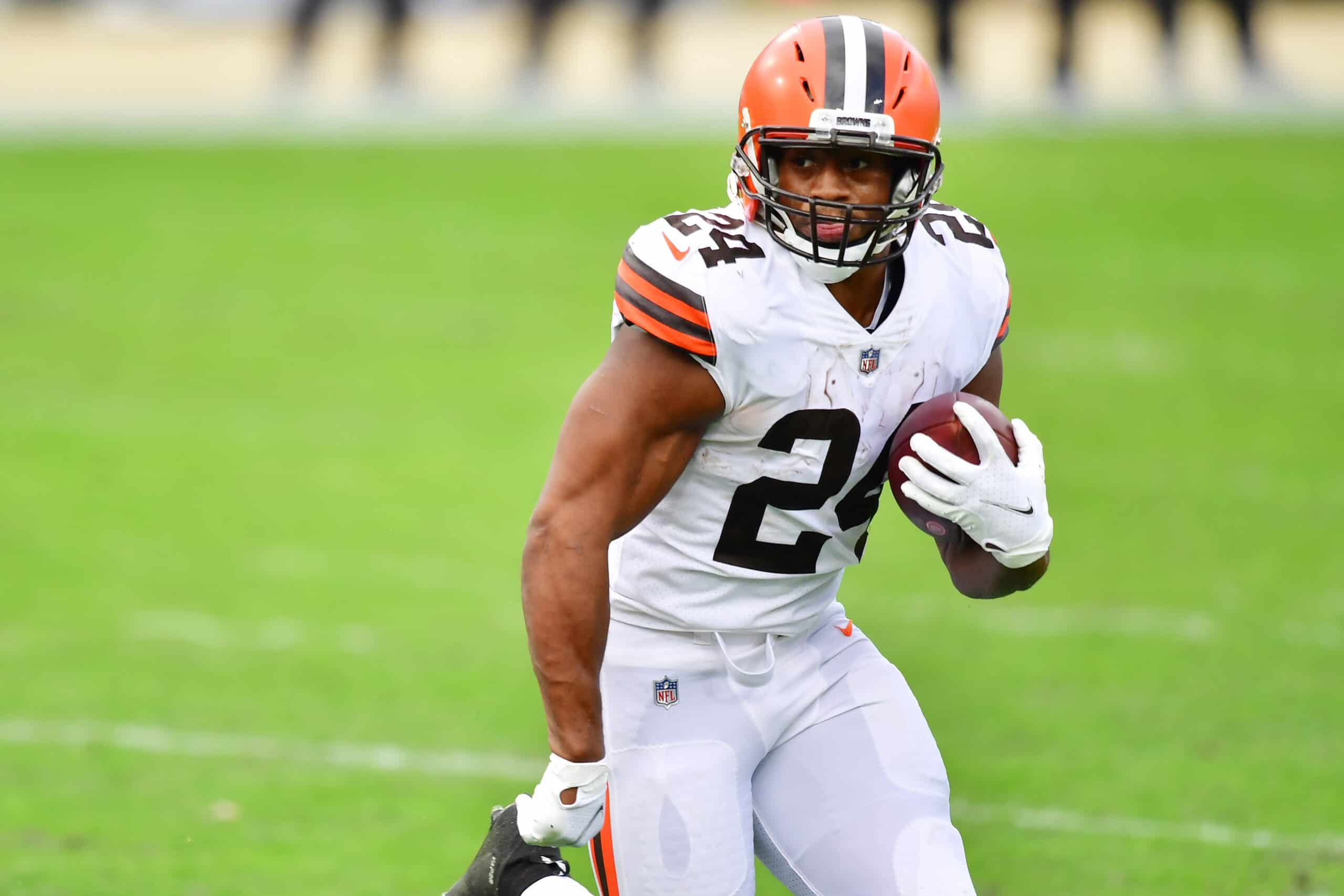 ESPN named the Cleveland Browns' Nick Chubb as the top NFL running back entering the 2023 season.
In their annual survey of NFL coaches, executives, and scouts, Chubb jumped to the top from his #3 ranking in 2022.
Over 80 people submitted top-ten lists at various or all positions.
The consensus was supplemented by interviews and film study by ESPN analyst, Matt Bowen.
Nick Chubb, No. 1 🏆 pic.twitter.com/kNCn5ak2OR

— ESPN Cleveland (@ESPNCleveland) July 14, 2023
In an article announcing the results, ESPN cites Chubb's career 5.2 yards-per-carry, 2nd best in NFL history.
An AFC executive also offered this:
"He can carry the load, is strong, has vision, great feet, not outstanding in the passing game but can do it. Just a damn good player."
Christian McCaffrey, Josh Jacobs, Saquon Barkley, and Derrick Henry rounded out the top five.
No other AFC North running back earned as much as an honorable mention, with only Najee Harris getting a vote.
How Good Was Nick Chubb In 2022? 
Nick Chubb was one of 3 NFL running backs with over 300 (302) rushing attempts last season.
His 1525 yards and 5.0 yards-per-carry were the third-best among rushers with more than 200 attempts.
Chubb fumbled just once while leading the league with 23 explosive running plays (more than 20 yards).
His 12 rushing touchdowns and 13 overall were both 4th-best on the year.
#Browns RB Nick Chubb gives his team the 4th quarter lead with a 28-yard touchdown here.pic.twitter.com/9wNaWuIuqI

— Dov Kleiman (@NFL_DovKleiman) October 2, 2022
And he continues to display an extra gear in the fourth quarter when everyone else slows down.
It was Chubb's 4th consecutive Pro Bowl season.
And he added a second-team All-Pro nod to his list of accomplishments.
Cleveland fans were ecstatic to see Chubb play in all 17 games, a reliable weapon each week.
Will Chubb Be Top Dawg In 2023? 
Kevin Stefanski's 2023 offense shifts to a pass-first model after 3 years among the leaders in rushing percentage.
But Chubb fans should not worry about the effect on Chubb's rushing contributions.
Cleveland's lack of urgency in signing a second rusher reveals they will abandon their usual tandem approach.
Kareem Hunt's 123 carries in 2022 represent most of the shift in rushing attempts.
Nick Chubb for 40 yards on the screen pass. #Browns , this might be the year.
pic.twitter.com/bxhCWCgVWz

— NFL Unlimited (@NFLUnlimited) January 11, 2021
Chubb's 18 carries-per-game average will likely hold up in the new Browns offense.
More passing brings more clock-stopping incompletions, leaving time for more plays per game.
And Stefanski alludes to more use of Chubb in the passing game, setting up even more touches for his star.
There is no reason to doubt Nick Chubb will be a major offensive force in whatever scheme the Browns use.