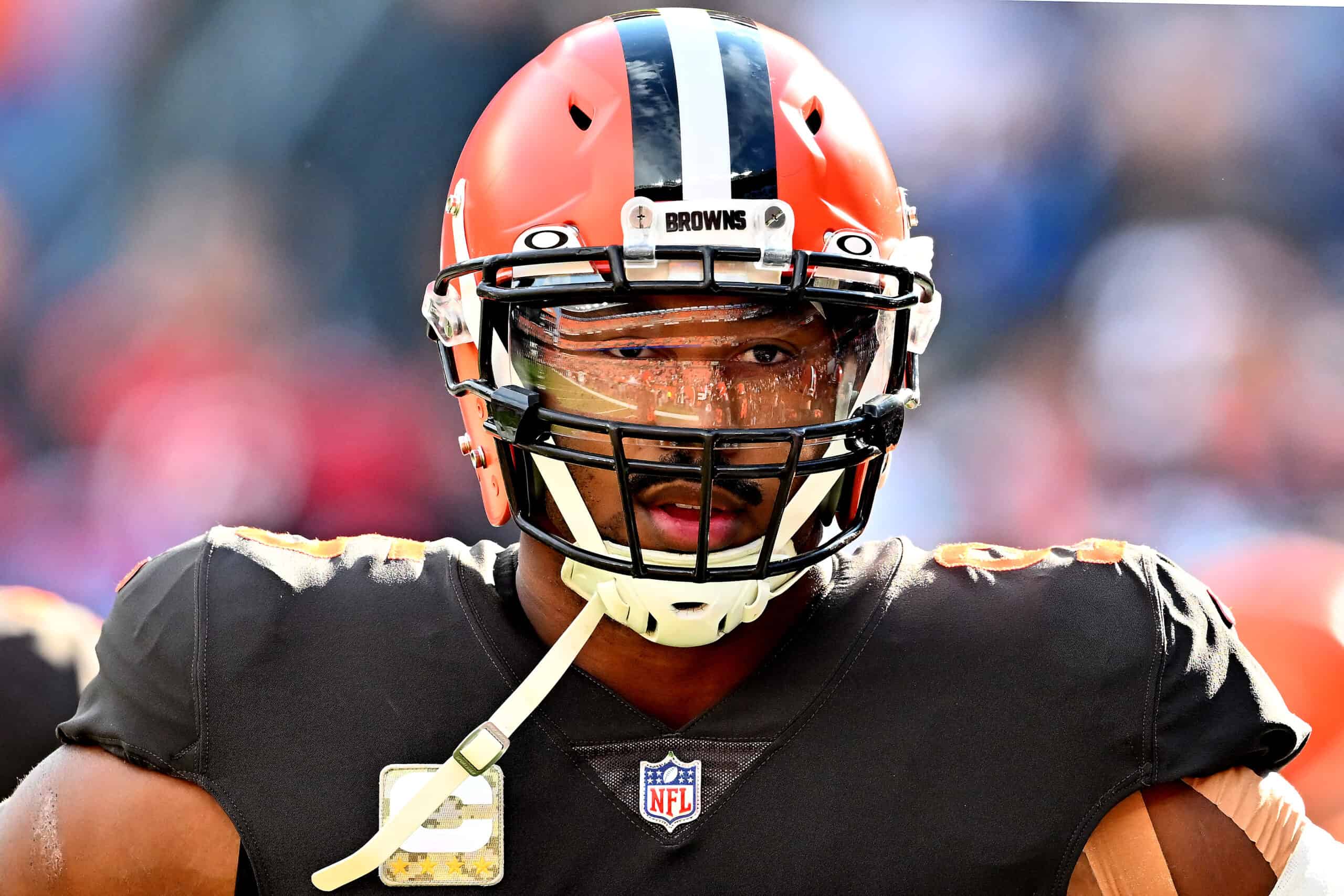 Nobody, it seems, is immune to criticism.
Not even the Cleveland Browns' perennial Defensive Player of the Year candidate and the team record holder in sacks.
Some role player who had a cup of coffee in Cleveland got himself a TV gig.
And he found it insightful to claim Myles Garrett isn't living up to his contract because he's not a verbal leader.
.@NickPaulus is NOT here for any Myles Garrett slander!!!!!! pic.twitter.com/XZsEAEKTgQ

— ESPN Cleveland (@ESPNCleveland) July 13, 2023
But ESPN-Cleveland's Nick Paulus is having none of Malik Jackson's slander.
Paulus pointed out that Garrett is not only the best pass rusher and front-line defender on the team.
One could argue he was the only player worth his salary, with 13 more sacks than any teammate.
ESPN's analyst says it was a lack of talent around Garrett, not his leadership skills, that killed the Browns' chances.
Is Jackson Off The Mark In Assertions?
Myles Garrett is the cog Jim Schwartz will build his new defense around for a reason.
He is the most reliable and most threatening defender on the field each week.
His NFL peers always mention his name when discussing the top-edge rushers.
Jackson, an interior lineman who ended his 10-year career with a 2021 stint in Cleveland, said it was not enough.
Malik Jackson on Myles Garrett leadership. Malik played with Myles during his 5th year in the NFL. pic.twitter.com/QSnq9FdgxE

— Anthony Y (@hunkura) July 13, 2023
Despite Garrett's obvious work ethic, Jackson told the NFL Network's GMFB crew Garrett needs to be a better example.
He alluded that the Browns' Pro Bowl defender doesn't inspire young players to work harder.
Garrett played through extended post-Covid and asthma complications in 2021, receiving oxygen during games.
But Jackson asserts he needed to do a better job inspiring others to play through fatigue or injuries.
Does Garrett Need To Be More Vocal? 
You can't hand a person pom-poms and expect them to become a cheerleader.
Myles Garrett is the defense's Nick Chubb, a leader by example who quietly excels at his craft.
But few believe Chubb has to be louder, probably because the quarterback is expected to be the leader.
Anthony Walker was the defense's best quarterback and a more natural leader type.
Just a reminder that Myles Garrett set the Cleveland Browns all time sack record at just 26 years old with zero signs of stopping.

If that's not a homerun of a #1 overall pick, nothing is. pic.twitter.com/RunOFAAeAo

— Nick Karns (@karnsies817) July 13, 2023
When he was lost to injury last season, communication issues immediately cropped up.
And while Garrett offered reporters some good quotes, he did not always reflect the pulse of the Browns.
Forcing leadership on your best player is only going to distract him from his routine.
Cleveland's best bet is that a natural leader like Walker, helps Garrett and Jim Schwartz keep things together.