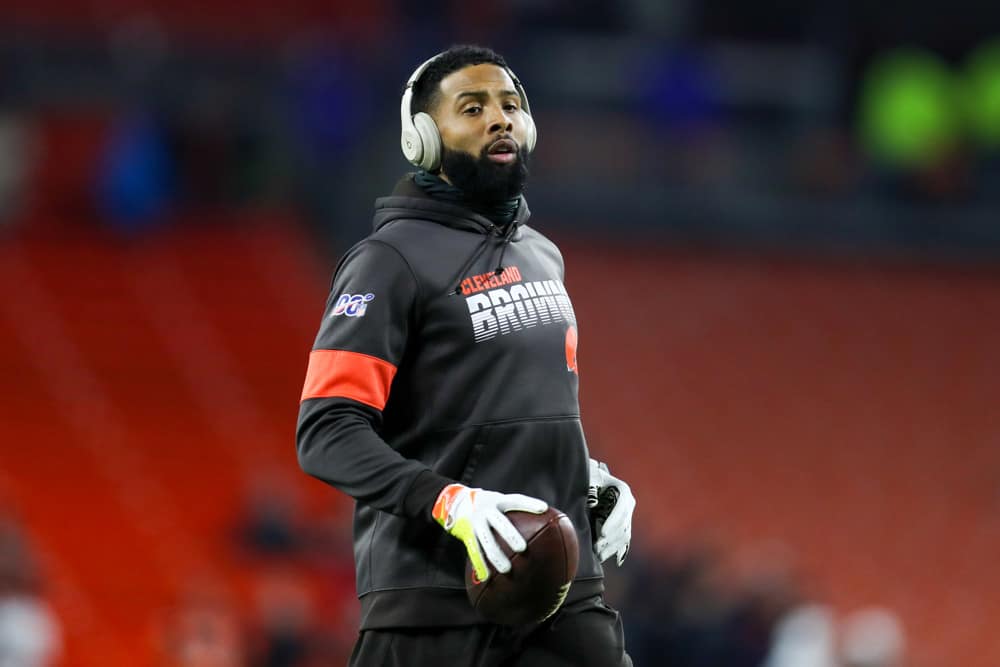 Before we get immersed in training camp and the start of the 2021 Cleveland Browns season, there is still time to look back at transactions of years gone by.
ESPN staff writer Bill Barnwell decided to take on this task by looking at who won and lost in 18 of the biggest player trades since 2018.
Who really won the Odell Beckham Jr. trade? Barnwell re-evaluates 18 big deals – via @ESPN App https://t.co/qcDFIMkmN3

— Mike Vanriel (@MikeVanriel2) July 26, 2021
Naturally, the OBJ trade made the list.
Trade Recap
Recall that the Giants and Browns made the trade on March 12, 2019.
OBJ was dealt to the Giants in exchange for S Jabrill Peppers, a 2019 first-round pick, and a 2019 third-round pick.
Those draft picks became defensive lineman Dexter Lawrence and edge Oshane Ximines.
The Browns also absorbed newly inked OBJ's five-year, $90 million contract.
Jabrill Peppers and Dexter Lawrence:

-Both in the OBJ trade

-Both still very young (25 and 23 respectively)

-Both all time great HS recruits (both ranked 27th all time by 24/7 sports, tied w/ Julio)

-Both players are on the rise with potential to be elite at their positions pic.twitter.com/2U0tgpAnvx

— Giants Alliance (@GiantsAlliance) June 17, 2021
The Giants Won The Trade
Barnwell explains that the Giants won the trade for several reasons.
By looking at each player involved or drafted as a result of the trade, we can see how he reached that conclusion.
Jabril Peppers
Jabril Peppers really is a leader on and off the field. You love to see it. pic.twitter.com/sELm1KbzRy

— Jimmy Randazzo (@JimmyRandazzo) December 8, 2020
One reason the Giants ended up winners is because of Jabril Peppers, 25.
In his two seasons with the Giants, he has one fumble recovery, one interception for a touchdown, and 108 solo tackles.
In 2019, he played in 63% of the defensive snaps.
By 2020, he was on the field for 84% of the defensive snaps.
He has not achieved blockbuster or Pro Bowl status, but he has been consistent.
Dexter Lawrence
At 342 pounds, Dexter Lawrence ran a 5.05 40 yard dash in 2019. He slows down at the 30-yard mark with a quad strain. He would have easily been sub 5 seconds.

By trading OBJ, the Giants were able to add TWO 'athletic freaks' to the defense in Dexter Lawrence and Jabrill Peppers. pic.twitter.com/2vufrpVcVo

— Giants Alliance (@GiantsAlliance) July 18, 2021
Defensive lineman Dexter Lawrence, 23, has been a stalwart performer for the Giants since he arrived.
In his two seasons, he started in 31 of his 32 career games.
He has 54 solo tackles and 19 quarterback hits while adding 6.5 sacks.
Oshane Ximines
Unfortunately, Ximines suffered a shoulder injury early last season.
He was not able to add to his notable rookie performance where he recorded 4.5 sacks.
Of the three players, Ximines is the least accomplished in his tenure with the Giants mainly because of the injury.
OBJ
The Browns took on OBJ's massive contract with the promise of brighter days with an offense led by Jarvis Landry and OBJ.
2019 was a mess for the Browns organization because of the turmoil of the Freddie Kitchens era.
Despite that, OBJ managed to accumulate 1,035 receiving yards and scored 4 touchdowns.
Injuries plagued him including a sports hernia and a core muscle injury that required offseason surgery shortly before the pandemic.
Everyone knows what happened in 2020.
OBJ tore his ACL in October after playing only 7 games.
The Browns forged ahead without him and were able to put the pieces of new coach Kevin Stefanski's offense together as the season wore on.
This meant the Browns looked better without OBJ than they did when he played.
Had he been healthy, OBJ would have contributed to that offense that gained momentum as the season wore on.
Conclusion
Regardless of how you view 2020, OBJ's tenure with the Browns has not been as successful as the players the Browns gave up to the Giants in exchange for him.
Because he is only 28 years old and the Browns have an excellent outlook in 2021, this assessment of who won the trade is definitely subject to change.