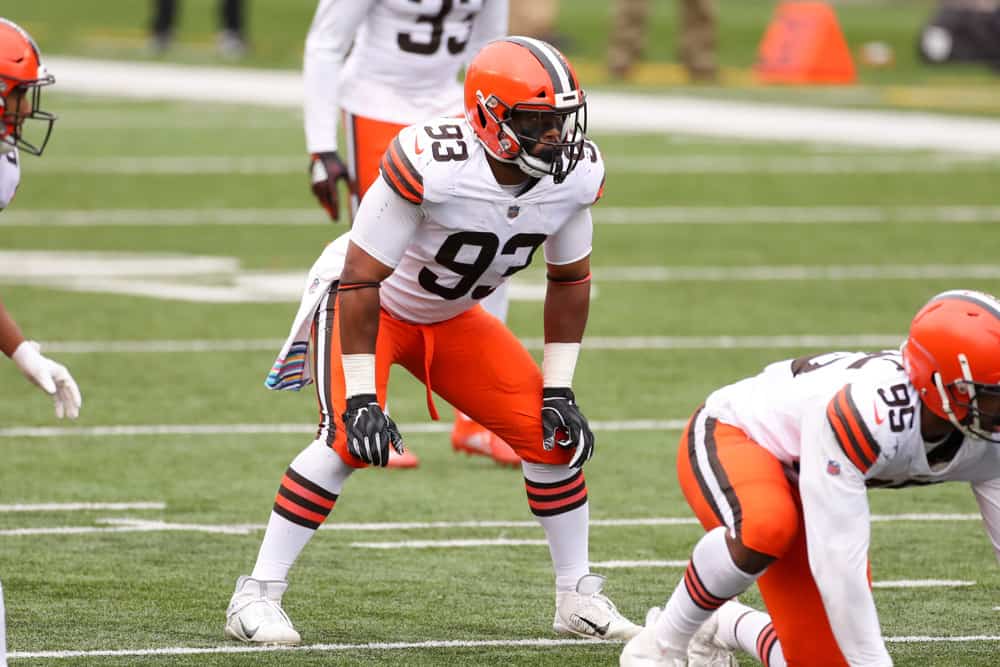 28-year-old B.J. Goodson, a member of the 2020 Cleveland Browns, retired from the NFL on September 22, 2021.
Goodson was one of the linebackers on Joe Woods' defense last season.
He became an unrestricted free agent following the 2020 season; the Browns opted not to re-sign him.
Goodson tried out for the Tennessee Titans but remained a free agent through Week 1 of the 2021 season.
Then, the New York Jets signed Goodson to a one-year contract on September 14, 2021.
Goodson played seven special teams snaps for the Jets in Sunday's Patriots game.
It is not clear what prompted Goodson's sudden retirement after being a member of the Jets for only 8 days.
After signing with the Jets Sept. 14 and taking seven snaps on special teams against the Patriots, LB B.J. Goodson has retired.

— Adam Schefter (@AdamSchefter) September 22, 2021
Goodson's 5 Year NFL Career Included 3 Teams
B.J. Goodson played college football for Clemson.
He was drafted in the fourth round in 2016 by the New York Giants.
Goodson appeared in 67 career games, 37 with the Giants.
He was a member of the Green Bay Packers for the 2019 season before coming to Cleveland last year.
Coach Stefanski faced Goodson two times during the 2019 season when Stefanski was the Minnesota Vikings' offensive coordinator and Goodson was with the Packers.
Stefanski's familiarity with Goodson is what ultimately landed him in Cleveland for Stefanski's rookie season as a head coach.
2020 Was His Career Year
The highest-graded #Browns on offense and defense vs #HereWeGo:

Jarvis Landry – 64.7
B.J. Goodson – 85.7 pic.twitter.com/bxWwta2xJ3

— PFF CLE Browns (@PFF_Browns) October 19, 2020
Goodson's finest stats and performances came while he was in a Cleveland Browns uniform.
He started in all 14 games he played in.
Goodson was credited with 91 total tackles, 59 were solo tackles.
He had 2 interceptions and 1 fumble recovery along with 3 quarterback hits and 2 tackles for a loss.
Some believed that the Browns should have re-signed Goodson.
BJ Goodson is the #Browns most underrated player and defender:

14 Games
91 Tackles [5 missed, 5.2%]
2 INTs
6 Pass Deflections
2 TFL
3 QB Hits

BJ Goodson served up an 79.8 PFF Grade [Best Amongst Teammates] in the #Browns Wildcard Victory against the Pittsburgh Steelers. 👀

— Cleveland Browns (@logansnfl) January 14, 2021
Goodson's Future
At 28, he has a long life ahead of him with football now in his rearview mirror.
He earned a sociology degree from Clemson, graduating in December 2015.
Goodson is a native of South Carolina.
Best wishes in retirement, B.J. Goodson!