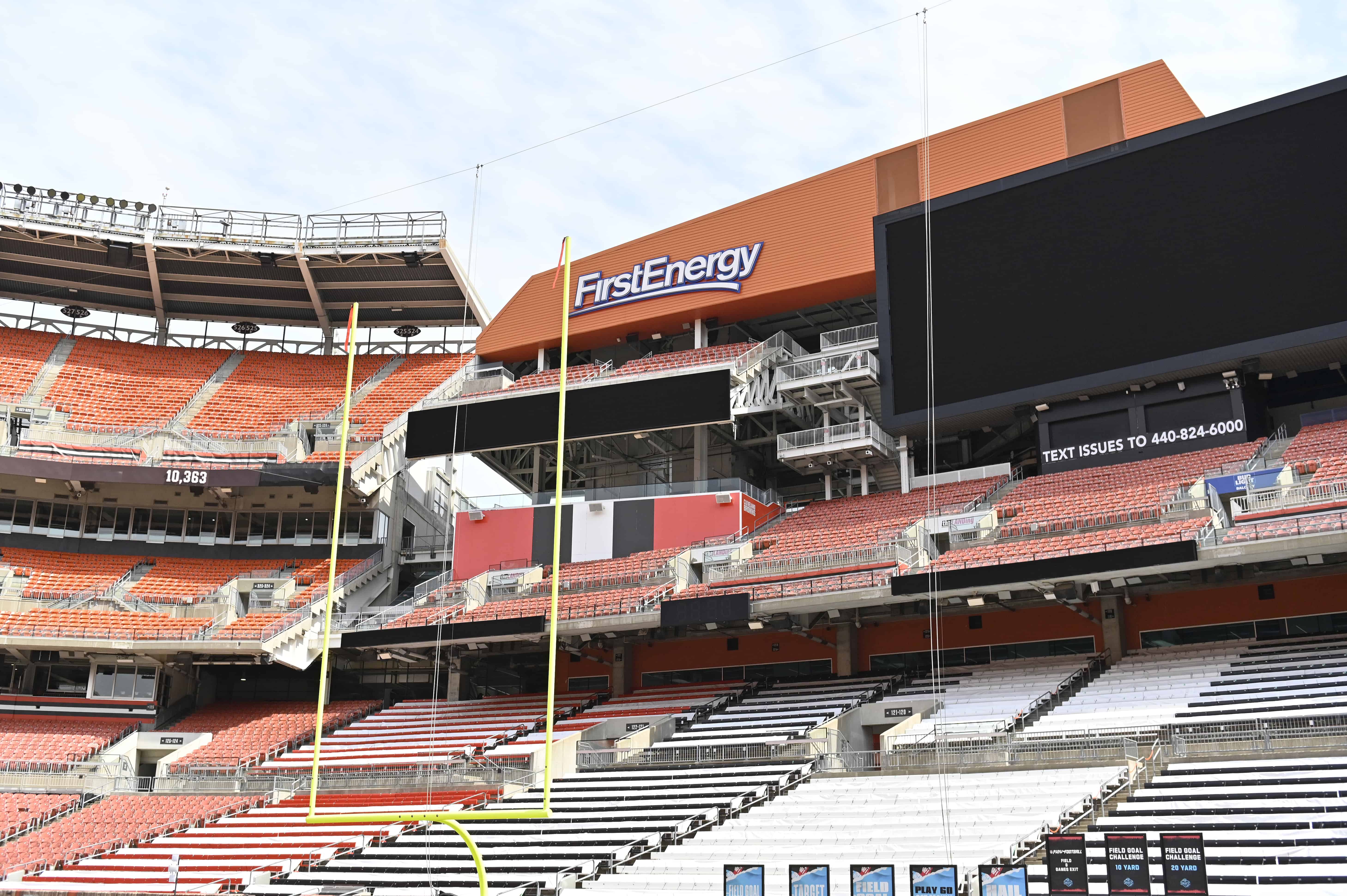 By now, everyone has seen the big reveal for the Cleveland Browns 75th-anniversary limited use uniforms.
While the jersey and helmet were the featured items, we see that the FirstEnergy Stadium Browns ProShop is fully stocked with T-shirts, sweatshirts, hats, and other 75th-anniversary memorabilia containing the logo and general look.
Stocked and ready! 😤
▪️open from 10 am to 5pm
▪️free poster with purchase
▪️download the app to get a picture on the field #Browns pic.twitter.com/mGoUOLzSnN

— BrownsProShop @ FirstEnergy Stadium (@BrownsProShop) July 24, 2021
Been my header for awhile now, but what a great day to share it. #Browns #ClevelandBrowns pic.twitter.com/5IKF2kTA0g

— 🔥CLEVEL∆ND EVOLUTION🔥 (@CLEvolutionSZN) July 24, 2021
Fan Reaction
A quick review of Twitter shows fan reaction is overwhelmingly positive.
Surprisingly, there were not too many unhappy people sharing their thoughts because they hoped for an orange uniform.
In the end, the Browns went with tradition, and this look is reminiscent of the 1946 Browns.
@Browns @bakermayfield these uniforms are 🔥🔥🔥🔥#clevelandbrowns #DawgPound #bakermayfield #Browns #dawgcheck
Let's Go !!!! pic.twitter.com/xkX7fKcAfM

— Mike Lavelle 🇮🇪 (@IrishMike_1017) July 24, 2021
75th anniversary Browns looking real nice 🤘 #ClevelandBrowns pic.twitter.com/hzAiDfbe3t

— Jbdealio (@JBD75614503) July 24, 2021
😱 🔥

The Browns 75th Anniversary uniforms are SOOOOOOOOOOOOO good!!

OMG!!#Browns #Cleveland #ClevelandBrowns #Believeland #NFLTwitter #BrownsTwitter #CLE pic.twitter.com/UsHPsbhAmH

— Max Joseph (@Mjoseph492) July 24, 2021
I like alot pic.twitter.com/GulRTvCU2o

— Dawson Bowles (@silent_lasagna6) July 24, 2021
Browns left guard Jedrick Wills weighed in on the 75th-anniversary look.
Jedrick Wills on Browns 75th anniversary unis:

"The uniforms are fire. I like the helmets more though." pic.twitter.com/20O6fEAunn

— Nick Karns (@karnsies817) July 24, 2021
It is unclear how frequently the uniforms will be worn.
They have been labeled "limited use".
Bigger Headlines Today
The uniforms are eye candy, but the real substantive news of the day is the signing of the last two draft picks from the 2021 class.
This morning both Greg Newsome II, cornerback, and Anthony Schwartz, wide receiver, signed their rookie contracts and will report to camp on July 27 with the rest of the team.
The Browns have put together an impressive roster so it will be a lot of fun watching them come together at training camp.
Training Camp And Preseason Are Almost Here
The Browns report on Tuesday, July 27.
Open practices (12 are scheduled) begin on Friday, July 30.
The @Browns released the 2021 Training Camp schedule! pic.twitter.com/fUbA9WShDX

— Cleveland Browns Discord (@BrownsDiscord) July 15, 2021
Then, the process begins of trimming the 90 man roster.
By August 17, the roster will go down to 85.
On August 24, the roster becomes 80.
August 31 is the final cut day where the team roster gets down to 53 players.
All of this activity occurs with a backdrop of preseason games happening in 2021 after being called off in 2020 because of COVID-19.
The Browns then open with Kansas City at Arrowhead on September 12.
Are you ready for some football?