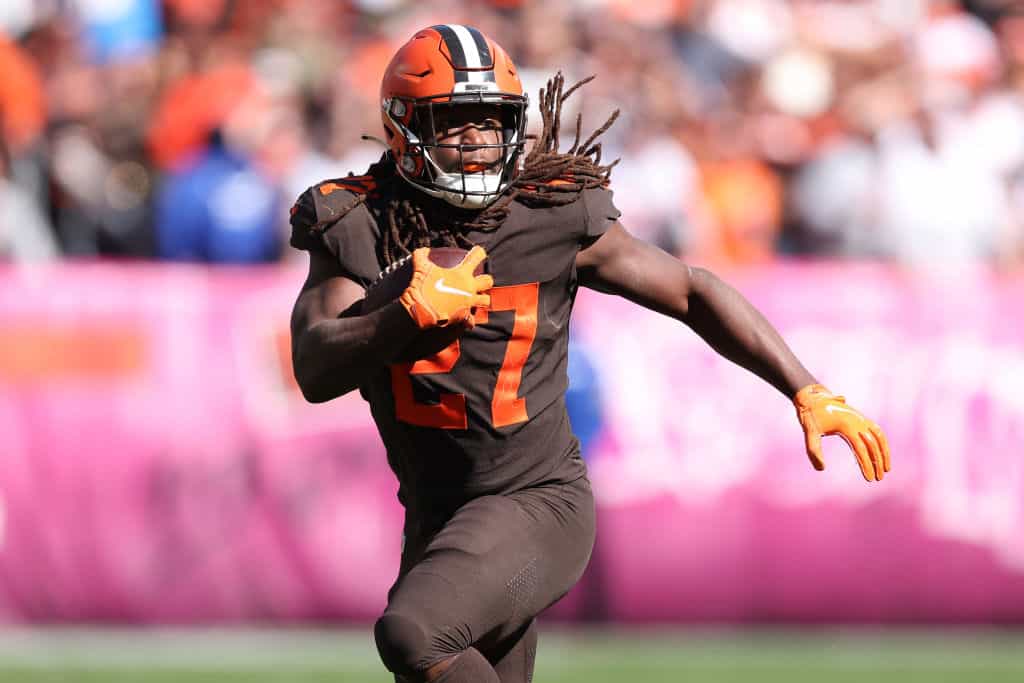 Kareem Hunt told the Cleveland Browns last season that he wanted to be traded or get a pay raise.
None of that happened, and Hunt continued to serve as a secondary back, with Nick Chubb wreaking havoc out of the backfield.
The chances of bringing Hunt back seemed slim, given his desire to sign a lucrative deal or be more involved in the offense, especially if they intended to hold onto Chubb for the future.
Now, the NFL market has let Hunt know that he's not worthy of as much money as he thought he was, as he's reportedly not had one single free agent visit thus far.
According to Terry Pluto of Cleveland.com, via Dov Kleiman, the word around the league is that he "should be thankful" if he's signed to a one-year deal worth $4 million.
Report: The #Browns will not be re-signing Kareem Hunt and believe he was "slipping" in terms of his speed, according to @terrypluto

The 27-year old RB hasn't visited a single team in free-agency and Terry says "should be thankful" to sign a 1-year deal in the $4 million range. pic.twitter.com/1L0KPlNogD

— Dov Kleiman (@NFL_DovKleiman) April 9, 2023
Remember when I said he lost his speed and is no where near what he was just 1-2 years ago? As a fan base we need to get over the "sign him now!" train whenever someone is available from another team.

— Edwin🎙️ (@EdwinSphere) April 10, 2023
How the mighty have fallen. This guy was fantasy football gold in 2017 and 2018.

— Useless Giraffe (@UselessGiraffe) April 9, 2023
Bro what? He's still really good

— Zay (@TheMonieman) April 10, 2023
Not that surprising. In 2022, Hunt's 3.8 yards per carry and 6.0 yards per reception both marked a career-low,

In 17 games, Hunt rushed 123 times for 468 yards and three rushing TDs, adding 35 receptions for 210 yards and one receiving TD.

— Free Agency Frosty (@FrostyTalksFB) April 9, 2023
Tell Terry to shut up! These people come up with some of the craziest evals.

— Bernard Pollard Jr (@Crushboy31) April 9, 2023
The Browns feel like his speed is slipping and have no interest in bringing him back, a decision that drew mixed reviews on social media.
Still, we can't say this was much of a surprise.
He's coming off averaging career-lows in both yards per carry (3.8) and yards per catch (6.0), and he failed to make any of the explosive plays he was used to when he first entered the league.
At just 27 years old, one could argue that Hunt should still be worthy of a chance, but that seems to be the age where former bell-cow RBs start to decline.
Also, given his history of off-field issues, it doesn't seem like NFL teams have any incentive to keep him around any longer.