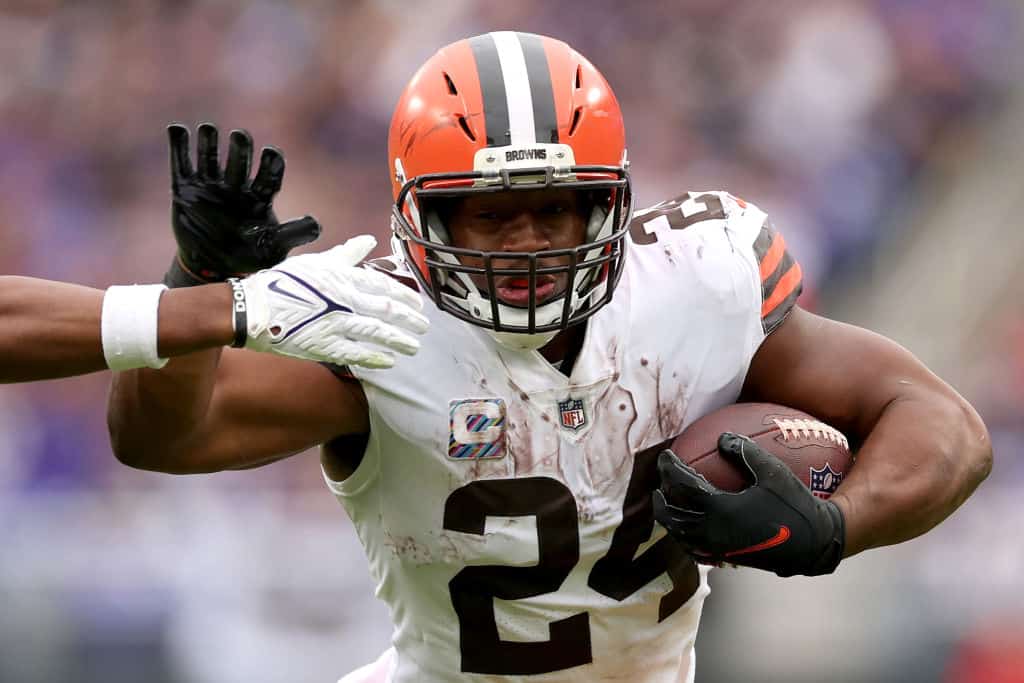 Although Cleveland Browns running back Nick Chubb was a mere second-round draft pick in 2018, he may just be the best player in that entire draft class.
That is the argument Pro Football Focus seems to make with its career grades of all the stars who were a part of that class.
Chubb ranked first and was comfortably ahead of Buffalo Bills quarterback Josh Allen, as well as miles ahead of New York Giants tailback Saquon Barkley, and Fred Warner, the excellent All-Pro middle linebacker for the San Francisco 49ers.
Highest career grades among players from the 2018 class pic.twitter.com/tET7KRJCLl

— PFF (@PFF) April 12, 2023
Fans generally seem to agree with PFF's assessment.
Chubb is the 🐐 pic.twitter.com/lrzpxbM1MM

— PAIN (@Xommanders) April 12, 2023
Nick Chubb might be the most underrated RB in NFL history

— Randy Rutherford (@randy8842) April 12, 2023
@KayvonOjulari you asked since when has Chubb been better than Saquon. ALWAYS.

— Mavs Ace (@Mavs_Ace) April 12, 2023
This fan, however, doesn't think Chubb is the best of his draft class.
What makes Chubbs rating better than the rest? Is he doing more with a lesser O-Line?

Because I don't think so…

— Locks Daily (@KRyder748) April 12, 2023
Chubb ran for a very solid 996 yards and eight touchdowns as a rookie, and the following year, he began a streak of getting named to the Pro Bowl every year that continues to this day.
He is quite possibly the best running back in the NFL today, especially since he averaged more yards per carry in 2022 than Derrick Henry and Jonathan Taylor, the two men who are often cited as arguably the best at that position.
Chubb was part of a talented crop of rookies in 2018 for the Browns that included cornerback Denzel Ward and, of course, quarterback Baker Mayfield, who was the top pick overall.
Ward has panned out nicely, making the Pro Bowl as a rookie and again in 2021, but Mayfield hasn't been able to put it together, and after the Browns traded him last offseason, he will be suiting up for his fourth team, the Tampa Bay Buccaneers, next season.
Overall, Cleveland has drafted very well in recent years, and it is a big reason why the team has an impressive roster right now.