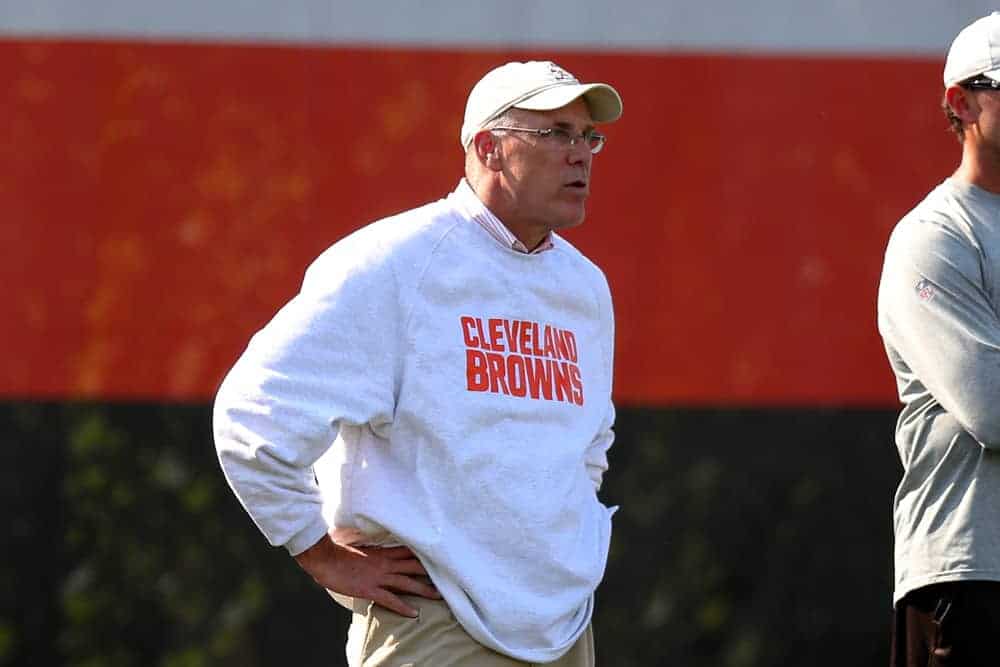 The Cleveland Browns are preparing for a Week 15 matchup with the New York Giants.
However, that isn't the only interesting news happening surrounding the Browns.
Former Browns general manager John Dorsey has reportedly joined the Philadelphia Eagles as a consultant.
From @gmfb Weekend: The #Eagles quietly brought former #Chiefs and #Browns GM John Dorsey aboard as a consultant the past few months. Dorsey could be in the mix for some GM jobs this cycle. If not, possible he sticks in Philly. pic.twitter.com/mXO1PWlOJZ

— Mike Garafolo (@MikeGarafolo) December 19, 2020
The Eagles front office reportedly thinks highly of Dorsey.
They believe his talent evaluation expertise can be useful to the Eagles organization.
Dorsey is certainly responsible for bringing in big name talent to both the Browns and Kansas City Chiefs.
Dorsey's Accomplishments
The Browns decided to part ways with Dorsey after the horrendous 2019 season.
Everything seemed to go wrong for Cleveland last season, so the team decided to clean house.
However, the 60-year-old general manager does deserve credit for bringing in some huge draft picks.
Dorsey worked as the Chiefs general manager from 2013 to 2017.
He brought in big name talent such as Patrick Mahomes, Travis Kelce, Tyreek Hill, and Chris Jones.
Notable Draft Picks by John Dorsey:
Travis Kelce, Kareem Hunt, Mitch Morse, Chris Jones, Nick Chubb, Dee Ford, Marcus Peters, Patrick Mahomes, and Baker Mayfield 🔥 pic.twitter.com/LG4k7CbvsZ

— Chris Mallee (@mallee_chris_24) December 19, 2020
He joined the Browns later in 2017 and brought his great eye for young talent with him.
Dorsey landed Baker Mayfield, Odell Beckham Jr., Nick Chubb, and Denzel Ward.
He was able to bring in a majority of the Browns young core, so he deserves credit for that.
Sadly, Dorsey quickly wore out his welcome in Cleveland.
Dorsey's Downfall
Dorsey's biggest strength is evaluating and young talent, which is a great asset to have in your front office.
However, his management skills and mishandling salary cap issues are what led to his departure.
During his time in Kansas City, Dorsey would often times do things and not tell anyone why, according to Terez Paylor.
His attachment to former head coach Freddie Kitchens was a big problem for the Browns front office.
Good morning #Browns fans.

John Dorsey & Freddie Kitchens are described by one source as "two peas in a pod." But, Jimmy Haslam isn't a big fan of Kitchens.

So, what's going to happen? We have the scoop from PFN Insiders @AllbrightNFL and @TonyPauline.https://t.co/0TDmaCWlTt

— Pro Football Network (@PFN365) December 12, 2019
Kitchens did an awful job last season and completely lost the locker room.
He was well deserving of being fired, but Dorsey wanted to keep him around.
Dorsey is great at finding young talent, but the rest of his style is lackluster to say the least.
The Eagles are in the middle of a disappointing 4-8-1 campaign.
Somehow, still alive in the NFL East playoff picture, but really don't deserve a trip to the postseason.
Quarterback Carson Wentz has mentioned he'd like to play elsewhere if he's not going to be the starter anymore.
While questions have persisted about what the Eagles will do with Carson Wentz, the more appropriate question might be what Carson Wentz will do with the Eagles. Sources believe Wentz is not pleased with recent events there.https://t.co/Y0GAX3WqCm

— Adam Schefter (@AdamSchefter) December 20, 2020
The Eagles gave Wentz a huge extension that is going to be a tough sell to most organizations.
Dorsey certainly has put himself in a problematic environment, but we'll see if he can work his magic.