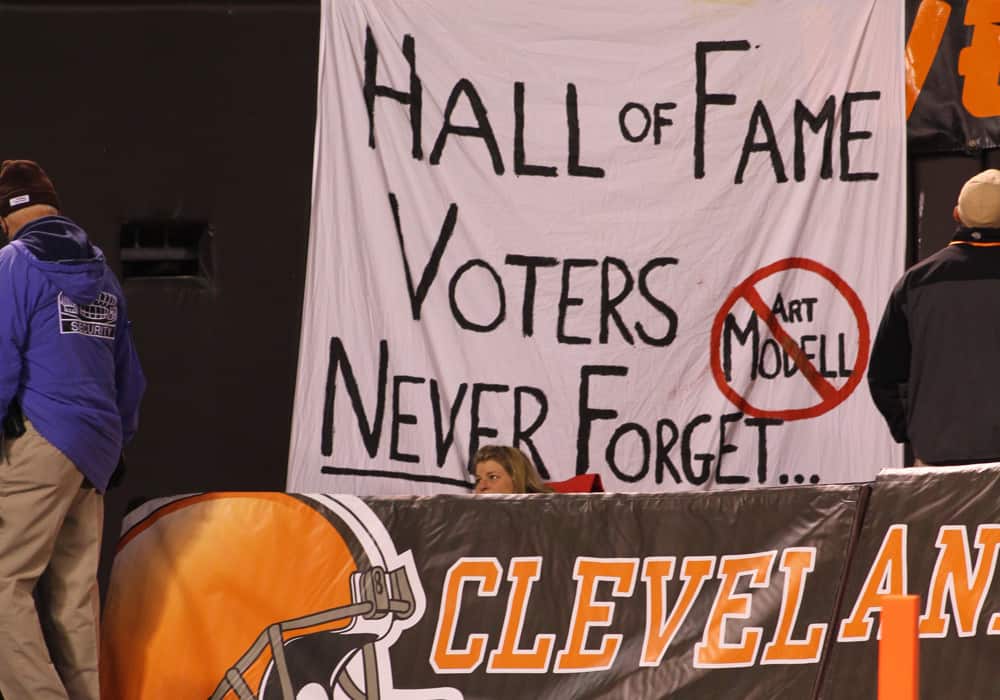 Former Cleveland Browns and Baltimore Ravens owner Art Modell was left off the Pro Football Hall of Fame, this time as part of the Centennial Slate.
The Centennial Slate is a group making up an expanded class to celebrate the NFL's 100th year.
Pro Football Hall of Fame Centennial Class. From the contributors category: NFL Films Steve Sabol, NYG GM George Young, NFL Commissioner Paul Tagliague. That's it for the contributors category. No Art Modell.

— Tony Grossi (@TonyGrossi) January 15, 2020
The Reaction

To some fans, this is considered a victory.
Modell was the man responsible for the Browns moving out of Cleveland in 1995.
From 1961 to 1995, the Browns were in Cleveland, but the team relocated to Baltimore.
The way the Browns moved did not settle well with fans.
It was reported that the City of Ohio wanted to improve Municipal Stadium; however, it was Modell that engaged in secret talks to move the Browns to Baltimore.
Several requests for some videos from the last #Browns game in Municipal Stadium. Here is Bob Costas – great explanation on the ineptitude that was Art Modell https://t.co/Apqg2ENltC pic.twitter.com/JgQiHSaHWB

— Scott Dryden (@TheBrownsScout) December 18, 2019
Modell As An Owner
Modell purchased the Browns for $4 million in 1961.
In the early stages of his ownership, Modell fired head coach Paul Brown, who had led the Browns to three NFL Championship championships.
The Browns won the NFL Championship in 1964 but many of the players were from the Paul Brown regime.
During the next 30 years, under the leadership of Modell, not a single team won a league title.
To add insult to injury, Modell's image depleted over the years due to player-contract battles.
In 1967, five African American members of the team were involved in a contract battle with Modell.
Four of the five members were eventually traded or released.
His image did not get any better as contract battles with beloved defensive end Jack Gregory in 1972 and second-round pick Tom Skladany in 1977 tarnished his image.
Eventually, fans manifested anti-Modell stadium banners that had to be taken down by Cleveland management.
The Jim Brown Rift
The greatest player in Brown's history retired in 1965 and Modell was part of the reason.
Despite having a close relationship after his playing career, Jim Brown and Modell had their fair share of squabbles.
When filming the movie "The Dirty Dozen," Brown was not going to make it back in time for training camp.
Modell gave him an ultimatum: report or face a fine.
Jim Brown also retired as an explicit rebellion against fines being levied by Cleveland franchise owner Art Modell for missing training camp. Brown retired with a political public statement from the set of the Dirty Dozen, where rains were delaying production. I think Brown wins

— Dave Zirin (@EdgeofSports) August 25, 2019
Other Selections
NFL Films founder Steve Sabol, former New York Giants general manager George Young, and former commissioner Paul Tagliabue were the three contributors selected.
Former Steelers coach Bill Cowher and former Cowboys and Dolphins coach Jimmy Johnson was surprised on live television on Sunday.
The Browns had a consolation prize as former end Mac Speed was elected.
Ten players were selected and these included:
Harold Carmichael, WR (Eagles 1971-1983, Cowboys 1984)
Jim Covert, T (Bears 1983-1990)
Bobby Dillon, S (Packers 1952-1959)
Cliff Harris, S (Cowboys 1970-1979)
Winston Hill, T (Jets 1963-1976, Los Angeles Rams 1977)
Alex Karras, DT (Lions 1958-1962 and 1964-1970)
Donnie Shell, S (Steelers 1975-1987)
Duke Slater, T (Milwaukee Badgers 1922, Rock Island Independents 1922-1925, Chicago Cardinals  1926-1931)
Mac Speed, E (Browns 1946-1952; AAFC/NFL)
Ed Sprinkle-DE/LB/E (Bears 1944-1955)