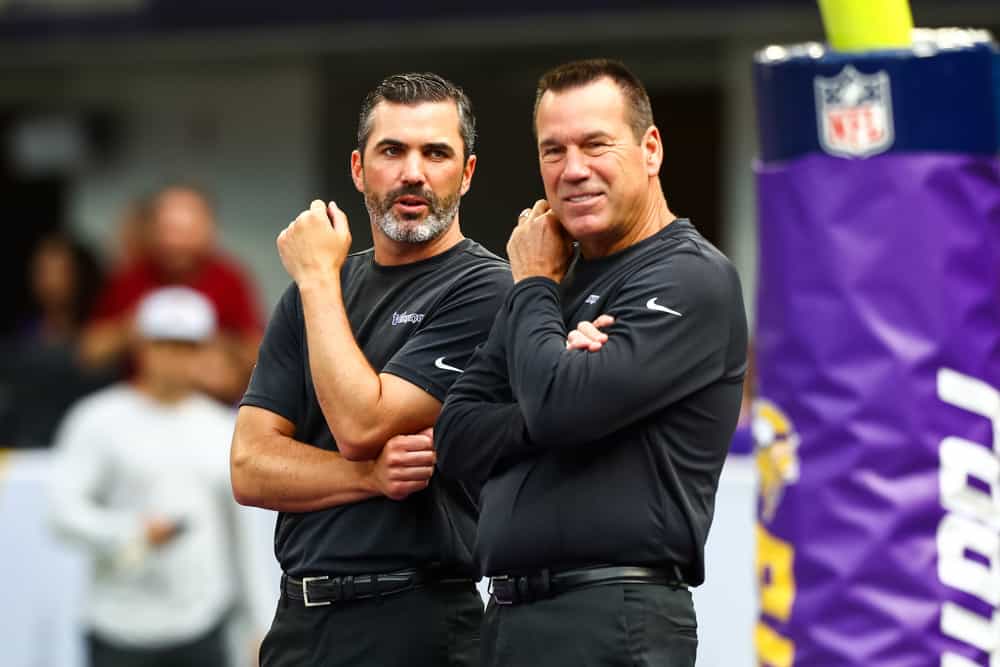 For the second time in as many years, the search for a new head coach is over and the Browns have their man.
Welcome to Cleveland Kevin Stefanski
After a tumultuous 2019 season rife with drama, Browns' fans would love to see a new approach.
The overwhelming hope in Cleveland is that Stefanski can replicate the success enjoyed by the Minnesota Vikings over the last five years.
But what does hiring the 14-year Viking veteran assistant coach truly mean for the Cleveland Browns?
Scouting report on soon-to-be #Browns coach Kevin Stefanski, the third hire this year from our annual rising head coach candidates list back in October. https://t.co/37zRL1bbTQ pic.twitter.com/cL88d1sJtt

— Tom Pelissero (@TomPelissero) January 12, 2020
Mr. Versatility
Stefanski was the proverbial Swiss Army Knife of the Vikings' offensive staff since joining the organization in 2006.
A defensive back for the Penn Quakers in college, Stefanski joined Minnesota as an assistant to head coach Brad Childress.
Stefanski coached quarterbacks for the Vikings until 2014, when Mike Zimmer took over as head coach.
Zimmer rotated Stefanski through different assignments on the coaching staff.
Stefanski coached running backs and tight ends before moving back to a quarterbacks coach in 2017.
After terminating offensive coordinator John DeFilippo in mid-2018, Stefanski took over as interim OC to finish the season.
The Vikings promoted Stefanski to offensive coordinator in 2019, and he did not disappoint.
Minnesota ranked eighth in the league this season in scoring offense, and sixth in the league in rushing yards per game.
Defined by his Focus
There seems to be a single word that is synonymous with Stefanski's approach to offense.
Focus.
Previous play-callers in Minnesota unsuccessfully tried a multitude of formations and schemes with mixed success.
Stefanski succeded by sticking to the things the Vikings do best.
An outside zone was the staple of the Vikings' offensive production this season, allowing Dalvin Cook to pick his gaps behind an active offensive line.
Instead of too many distracting formations, Stefanski built plenty of play-action and misdirection plays off of the base strategy.
But just because his offensive schemes are dialed-in, it doesn't mean they're predictable.
Stefanski is known for shucking conventional wisdom at times and turning a simple need for a first down into a big play explosion.
And he has to be licking his chops with the arsenal of weaponry that the Browns offer to create a balanced, yet explosive attack in 2020.
Getting their Best
Inspiring quarterbacks to play above expected levels is the trademark of Stefanski's success in Minnesota.
It started in 2017 when the Vikings needed Case Keenum to step in for the injured Sam Bradford.
Stefanski instrumented Keenum's rise from mediocre oblivion to a field general in 2017.
Keenum led the Vikings to a 13-3 season that year and an NFC title game loss to the eventual champion Eagles.
In 2019, questions circulated about Kirk Cousins' ability to leverage impressive stats into winning the games that matter.
Stefanski seemed to hone in on Cousins game this year, helping him overcome the challenges of DeFilippo's system and enable him to showcase his leadership on the field.
After a disappointing setback this season, Baker Mayfield could benefit from Stefanski's ability to mold quarterbacks for breakthrough success.
If the two develop the chemistry for success, then Mayfield's potential for improvement in his third season is off the charts.
The Right Script
Mike Zimmer was certainly impressed with Stefanski's attention to detail upon taking over as Vikings' offensive coordinator this season.
Stefanski is the type of coach that develops a strategy and commits to it.
And painstakingly plans for everything – right down to the most minute detail.
Known for his play-calling scripts to start a game, the 37-year old is detail-oriented, focused, and disciplined.
And Browns fans are desperate for these traits to define Stefanski's teams for many years to come.
We won't know until next season if Stefanski was the right choice as the next head coach, but he certainly characterizes the vision for what the Browns should aspire to be.