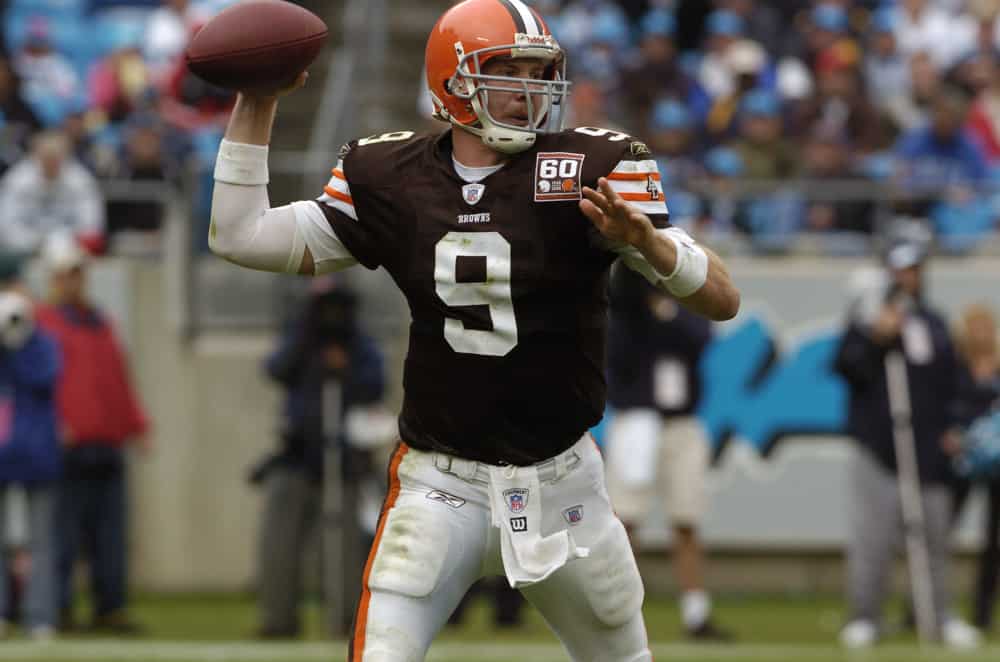 Charlie Frye, 39, the former quarterback of the Cleveland Browns, is returning to the NFL as the quarterbacks coach for the Miami Dolphins.
We have named Charlie Frye quarterbacks coach.

We have parted ways with quarterbacks coach Robby Brown.

— Miami Dolphins (@MiamiDolphins) January 23, 2021
Reunited and it feels so good!

Dolphins set to hire Charlie Frye as quarterback coach. Frye (pictured right) worked with Tua Tagovailoa for eight days at #Elite11 & The Opening Finals in summer of 2016 pic.twitter.com/8Cf5jBa6Vv

— Elite11 (@Elite11) January 23, 2021
The Ohio native and Akron alumnus previously served as the quarterbacks coach and offensive coordinator for Central Michigan from 2019-2020.
Frye's Playing Career
Charlie Frye was drafted by the Browns in the third round (67th overall) of the 2005 NFL Draft.
Frye earned the starting job in Week 13 of the 2005 season, and he held on to it through the 2006 season.
During the 2007 preseason, Frye was competing with Derek Anderson and Brady Quinn for the starting job that he ultimately won.
I know the whole "the best coaches aren't the best players" thing but Charlie Frye made a mockery of the QB position when he was our starter. https://t.co/z6gdWsesBb

— Inauguration Mike 🧢 (@MikeAmmo) January 23, 2021
However, he had a horrible showing against the Pittsburgh Steelers in Week 1.
He was benched early in the game after completing 4 of 10 passes for 34 yards and 1 interception.
Derek Anderson relieved him in that game and remained the starter the rest of the season.
Frye was traded to the Seahawks on September 11, 2007 where he became the third string quarterback behind Matt Hasselbeck and Seneca Wallace.
He continued with the Seahawks through the 2008 season.
Prior to the 2009 season, Frye signed with the Oakland Raiders.
Frye came off the bench to start for the Raiders in the last three games of the 2009 season.
He finished 2009 with 581 yards, 1 touchdown, and 4 interceptions.
Frye planned to return to the Raiders for the 2010 season but suffered a wrist injury during training camp which essentially ended his playing career.
For his career, he threw for 4,154 yards (3,490 with the Browns), 17 touchdowns (14 with the Browns), and 29 interceptions (23 with the Browns).
Frye's Coaching Career
Former Brown Kenard Lang gave Frye his first break in coaching as the offensive coordinator at Jones High School in Orlando, Florida.
Lang and Frye worked together at Jones from 2012-2013 and moved to Wekiva High School for the 2014 and 2015 seasons.
Frye accepted a job at the University of Florida as Director of Player Development and worked there for the 2016 and 2017 seasons.
He returned home to Ohio to work with Ashland University as wide receivers coach in 2018 prior to making the leap to Central Michigan for the 2019 and 2020 seasons.