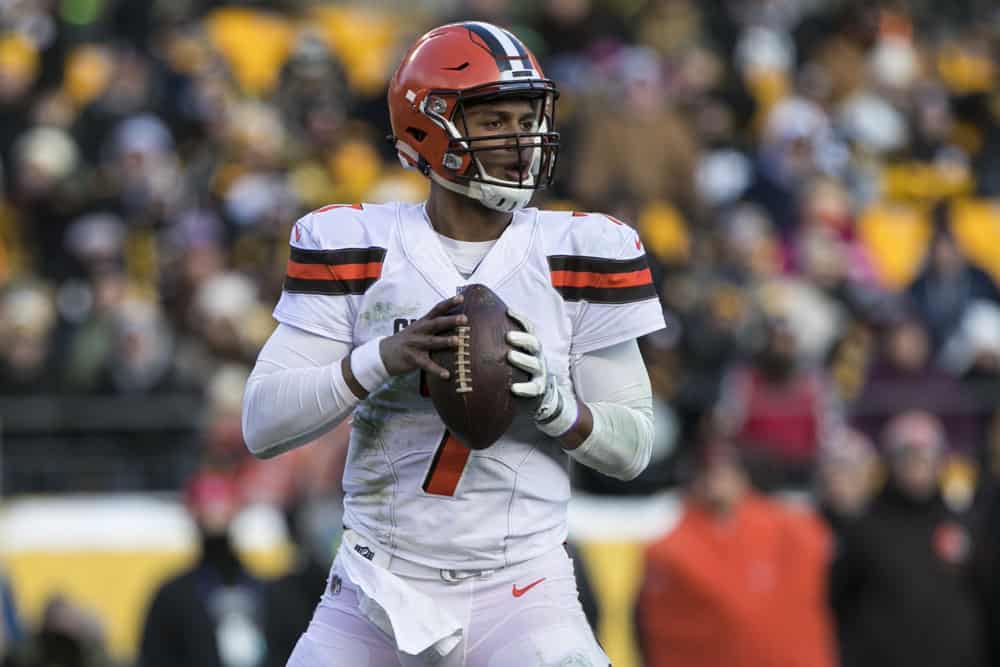 Impressing in training camp and having that translate to regular season success isn't a guarantee for NFL players.
It wasn't too long ago the word "polished" was being used to describe DeShone Kizer's ability in Berea.
The former Cleveland Brown's quarterback hasn't had much success since leaving Cleveland but is clawing for a spot on Tennessee's roster this summer.
According to ESPN.com:
"Kizer has looked good in OTAs and minicamp, especially when ripping throws on midrange routes across the middle. He spent most of his time with the Titans last year as a "quarantine QB" working only with QB coach Pat O'Hara. His quick decision-making in OTAs and minicamp is evidence that he has gained a strong grasp of the playbook."
.@Titans QBs coach Pat O'Hara called the back-up QB battle with Logan Woodside and DeShone Kizer a "healthy competition"

— Jim Wyatt (@jwyattsports) June 14, 2021
Kizer's Journey
Kizer's lone season in northeast Ohio, 2017, was as miserable as it can get for a rookie quarterback.
After being drafted in the second round, the former Notre Dame star was thrown to the wolves.
A sack percentage of 7.4% was 12th-worst in the league as Kizer seemed to be on his rear-end more than he was upright.
That took its toll as the year went on.
Former head coach Hue Jackson didn't exactly do Kizer a ton of favors either.
Packers just traded for DeShone Kizer…. 🤔 pic.twitter.com/afwis6VCCb

— Nathan J Mueller (@packerboy9287) March 10, 2018
In a trade littered with draft picks, he was sent to Green Bay in 2018 in a deal that netted Damarious Randall.
While Randall's stint in Cleveland wasn't exactly peachy, it was a solid return for the failed QB project.
The Raiders picked up Kizer off waivers from Green Bay in September of 2019.
He was removed from their practice squad just one year later after playing just three games with the Packers.
Deshone Kizer really threw this on a rope. Deep comeback far left side of the field. Zero margin for error. This is an Aaron Rodgers caliber throw. #Packers pic.twitter.com/iVlsHxDdX0

— Eye In The Sky (@The_Green_Gold) August 21, 2018
That brings us to now, where DeShone suits up for Tennessee.
The Titans added Kizer to their practice squad last November as he continues to try and carve out his NFL career.
His record as a starting quarterback is still 0-15.
Camp Competition
With Ryan Tannehill back as the primary signal-caller, Kizer will be competing for a backup position.
Considering how things looked after the Cleveland days, that's not too shabby of a spot to be in.
His counterpart for second string will be Logan Woodside.
Some may recognize that name as Woodside is a former standout at the University of Toledo.
MAC Offensive Player of the Year ➡️ @ToledoFB QB Logan Woodside

3,451 passing yards
24 touchdowns

@Lwoodside11 is the first player in program history to throw for over 10,000 yards. #MACtion pic.twitter.com/SF9eB4U0Qt

— #MACtion (@MACSports) November 29, 2017
Prior to last season, Tannehill went three straight years without appearing in all 16 games.
Injuries are commonplace in the NFL, so that backup quarterback slot means plenty to the guys competing for it.
They know a good job as a backup there can potentially lead to a starting spot elsewhere.
DeShone Kizer 🚀 #Titans pic.twitter.com/LRmVrUiQn2

— TURRON DAVENPORT (@TDavenport_NFL) June 3, 2021
Onward and Upward
While Kizer's early career has already been one of a journeyman, he's still just 25-years old.
He probably won't be making any Pro Bowls before he retires, but he has time to develop into a formidable QB.
Think of guys like Erik Kramer or Tommy Maddox.
They each only started one full season in the NFL and spent most of their career as backups.
Charlie Batch, who the Browns beat in Cleveland in 2012, spent years in Pittsburgh as one of their favorite backups.
For Kizer, a role similar to that may be where he fits best.
He's still young, but barring some crazy unforeseen circumstances, teams in need of a franchise quarterback won't be looking to him.
With only Woodside to compete with in Tennessee, don't be shocked to see him behind Tannehill on their depth chart come opening weekend.