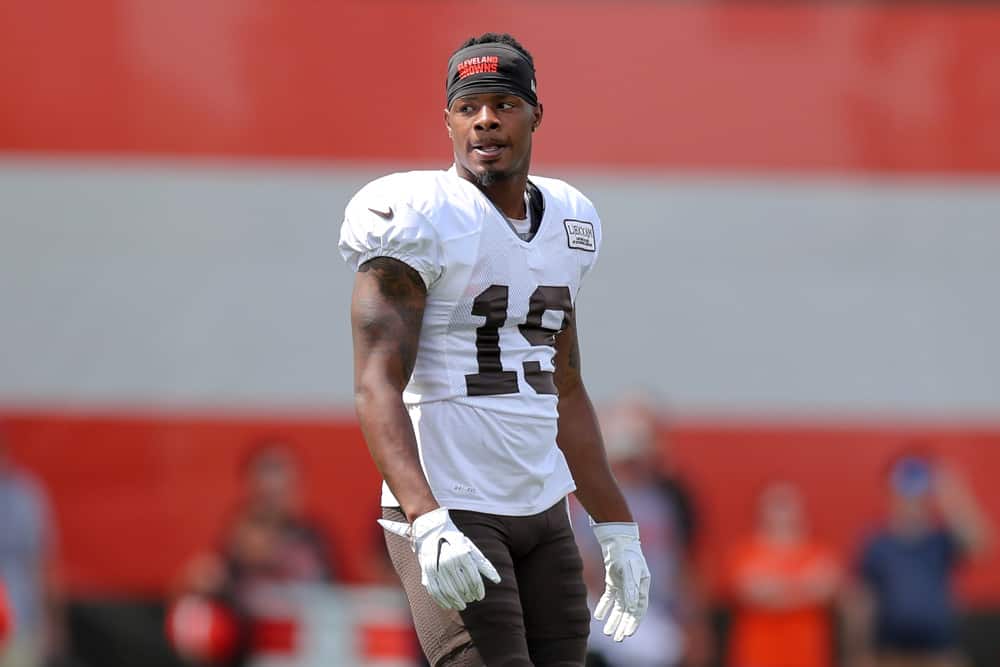 The road back to the NFL just got a little more difficult for wide receiver Corey Coleman.
Coleman has not taken a snap in the NFL since the 2018 season.
The former first-round pick of the Cleveland Browns made his chances of returning to the league extremely unlikely.
On Tuesday, Coleman was suspended the first six games of the 2021 season.
He reportedly violated the league's policy on performance-enhancing drugs.
Coleman violated the PED policy, per source. https://t.co/7ydNOMTcAV

— Tom Pelissero (@TomPelissero) January 19, 2021
The 26-year-old receiver put his career in jeopardy and honestly might've taken his last snap in professional football.
Browns fans are certainly happy Coleman isn't on the roster anymore.
The Legacy Of Coleman 
In 2016, the Browns selected Coleman in the first round with the 15th overall pick.
At the time it was a bold decision by the franchise and looked worse as time went on.
To be fair, the organization desperately needed a playmaker on offense, but Coleman wasn't the guy.
Coleman hauled in 33 of his 73 targets for 413 yards and four touchdowns during his rookie season.
It didn't get much better for Coleman and his sophomore campaign actually got worse.
He only played in nine games for the Browns in 2018 and barely finished with over 300 receiving yards on the year.
After that, the Browns decided it was time to move on and traded Coleman to the Buffalo Bills in exchange for a seventh round pick.
Browns trade WR Corey Coleman to Bills

📰 » https://t.co/r5m0jLoemJ pic.twitter.com/UM7m2Gdalr

— Cleveland Browns (@Browns) August 6, 2018
Two seasons before being drafted and Coleman was already being traded for a seventh round selection.
Honestly, the Browns weren't going to get much more from Coleman with his value dropping rapidly.
Coleman hasn't accomplished much since the trade, so this will just go down as another bad drafting decision by the Browns front office.
Life After Cleveland
Things got significantly worse for Coleman after he was traded out of Cleveland.
He didn't make the Bills roster and was cut by the organization.
In 2018, Coleman landed on the New York Giants roster for a short period of time.
He hauled in five receptions for 71 yards and zero touchdowns through eight games.
A year later, Coleman tore his ACL and was released by the team before the start of the season.
Giants announce WR Corey Coleman suffered torn ACL same day Sterling Shepard fractured left thumb pic.twitter.com/Hg01uem9Xs

— B/R Gridiron (@brgridiron) July 26, 2019
Coleman has not played since tearing his ACL and honestly might not get another chance.
There was plenty of potential and upside when he was drafted in 2016.
However, he suffered a significant injury and has shown that he isn't able to make much of an impact on the field.
Possibly, Coleman snags a depth spot on a roster that is willing to deal with the headache.
This six game suspension does make it quite difficult for Coleman's comeback dreams.
Best of luck to him, but he has a long road ahead of him.