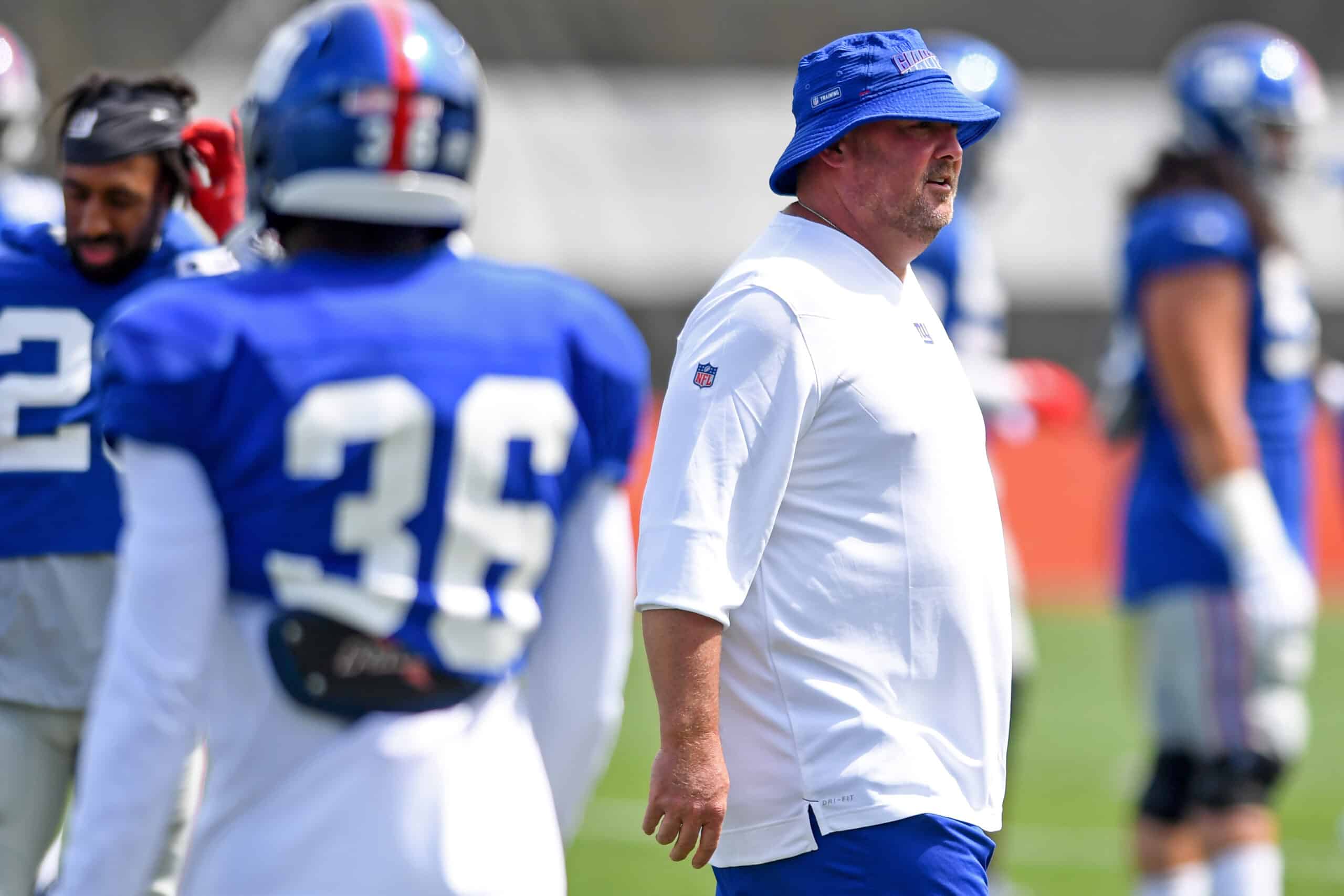 Freddie Kitchens is the presumed interim offensive coordinator for the New York Giants.
New York hired the former Cleveland Browns head coach as a tight ends coach last year.
But Giants head coach, Joe Judge, gave his old friend the title of senior offensive assistant before the 2021 season.
That title and its looser responsibilities put Kitchens in a position to take over for Jason Garrett at a moment's notice.
The Giants have fired offensive coordinator Jason Garrett, according to a source (as @PLeonardNYDN first reported). Freddie Kitchens, a senior offensive assistant, is expected to call plays the rest of the season.

— Ralph Vacchiano (@RVacchianoSNY) November 23, 2021
Garrett, the former head coach at Dallas, had a rocky relationship with Judge from the start.
There were rumors Judge was denied permission to fire Garrett previously during his 26-game tenure.
But with his job on the line, Judge made the move following another terrible offensive showing Monday night.
As any Cleveland Browns fan knows, this is Kitchens' second interim offensive coordinator stint.
What the Giants Hope For in Kitchens 2.0 
Freddie Kitchens was the surprise choice to handle offensive coordinator duties for the Browns in 2018.
Cleveland went 5-3 under Kitchens and interim head coach, Gregg Williams.
Baker Mayfield almost doubled his QBR over the final 8 games with Kitchens calling the plays.
Cleveland's quarterback set the NFL's rookie touchdown record and was the runner-up for Rookie of the Year.
If Freddie Kitchens takes over as #Giants OC, it would be his second time serving as an interim in that role. In 2018, he improved the #Browns' offense in points and yards down the stretch and the team went 5-3 while he called plays.

— Mike Garafolo (@MikeGarafolo) November 23, 2021
New York, and particularly Joe Judge, needs Daniel Jones to have a similar surge over the last 7 games.
Jones is widely considered to be far more talented than the Giants allow him to be.
But Kitchens has to call quick-hitting pass plays to offset one of the NFL's worst offensive lines.
Saquon Barkley hopes for a resurgence, too, after injuries and conservative play-calling made him an afterthought.
What If Kitchens Succeeds Again? 
There is little doubt GM Dave Gettleman is on his last legs in New York.
But Giants' ownership is enamored of Joe Judge and the way he runs the locker room.
Hiring a GM with a head coach already in place is not good NFL business.
But the Giants under CEO John K Mara have rarely been accused of doing good NFL business.
Freddie Kitchens taking over the play calling for the Giants pic.twitter.com/MiPnif3qD0

— Pardon My Take (@PardonMyTake) November 23, 2021
Judge and Kitchens have to show significant offensive improvement and 4-5 wins to save their jobs.
If the Giants stick with their head coach, Judge could name Kitchens the permanent coordinator.
There is virtually no chance Kitchens is a serious head coaching candidate in New York if Judge is let go.
But Kitchens can make himself an attractive candidate for other open positions with a good showing.