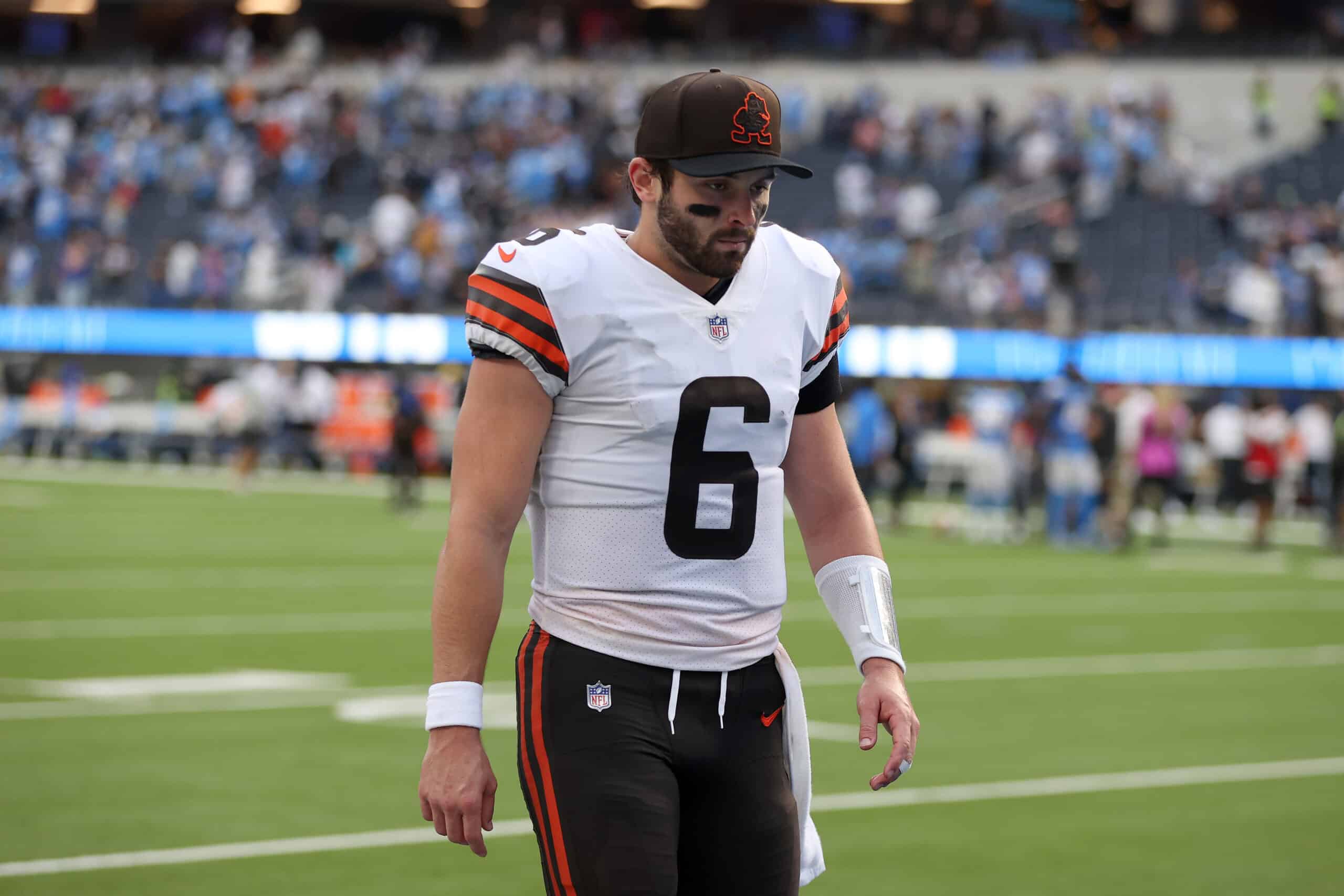 Cleveland Browns quarterback Baker Mayfield continues to be headline news.
It has been this way for weeks since the Odell Beckham Jr. mess unfolded.
After that, we saw Mayfield handle himself very well with the press and hoped the issue was behind the Browns.
That does not look to be the case.
Skip Bayless of Fox Sports shared news from a source close to the Browns organization that indicates that there is trouble in the locker room in Cleveland.
What Bayless Reported
A source tells @RealSkipBayless: The Browns locker room is very close to turning on Baker Mayfield because of Odell Beckham Jr.

Skip explains pic.twitter.com/X31GKvV115

— UNDISPUTED (@undisputed) November 23, 2021
Bayless indicated that his source says the locker room is close to turning on Baker Mayfield.
The issue is not from his recent below standard play.
It stems back to Odell Beckham Jr. leaving the team.
Bayless describes a locker room that had OBJ on a pedestal despite the fact that his statistics did not merit it.
OBJ has a strong social media following and presence that the young players look up to.
When OBJ got out of Cleveland, those players were frustrated.
What Bayless Believes
He thinks that Mayfield tried to make things work with OBJ to a fault.
Mayfield force fed the ball to OBJ, and things just didn't click.
He also infers that the moment Beckham arrived in Cleveland from New York was the beginning of Mayfield's undoing.
Mayfield's Future
This is the big question mark for the Browns organization, fans, and Mayfield himself.
Bayless is speculating that Mayfield needs a fresh start in a different city to jump start his career.
In the meantime, Mayfield and wife Emily are working a charity event today in Cleveland.
#Browns Baker and Emily Mayfield hosting #FeedtheNeedTownhall today at @TOWNHALLOHC pic.twitter.com/M25jDjeExA

— Mary Kay Cabot (@MaryKayCabot) November 23, 2021
The Browns Locker Room
It is not hard to believe that OBJ's departure and the ups and downs of this season are taking a toll on the Browns locker room.
The locker room is comprised of younger players in the early stages of their careers so without the veteran experience, they are likely more frustrated especially if they were a part of the 2020 Browns team when wins seemed to come so much more easily.
The unfortunate piece of this is if it's true, it does not bode well for the Browns' postseason chances in 2021.
They are still in the thick of the playoff chase with two huge games against the Baltimore Ravens over the next three Sundays.
These distractions cannot be helpful.
The best remedy for the distractions is winning, but at this point, it is unclear if the Browns can pull it together, block everything else out, and focus on the football.
Let's hope so because there is a lot of football yet to be played.