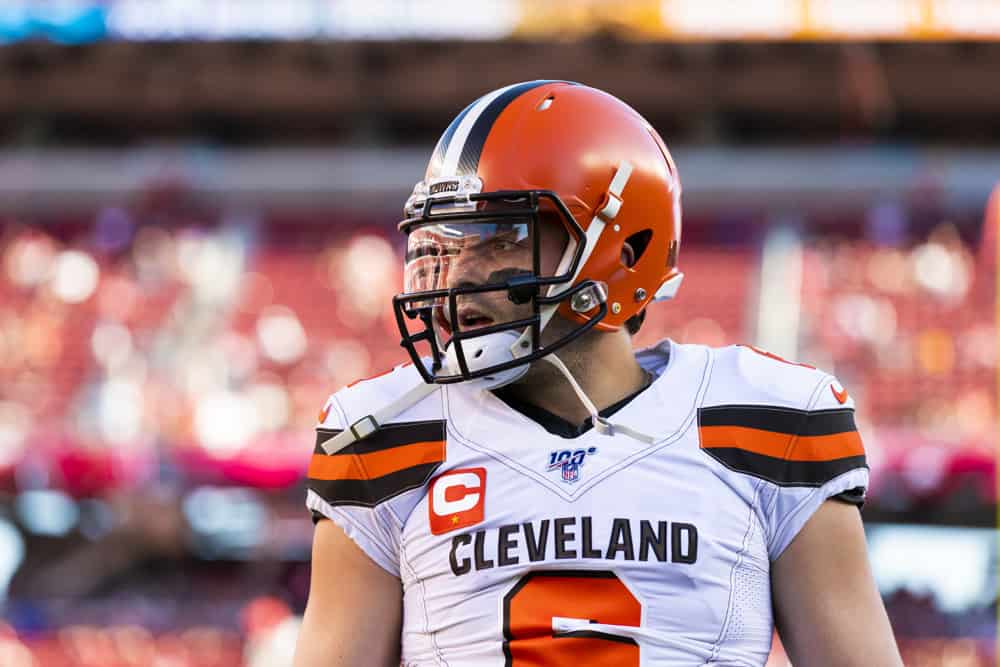 As the Cleveland Browns begin the 2021 offseason, all positions are subject to review and evaluation.
Perhaps first and foremost is the position of quarterback.
Baker Mayfield showed tremendous growth and maturity in 2020, and the organization took notice.
The Browns are very pleased with the development of Baker Mayfield heading into the final year of his rookie contract, according to GM Andrew Berry. More: https://t.co/AUKgU3rW2r

Video: Cleveland Browns pic.twitter.com/dBW4uD65bf

— clevelanddotcom (@clevelanddotcom) January 20, 2021
Let's take a deeper dive into some of his statistics as they compared to 2019 and come up with an overall grade for his 2020 performance.
(To keep an apples-to-apples comparison, only regular season numbers are used for 2020.)
1. Interceptions
The Achilles' heel for every quarterback is how many interceptions he throws during the season.
Mayfield was much cleaner in this area in 2020.
Considering that he threw 21 interceptions in 2019, there was plenty of room for improvement.
During the 2020 regular season, he threw only 8.
In fact, only Mayfield and Deshaun Watson did not throw an interception during the entire month of November (four consecutive games).
#Browns  QB Baker Mayfield and #Texans QB Deshaun Watson were the only QB's in the month of November to not throw an Interception.

— Cleveland Browns (12-5) (@browns_updater) December 4, 2020
2. Passing Touchdowns
Admittedly, Baker Mayfield was able to hand the ball off to Chubb and Hunt to get rushing TDs, and there was the Jarvis Landry TD pass also.
Baker still increased his quantity of passing touchdowns from 2019 to 2020.
He went from 22 TDs in 2019 to 26 TDs in 2020.
.@bakermayfield's top plays from the 2020 season 🎯 pic.twitter.com/LaIYo58SQC

— Cleveland Browns (@Browns) January 21, 2021
That number along with the drastic reduction in interceptions demonstrates how well Baker threw the ball this season.
3. Passing Yards
A lot of factors play into this including the running game and viability of wide receivers (i.e. the New York Jets game).
Anyway, this is a measure where Mayfield's numbers are down from 2019.
In 2019, he threw for 3,827 yards; whereas, in 2020, he threw for 3,563 yards.
That is a difference of 264 yards.
This could also be the function of a different offensive scheme than in 2019.
4. Completions 
Like passing yards, this measure is slightly down for Mayfield from 2019.
In 2019, Mayfield had 317 completions.
He had 305 completions in 2020.
Perhaps more significant is his completion percentage which was up in 2020.
In 2019, it was 59.4%; in 2020, it was 62.8%.
5. Sacks
Quarterback sacks are a definite no-no.
Either the QB needs to get rid of the ball or run with it to avoid the sacks plus loss of yardage.
While this stat is somewhat attributed to the quarterback, it has a lot to do with how well the offensive line plays also.
With that being said, Mayfield was sacked 40 times in 2019 and 26 times in 2020.
This has a lot to do with his improved decision making and the high caliber of play/protection he had from the offensive line this season.
Baker Mayfield

How it started
Weeks 1-7 (7 games):
15 touchdowns, 7 interceptions
198.4 passing yards per game

How it's going
Weeks 12-Wild Card (7 games):
14 touchdowns, 1 interception
282.3 passing yards per game

— Aaron Stewart (@aaronstew09) January 15, 2021
There is no doubt that working with Alex Van Pelt and Kevin Stefanski has helped Mayfield, but it took time to get the new offensive system established.
Stefanski said he spent time with Baker Mayfield today, and Baker is excited to not have to learn a new offense during the offseason.

— Andrew Gribble (@Andrew_Gribble) January 18, 2021
In the early fall of 2021, the pandemic should be behind us so the preseason preparations will be more typical.
With the three collaborating for a second year and under a normal schedule, the expectations will be higher for Mayfield.
After evaluating these measures, Mayfield should be graded a B+.
He got off to a slow start in the early weeks of the season which is why he is not at an A for the entire season.