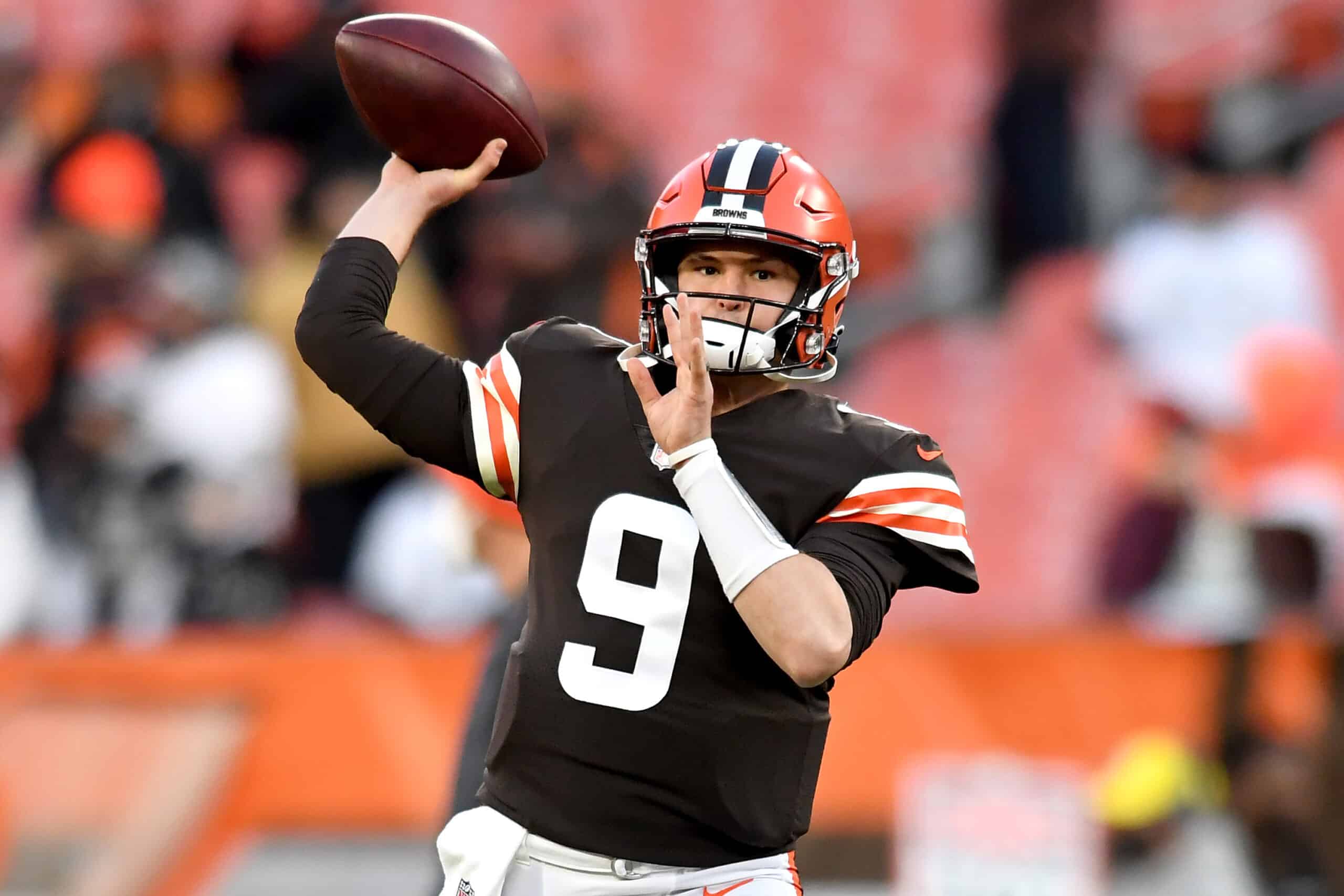 The broadcast team on Monday evening's Browns game said it best in regards to Nick Mullens.
Expectations were for him to not lose Cleveland the game with his performance.
As the broadcast pointed out, he exceeded that bar despite the loss to Las Vegas.
I don't care if they don't win, you can't not feel good for Nick Mullens and Cleveland.

Half the team dead with COVID and they're still somehow in it. Impressive.

— Schlasser (@UrinatingTree) December 21, 2021
With a win, Mullens would forever be a part of Browns history.
Still, his efforts will certainly be appreciated by Clevelanders who watched him lead a depleted team to near-victory.
Let's take a look at his overall performance against Las Vegas.
Accuracy
Mullens maintained a good level of accuracy throughout the course of the game.
He would finish 20 of 30 through the air for 147 yards and a touchdown.
However, his completion percentage should have been much higher had it not been for a plethora of dropped passes.
Donovan Peoples-Jones' horrendous drop in the first half is one Cleveland could not afford in this game.
Donovan Peoples-Jones with a brutal drop pic.twitter.com/abswBtnFTm

— Alex (@dbs408) December 20, 2021
Mullens was not perfect by any means with all of his throws.
However, as cliché as this is, he left it all out on the field on Monday.
Perhaps Alex Van Pelt should have let Mullens put it in the air on Cleveland's final offensive play.
With Las Vegas sitting on the run defensively, Mullens showed enough composure throughout the evening to warrant some trust on that third down snap.
But hindsight is always 20/20.
Managing the Game
One big knock on the offense, as mentioned, could be the play-calling.
The offense often found themselves in third and long situations with Mullens opting for throws short of the sticks.
Decision-making from Mullens, as well as the play-calling, share some blame there.
Cleveland's offense went three-and-out on five occasions.
Given the roster depletion, that number certainly could have been worse.
But it's not a great tally either.
The key to Mullens' performance is the turnover number he posted.
That number is zero. For a practice squad quarterback to come into a December game with playoff implications, without his top receiver, and not turn the ball over is rather impressive.
So many backup quarterbacks enter a game and just become turnover machines.
Nathan Peterman's five-interception half in 2017 comes to mind here.
Yes, it's the same Peterman who threw Five interceptions in one half..

Get it out of your system peeps pic.twitter.com/XW07Q6eBAZ

— Cover 1 (@Cover1) September 3, 2018
Again, more aggressiveness from Mullens and the offense could have led to more sustained drives and perhaps a victory. Unfortunately for Cleveland, it didn't happen.
In terms of game management, Mullens was good but not great.
Making Winning Plays
Despite a lack of aggressiveness at times, a gutsy decision late in the game almost led Cleveland to the win.
On a fourth and five with under four minutes to play, Mullens scrambled and found Harrison Bryant who would catch the go-ahead touchdown following the point-after.
The 3rd string QB @NickMullens gives the Browns the lead! 🔥

(via @NFL)pic.twitter.com/MpH8jVlY22

— Bleacher Report (@BleacherReport) December 21, 2021
The defense would come up with a play of their own as Greedy Williams had an interception that many thought sealed the deal.
Derek Carr hits Greedy Williams in stride 🙌pic.twitter.com/FePK3EfCHv

— PFF (@PFF) December 21, 2021
But good play from the Las Vegas defense netted Carr and the Raiders an opportunity they would capitalize on to steal the win.
Still, the play from Mullens to get Cleveland the lead took poise.
Mullens escaped pressure and kept his eyes up field to find the wide open Bryant in the front of the end zone.
That play is part of why I thought Van Pelt should have let him handle the ball on the final third down play.
Overall Grade: B+
Cleveland didn't get the win, which is part of what prevents me from giving Mullens an A.
But don't take the B+ as a slight of any sort. Mullens impressed and then some in his outing.
He struggled during his time with the 49ers and proved in front of a national audience he's better than what he showed at times in San Francisco.
This quote from Mullens after the loss, per Jake Trotter of ESPN, shows how badly Mullens wanted to win on Monday.
"I believed this night was destined for Cleveland. But sometimes it doesn't work out", said Mullens.
Nick Mullens: "I believed this night was destined for Cleveland. But sometimes it doesn't work out…" #Browns

— Jake Trotter (@Jake_Trotter) December 21, 2021