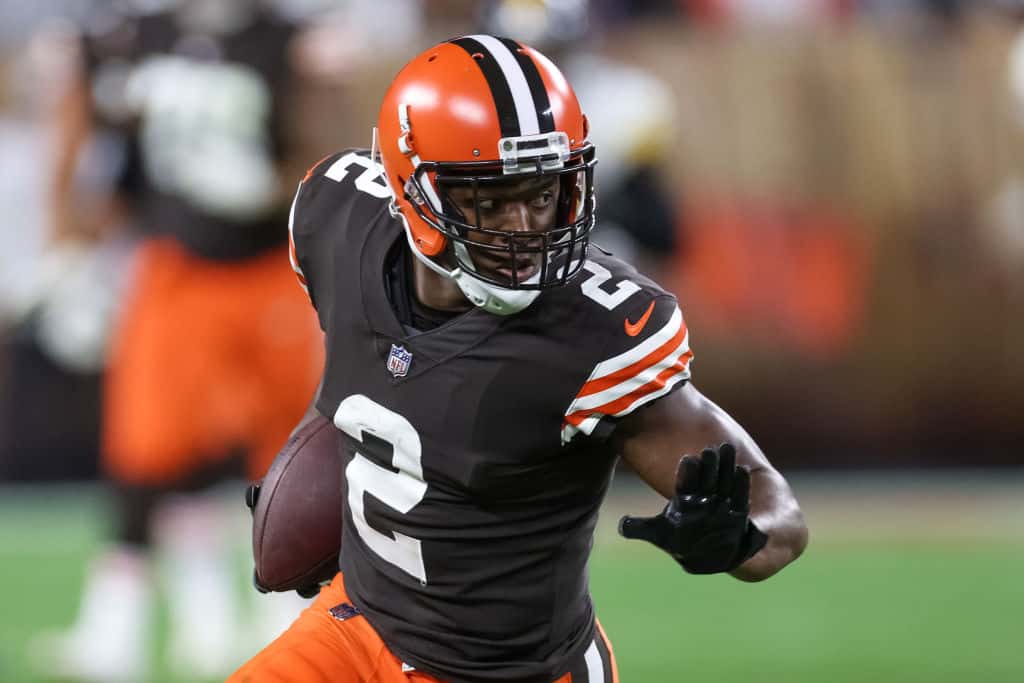 Amari Cooper has been the wide receiver the Cleveland Browns have hoped for.
While their offense predominantly revolved around Nick Chubb and the running game last year, Cooper deliver when his number was called.
In his first season with the Browns, he had 1,190 yards and nine touchdowns in 17 games.
Those solid numbers made the trade for him with the Dallas Cowboys worthwhile.
With Chubb sidelined due to a season-ending knee injury this year, Cooper continues to perform for the Browns.
Through four games, he's had 18 receptions for 259 yards and a touchdown.
But what's more impressive is that he's collecting the ball despite tight coverage.
Pro Football Focus tweeted a graphic featuring the league leaders in contested catches through Week 4 of the 2023 NFL season.
Amari Cooper is tied with Chicago Bears wide receiver DJ Moore, Tampa Bay Buccaneers wide receiver Mike Evans, and Detroit Lions tight end Sam LaPorta with six apiece.
These guys can go up and get it 💪 pic.twitter.com/JJn9cieSVI

— PFF Fantasy Football (@PFF_Fantasy) October 4, 2023
Being included in this group means that Cooper demonstrates great concentration in tracking the ball when it's thrown his way.
He uses his leverage to either dive towards the ball or jump higher than the defender.
Cooper has been doing these amazing plays throughout his NFL career.
He started doing it with the Oakland Raiders, becoming their first rookie to finish with 1,000 receiving yards.
He also did it with the Cowboys, as proven by his back-to-back 1,000-yard seasons in 2019 and 2020.
Now, he gets to do it with the Browns, making the squad more competitive.
Since there are more games left in the season, Cooper has more chances to retrieve more contested balls.
He'll also do it next season, the final year in his current contract.