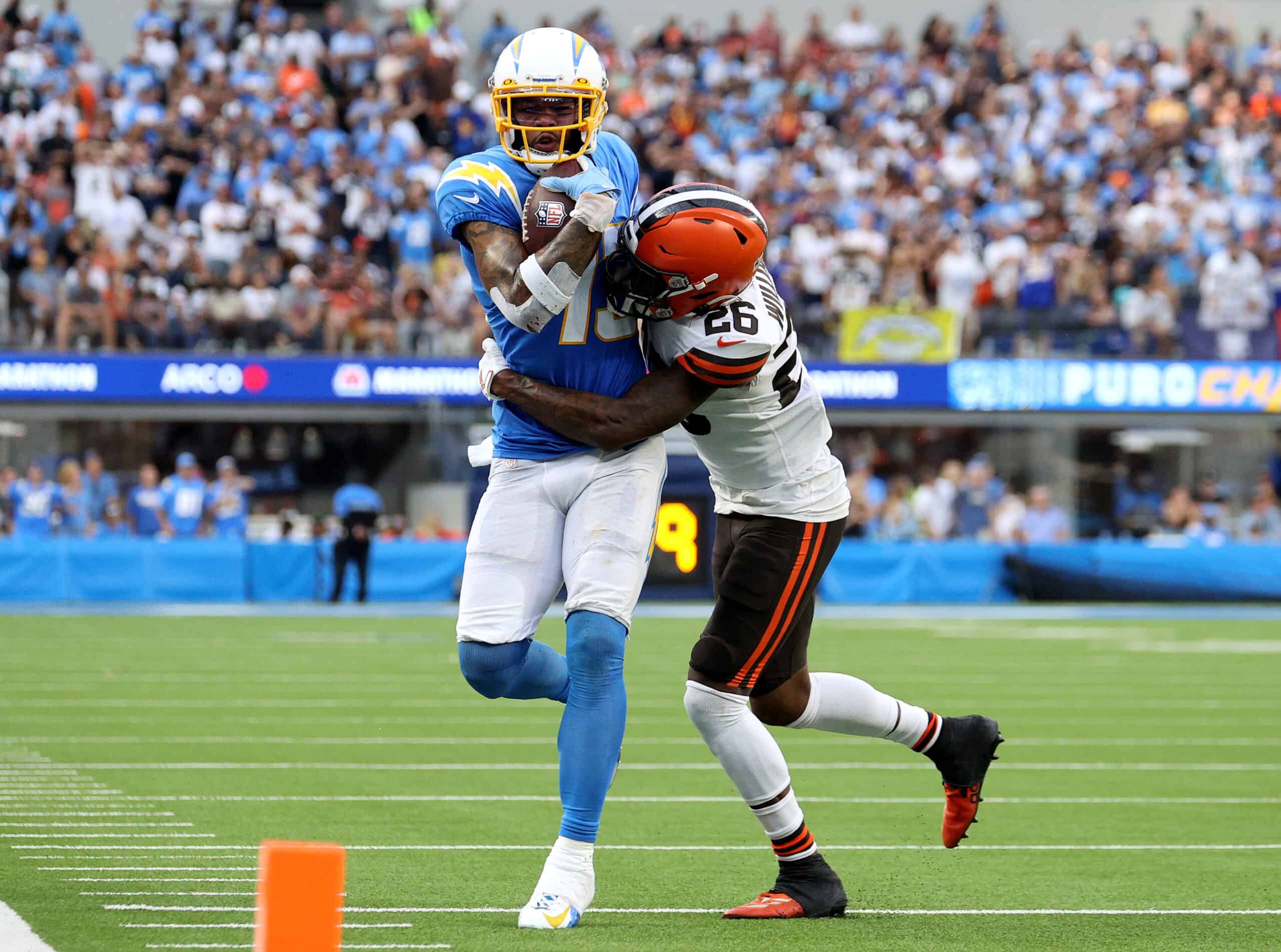 Last week, the Los Angeles Chargers escaped with the close win over the Cleveland Browns.
It was a shootout between the two teams and was a thrilling contest throughout.
Now, a week later the NFL is handing out fines for altercations during that contest.
Browns defensive back Greedy Williams, and two Chargers players have been issued fines for their actions during the Week 5 matchup.
What Happened?
It has been a week since the contest, so it's understandable if the plays aren't fresh in your memory.
Late in the fourth quarter Chargers receiver Jalen Guyton hauled in a 21-yard pass.
At the time it was a seven-point game and tension was extremely high.
Both Guyton and defensive back Greedy Williams got into an altercation.
It didn't seem too serious at the time, but the NFL is cracking down on taunting this season.
The NFL has fined both players a significant amount of money for their involvement in the incident.
#Browns Greedy Williams fined $9,508 for unsportsmanlike conduct, #Chargers WR Jalen Guyton fined $4,722 for an offsetting taunting penalty, and #Chargers safety Derwin James fined $10,300 for a facemask.

— Mary Kay Cabot (@MaryKayCabot) October 16, 2021
Although, safety Derwin James saw the largest fine out of everyone.
He was flagged for a face mask penalty on Kareem Hunt, which at the time was a 13-yard completion.
However, the Browns got an extra 15 yards added on because of the penalty on James.
Clearly, the NFL is taking these issues seriously and remains committed to keeping the league as safe as possible.
Finally Breaking Out
The Browns have been waiting since 2019 to see what Williams can do on an NFL field.
Finally, Williams has been healthy and able to make an impact this season.
Last week, Williams finished with 10 tackles, one pass defended, and one forced fumble.
He also was fined over $4,000 for a silly mistake, but he's young and will learn to control his emotions better.
Despite that, Williams has looked solid during the early stages of the 2021 season.
Greedy Williams : 6 tackles & an INT (1st career INT in his 3rd season) pic.twitter.com/WEDogMDBVx

— Lee Harvey (@AyeThatsLee) October 3, 2021
The hope is that the 23-year-old can be a long-term piece for this organization.
A secondary with Denzel Ward, Greg Newsome, and Williams would be dangerous.
It has been a promising beginning for Williams and he's coming off his best game of the season against the Chargers.
Hopefully, he can build off that and have success versus the Arizona Cardinals in Week 6.