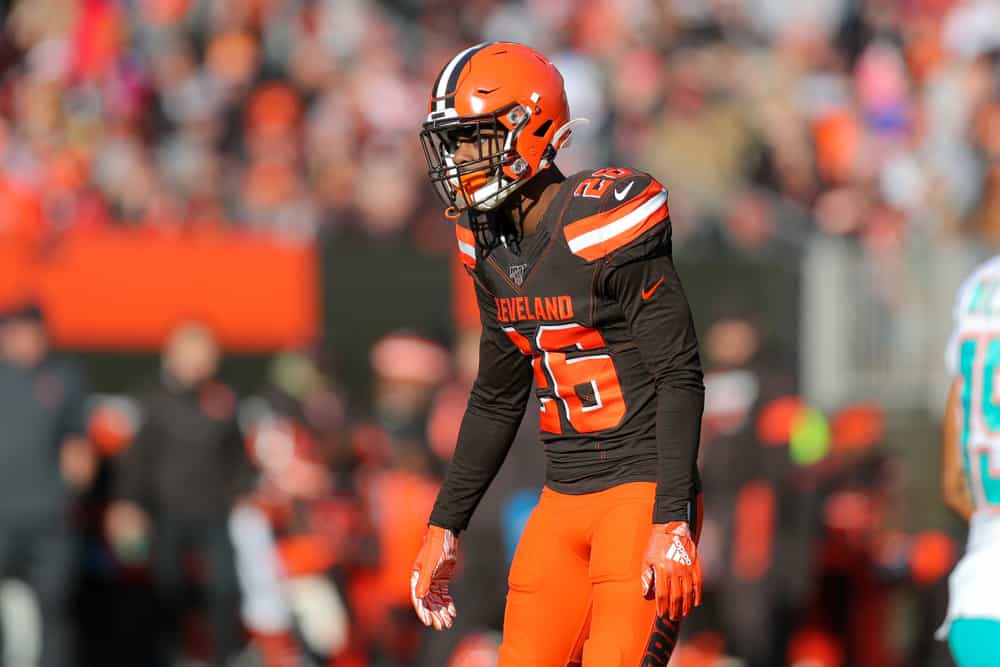 The Cleveland Browns did not own a first round draft pick in 2019.
They had to wait until the No. 46 overall selection before taking LSU defensive back Greedy Williams.
He was considered a top-10 talent, but somehow slid all the way into the second round.
Williams might end up as the biggest steal of the entire 2019 draft class.
However, his rookie season was underwhelming and Williams will be under more pressure as he heads into his sophomore campaign.
Why Williams?
As mentioned before, Williams was a top-tier talent coming into the draft, but didn't quite live up to the hype during his first season.
He recorded 47 tackles, two tackles for loss, and zero interceptions through 12 games.
Williams is a freakishly talented athlete, but still has some holes in his game.
He is incredibly quick and could become one of the best defensive backs in the league with a few adjustments.
Greedy Williams turned on the burners 🏃💨

📺: NFL Network pic.twitter.com/bTg5Lcjub1

— SportsCenter (@SportsCenter) March 4, 2019
However, Williams does need to work on his tackling before he can step up to the next level.
Last season, Williams missed 14.5 percent of his tackles, which isn't great.
He finished his rookie season with a Pro Football Focus grade of 54.6.
Williams also did not record an interception and allowed completions on 61.3 percent of throws to the receiver he was covering.
The 22-year-old still has plenty of time to learn and grow as a player, but he'll be expected to show some improvement next season.
Other Notable Candidates
There could be arguments made for second-year linebackers Sione Takitaki and Mack Wilson.
The linebacker spot is the weakest position for Cleveland, so both players do need to step up next season.
However, the ceiling for Williams is much higher than for these two linebackers.
Wilson was a fifth-round pick and exceeded his expectations with 82 tackles, one sack, and one fumbled forced during his rookie year.
It's not often that fifth-round picks are able to come out of the gate and become full-time starters at the professional level.
However, Wilson is not expected to continue this type of play in the long haul.
Takitaki was taken after Williams in the third round, but didn't get the same type of playing time.
He finished with 21 tackles through 15 games (one start) with Cleveland during his rookie campaign.
Next season, Takitaki is likely going to have a bigger role on defense, but he won't be under the same type of pressure as Williams.
Can Williams Improve?
Last season, Williams was thrown into a scheme that didn't fit him at all.
He played a lot of zone coverage, which is not Williams is known for as a defensive back.
Williams is a tremendous defender in man coverage, but was playing mostly zone last season.
New defensive coordinator Joe Woods is historically known for putting his defensive backs in man coverage.
Williams can use his size and athleticism to his advantage in man coverage, so hopefully we'll see better results from him next season.
The pressure will be on Williams in 2020, but he has the talent and ability to shine if he's put in the right scheme and able to stay healthy.