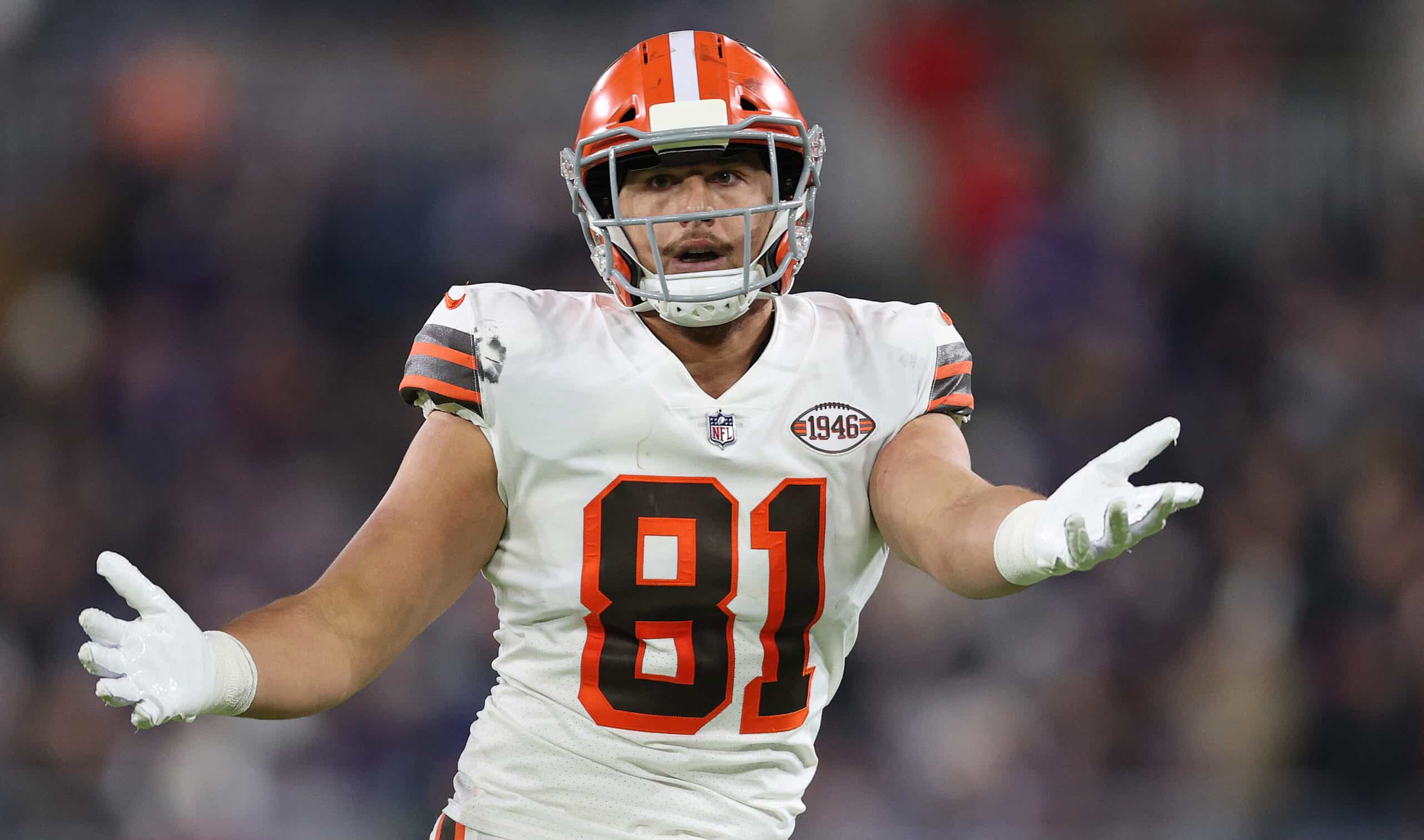 The Cleveland Browns ushered in the 2020 season with a new general manager, head coach, and a big free agent signing.
From the Atlanta Falcons, the Browns signed tight end Austin Hooper to a huge 4 year, $42 million contract.
Hooper was wooed by many teams including the Seattle Seahawks, San Francisco 49ers, Green Bay Packers, and Buffalo Bills but ultimately chose Cleveland.
Which FA signing or missed signing by the Redskins sticks out the most?

Austin Hooper. I have mixed emotions about this one. The team needs an upgrade at TE but I also feel like his production last season had more to do with injuries. ⬇️ Contract details pic.twitter.com/SidJyGookf

— Jeremy Lee (@BigPoppa703) March 30, 2020
With the hiring of Coach Kevin Stefanski who has a reputation for multiple tight end schemes, this seemed like a logical move.
Almost two years into the contract, has Hooper been worth the money he is paid?
While Hooper has experienced moments where he earned his money, those are few and far between.
If we are evaluating his entire body of work for 2020 and the 2021 season to date, the answer is no.
Here's why.
1. He Earned His Money In 2020 With The Catch In The Playoff Game
Hooper, 27, missed part of last season after undergoing an emergency appendectomy so his production was down from his career-best seasons of 2018 and 2019 in Atlanta.
However, Hooper kept hope alive with this huge fourth-down catch in the divisional playoff game with the Chiefs.
His presence and ability to catch and hold on to this ball earned him his 2020 salary.
This season-saving catch from Austin Hooper 🤯

(via @thecheckdown)pic.twitter.com/iNels878DP

— Bleacher Report (@BleacherReport) January 17, 2021
2. His 2021 Production Is Down From 2020 But He Has Played More Minutes
Hooper has started in all 12 games in 2021.
He has two touchdowns and 261 yards.
Hooper caught 28 of his 45 targets.
For the amount of money he is being paid, this is not enough production.
He is being outperformed by David Njoku who has started in only 9 games.
Tell me what Austin Hooper does that David Njoku can't do for less money???

— 🎄Donovan🎄 (@_dcadd03) December 3, 2021
Njoku has three touchdowns and 407 yards.
He caught 27 out of his 40 targets.
Njoku's yards per catch is 15.1 as compared to Hooper's 9.3.
Hooper Is Not Worth His Salary
Hooper, over the two seasons, has not been worth the money.
It may not be entirely his fault.
Because the Browns use three tight ends, Hooper was not going to have Travis Kelce numbers of targets and yards.
He is sharing the load with Njoku and Harrison Bryant.
There were rumors in the past offseason that the Browns already considered moving on from Hooper.
Sounding like Cleveland TE Austin Hooper might be available in a trade. Didn't really pop with Baker last year following his 2019 breakout with the Falcons.

— Johnny Venerable (@JohnnyVenerable) August 5, 2021
It seems as though this could be more of a reality after the 2021 season especially with Njoku's rookie contract expiring.
The word is that the Browns are already having preliminary negotiations with Njoku on an extension.
Browns & TE David Njoku Have Had Early Extension Talks https://t.co/rGF5ofpmLM #Browns pic.twitter.com/wlfsj3aS1H

— NFLTradeRumors.co (@nfltrade_rumors) November 29, 2021
Signing Njoku to a long-term deal all but guarantees they do not want to retain Hooper (and his salary) in 2022.
Hooper Signing Is One Of Berry's Few FA Missteps
Let's recap todays free agent signings under new GM Andrew Berry:

– TE Austin Hooper – 4-year, $44M
– OT Jack Conklin – 3-year, $42M
– QB Case Keenum – 3-year, $18M

Great start. #Browns pic.twitter.com/tQTiyxYNOl

— MoreForYouCleveland (@MoreForYou_CLE) March 16, 2020
Perhaps we can chalk up the Hooper signing to a brand new general manager learning the ropes.
He wanted to make his mark; the Browns were set up to utilize tight ends often.
GM Berry has done a great job overall with his free agent signings, and in his rookie season, only Hooper would be the one that is a question mark.