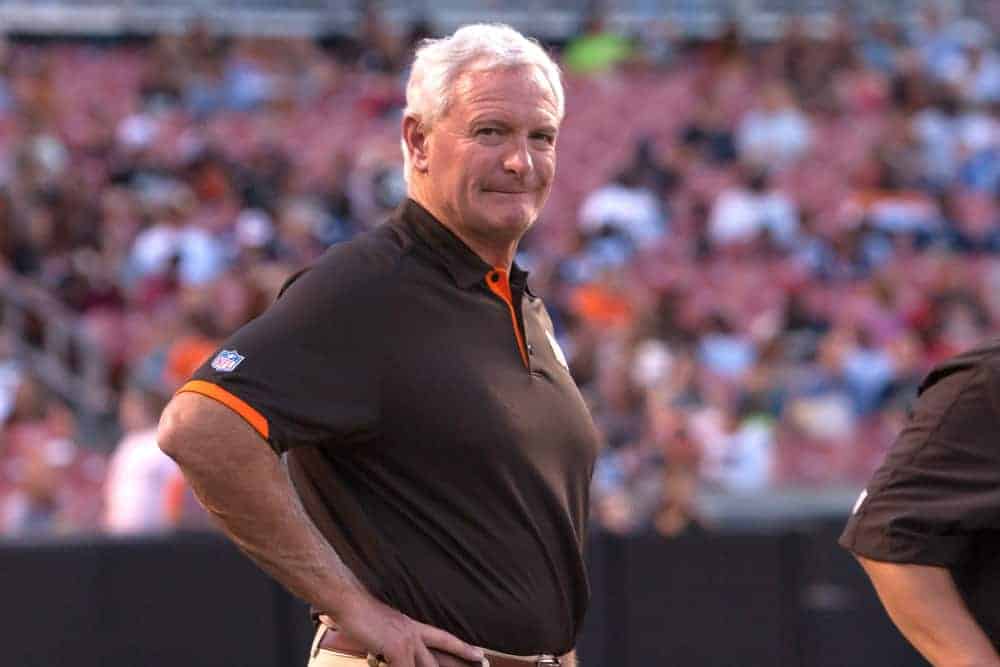 Jimmy Haslam would have been fired years ago if he were not the owner of the Cleveland Browns.
Yet that is the luxury of his job.
His failures anger fans, but he is not getting fired so there is nothing anyone can do about him other than hope he has learned from his past mistakes.
The Early Mistakes
The big mistakes began back in 2014 when Haslam pushed for the team to draft Johnny Manziel.
That move ruined a promising 2014 season that featured both Mike Pettine and Kyle Shanahan on the coaching staff.
That duo would be one of the best in the NFL today as both are squaring off Sunday in the NFC Championship Game.
Reminder: The Cleveland Browns let Kyle Shanahan, who was under contract, leave as offensive coordinator in 2015 because he didn't think Johnny Manziel was ready. Starting to think they screwed up.

— Kevin Clark (@bykevinclark) January 11, 2020
The following years brought on a slew of coaches and general managers who predictably failed.
First, it was a rebuild, then it was all about winning, now it is back to analytics.
Having trouble keeping up?
The Current Process
Haslam is clearly not a patient man and it is caused some loyal Browns fans to give up on the team.
Though it has indeed been hard to keep the faith after seeing him change the foundation of the team every one or two years.
Now comes the hiring of Kevin Stefanski.
Haslam has sworn this process will be different and actually taking time to interview candidates was a good start.
The next step was making sure Paul DePodesta and Stefanski were on the same page before the hiring.
DePodesta himself is a controversial figure in the fandom, but he isn't going anywhere so fans are stuck with him for now too.
Next up is hiring a GM, likely Andrew Berry, who is on the same page to form an analytics-friendly trio focused on making the Browns great again by using all the available information to make decisions.
That is, if Haslam lets the plan play out.
#Browns Jimmy Haslam: "We're highly confident he'll be our coach for a long time"

— Mary Kay Cabot (@MaryKayCabot) January 14, 2020
Trying to Have Faith
There is a painful lack of control over the Browns for fans who love the team dearly.
No matter how much one supports the team, Haslam is making the final decisions for the foreseeable future.
We all just have to hope things turn around.
The alternative is not following the team and that is not an option for so many who have invested years into this franchise.
It almost feels like a cold take waiting to happen when talking about how Haslam has finally made the right decision.
That appeared to be the case when Hue Jackson was hired and fans can't deny that good vibes surrounded the Freddie Kitchens hire.
Enter Stefanski
Stefanski sure seems like a good hire, right?
He worked his way up through the Vikings organization and made Kirk Cousins look somewhat deserving of his fully guaranteed contract.
At least until running into the buzzsaw that is the 49ers defense.
Hiring Berry as GM ensures there is total alignment throughout the organization.
As long as that is the case it won't matter if Haslam wants to have weekly meetings with Stefanski or if the coach has to share the gameplan on Friday.
Individuals who Haslam trusts will be making the decisions and he shouldn't feel the need to tell anyone anything about personnel moves.
He at least seems to have learned that and while it has taken a long time for Haslam to act like a competent NFL owner, we are dealing with baby steps here.