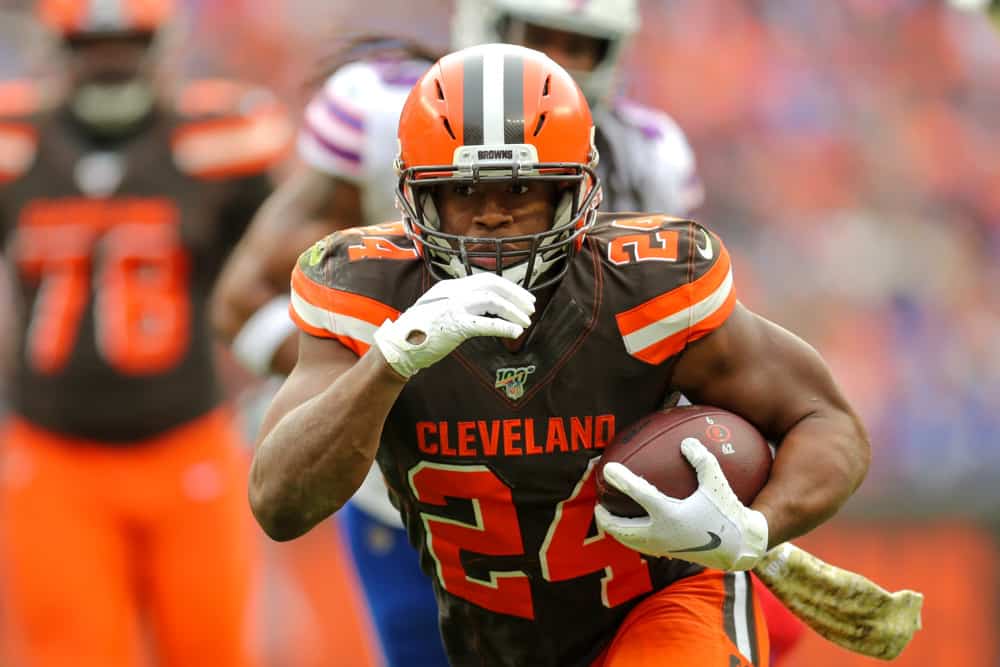 Whether it's an extension of an old one or a new one via free agency, contracts are worth a ton in the NFL.
No, not just in the physical sense (even though the league minimum is just under $600,000 per year and could jump over that mark under the new CBA proposal).
These contracts are also worth a pretty penny to other guys around the league as well.
Players can "reset" the market for others who play the same position by either taking a much larger or much smaller contract than what is expected for someone of their caliber.
Typically, you see larger contracts reset markets but not smaller ones.
This is exactly what Christian McCaffrey has done for other running backs across the league, including Nick Chubb.
Carolina's Christian McCaffrey is signing a four-year extension, averaging $16 million per year, making him the highest-paid running back in NFL history, sources tell ESPN.

— Adam Schefter (@AdamSchefter) April 13, 2020
McCaffrey's Deal compared to other RB's
A running back making $16 million per season seems high, and that's because comparatively, it is.
There are only four running backs in the NFL making double-digit million annual salaries: LeVeon Bell, Ezekiel Elliot, David Johnson, and Derrick Henry.
Henry was the only one to make the postseason last year.
The shortcomings of the other running backs' teams do not fall solely on them.
But, it's becoming evident that the analytics leading to them receiving massive contracts may be a bit misleading.
Great running backs are valuable, but not THAT valuable.
A good committee can usually outproduce a lone star, the San Francisco 49ers being the latest example of that with none of their backs making more than $5 million annually.
Todd Gurley's falling out with the Rams certainly did not do his fellow running backs any favors either.
That's what makes the McCaffrey deal so important.
The Panthers were another team that failed to make the postseason in 2019, but McCaffrey was as dominant as ever statistically.
He rushed for 1,387 yards, his second straight season over 1,000 on the ground.
His catching ability out of the backfield remains unmatched as he led all other running backs touches, catches, receiving yards, and receiving touchdowns.
His receiving numbers actually top the majority of receivers around the league as well as he finished behind just one guy in total receptions: Michael Thomas.
Christian McCaffrey earned that contract extension…

McCaffrey has 303 receptions since entering the NFL in 2017.

He and Michael Thomas (321 receptions) are the only players with at least 300 receptions in their first three seasons in NFL history. pic.twitter.com/ahxArXiHzu

— ESPN Stats & Info (@ESPNStatsInfo) April 13, 2020

Panthers general manager Marty Hurney thinks a better roster around him will have Carolina playing football in January again.
So, where other backs have failed to reset the market, McCaffrey has succeeded.
What the McCaffrey's Deal Could Mean For Chubb
For Nick Chubb, who's contract runs through 2021, this could mean a huge payday for him as well.
Nick Chubb: All-Pro snub pic.twitter.com/ggRtRduODO

— PFF (@PFF) January 3, 2020

He has quickly turned heads across the league and is regarded as one of the NFL's top backs.
The assumption is that he will receive a huge contract after his rookie deal.
The question has just become "how much will it be?".
NFL Network reporter, Aditi Kinkhabwala, joined Ken and Lima on 92.3 the Fan and talked about how the Browns have to pay Nick Chubb.
While not at the same level as McCaffrey, Chubb has also shown the ability to catch the ball out of the backfield and stay on the field on third down.
His ground game is obviously well-known, finishing second to Derrick Henry in rushing yards last year.
Additionally, the man is durable, appearing in all 32 of his professional games.
That's an attribute any GM wants from their running back.
With a similar skill set to McCaffrey and better numbers on the ground, Chubb could be looking at a similar contract when his time for payment arrives.
One thing he, and many other running backs should be wary of, is the new expectations set from this deal as well.
McCaffrey has been an anomaly with the pairing of his rushing and receiving abilities.
In order to see another deal like this, GM's will be looking for the same level of production.
That, of course, is far from an easy thing to do.