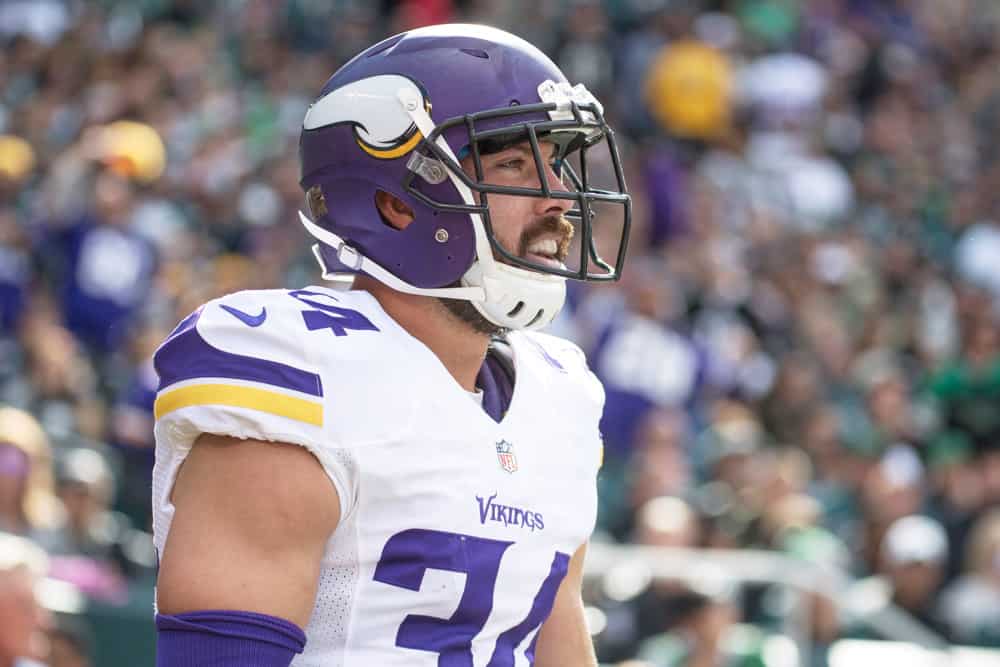 When the Cleveland Browns signed safety Andrew Sendejo to a one-year deal, the team saw him as a fit on the defense.
The 32-year old veteran brings an immediate need to the table at safety.
Along with Karl Joseph, the only other safeties on the roster are J.T. Hassell and Sheldrick Redwine.
For now, Sendejo is slated as the starting free safety on the team's depth chart.
How good of a deal was this for the Browns?
Let's take a look.
What Sendejo Brings To The Table
Sendejo joined the Dallas Cowboys in 2010 after going undrafted out of Rice.
He only played in two games and signed with the New York Jets in 2011, but was cut.
His true NFL rhythm didn't start until he joined the Minnesota Vikings.
Sendejo never reached a Pro Bowl during his tenure (2011-2019), which also included half a season with the Eagles last season.
However, he was always a reliable player in the system.
Dear #Vikings Twitter,

Just a reminder that Andrew Sendejo is #good.

That is all. pic.twitter.com/EuxbjYe4eJ

— Nick Olson (@NickOlsonNFL) August 22, 2018

From 2015 to 2019, Sendejo started at either strong safety or free safety in 47 out of 51 possible games with the Vikings.
From 2015 to 2017, he recorded tackle marks of 74, 69, and 80.
In 2018, Sendejo sustained an injury that limited him to five games, but he recorded 17 tackles in six games last season.
What Sendejo Does Well
Sendejo is one of the better safeties when it comes to defending the run.
He really knows how to fly down from a high safety spot to land a tackle.
In short-yard situations, he is at his best.
Andrew Sendejo showing up vs the run 👀 pic.twitter.com/owQEgQUz4D

— Gayle Saunders (@EagleSessions) August 8, 2019
Another trait about Sendejo is that he is able to play well in man coverage.
He has proven that he can run stride-for-stride with receivers looking to make plays downfield.
Screw it put Andrew Sendejo at the WR3 spot #Browns
pic.twitter.com/2TVSUEQ4Ai

— MoreForYouCleveland (@MoreForYou_CLE) March 21, 2020
What Sendejo Doesn't Do Well
Sendejo has a history as a careless tackler.
The physicality and recklessness that Sendejo will employ to tackle someone have sometimes hurt his teammates.
Friendly fire 🤯 Avonte Maddox is SLEEP after COLLISION wit teammate Andrew Sendejo 🙏🏾#PHIvsGB pic.twitter.com/a6tfm7LESq

— TheBigPotato (@The_BigPotato) September 27, 2019
Sendejo also does not do well in one-on-one matchups.
In 2019, he finished the season with five missed tackles according to Pro Football Reference.
Is He A Good Fit?
The easy answer is yes because otherwise, the Browns wouldn't have signed him in the first place.
We shouldn't let Sendejo getting cut by the Eagles bother us.
The Eagles weren't going to bring him back and they wanted a compensatory pick.
Sendejo was a major contributor in the Vikings making a playoff run, and he played multiple reps on special teams.
Head coach Kevin Stefanski saw Sendejo work every year he was with the Vikings.
Only defensive coordinator Joe Woods knows how this process is going to evolve, but we should expect a great fit to come.