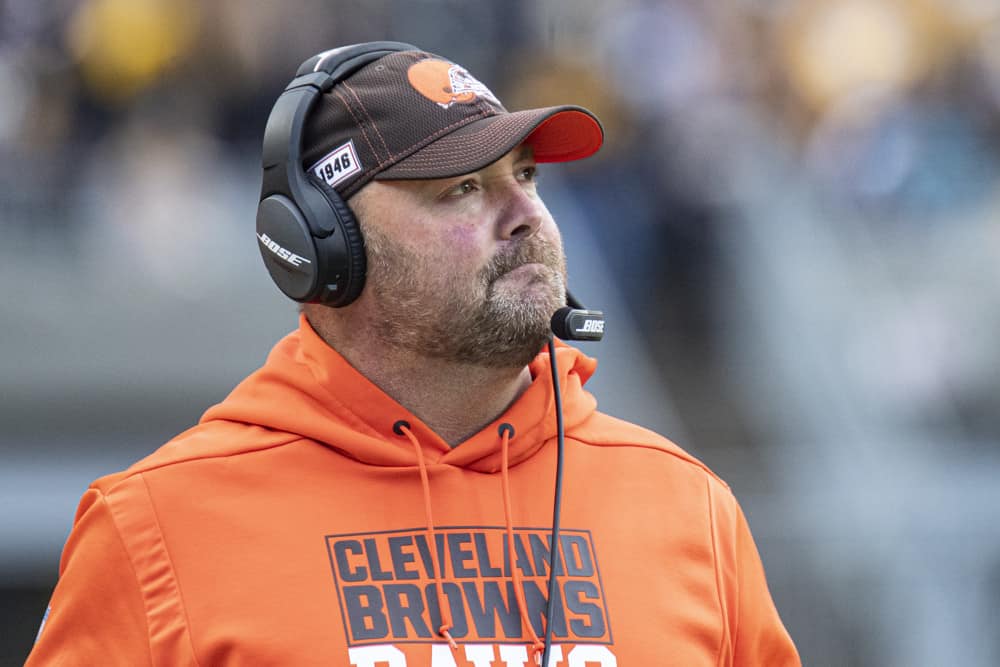 It really is insane to think about how bad the Cleveland Browns have been at picking head coaches over the last decade or so.
First off, Hue Jackson had no business being around in Cleveland for as long as he did.
Secondly, Freddie Kitchens should've never be hired as the head coach and was not fit for the job.
It was like making someone the CEO of a company after they've been there for six months.
Kitchens was the offensive coordinator for eight games before being hired as the head coach.
He had never coached at any level and only coached half a season in the Browns system.
Honestly, Kitchens was set up for failure with the Browns, but Kevin Stefanski can learn a thing or two from what happened with Kitchens.
What Went Wrong For Kitchens?
The better question would be, what went right for Kitchens last season?
Everything seemed fine when Kitchens stepped in as offensive coordinator for interim head coach Gregg Williams in 2018.
The offense actually had a miraculous turnaround and quarterback Baker Mayfield put together a terrific rookie campaign.
However, everything went wrong once Kitchens took over as the head coach the following season.
As mentioned before, the Browns have hired some awful people to be head coaches, but Kitchens really might be the worst.
His use of timeouts and challenges were questionable and really made absolutely no sense.
The situational playcalling was horrendous and that might be the nicest way to put it.
It was like the Madden video game picking out random plays to run because none of it seemed to make any sense whatsoever.
Often times, calls were made late in the play clock, which would lead to penalties.
The Browns finished with the fourth-most penalties in the NFL when Kitchens was head coach.
Everything felt rushed and disorganized, which sometimes resulted in players letting out their frustration on Kitchens.
Odell Becham Jr. is not happy and he's letting Freddie Kitchens know about it. pic.twitter.com/Ovy7YmWhNI

— NFL Update (@MySportsUpdate) December 22, 2019
By the end of the season, Kitchens had no control of his team or the locker room.
Somehow the team managed to go 6-10, but fell well below expectations.
It was a complete failure, so really Stefanski can't do worse.
What Can Stefanski Learn From This?
The one thing that Stefanski and Kitchens have in common is that they both have never been a head coach before joining the Browns.
Luckily, Stefanski is bringing a zone-blocking scheme along with him that was effective when he was the offensive coordinator with the Minnesota Vikings.
Stefanski is already doing something that Kitchens never did, which is actually have a gameplan.
The zone-blocking scheme focuses mainly on running the ball, play-action, and heavy usage of the tight end.
It is something that worked well with the Vikings last season and helped them make the postseason.
Another big part of being a head coach is knowing your players and getting control of the locker room.
Multiple players on the Browns have already expressed that they are eager to begin working with Stefanski.
It finally seems like Cleveland has hired someone who could actually get the team back in the playoffs.
At the end of the day, it's almost impossible for Stefanski to be a worse coach than Kitchens.