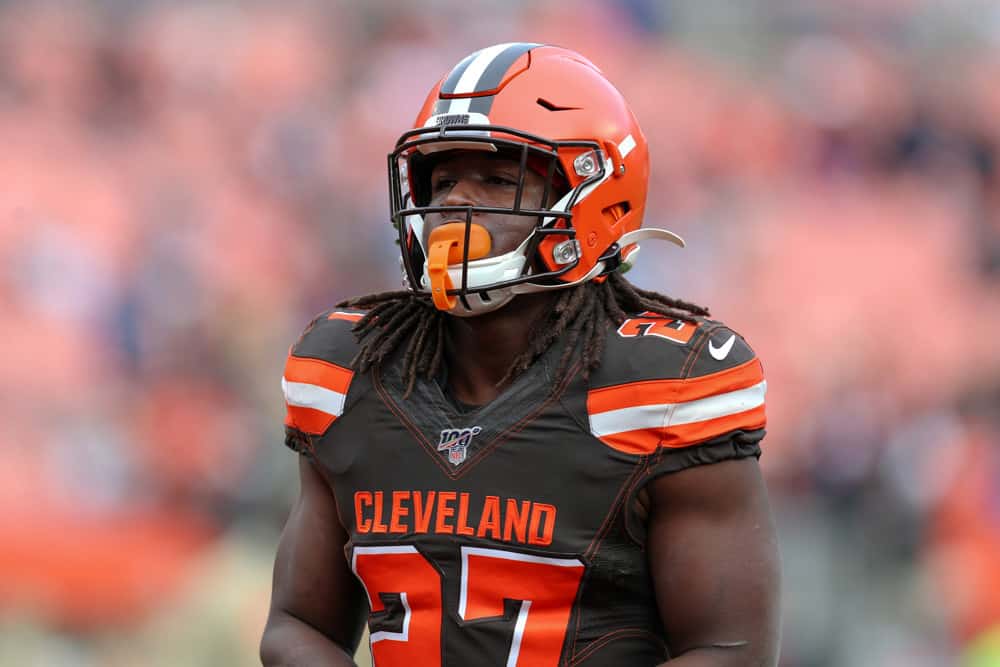 The Cleveland Browns front office has done an incredible job of bringing in young talent.
While it's great to develop young players, it also leads to problems down the road.
The Browns are soon going to be in a position where they need to re-sign their young stars.
Both quarterback Baker Mayfield and running back Nick Chubb will need new contracts soon as well.
At some point, the Browns are going to have to make a decision about which players and positions do they value the most.
Cleveland currently has Chubb and Kareem Hunt on the roster, but there's a chance that neither of them get long-term extensions with the Browns.
Value of Running Backs
Over the last few seasons, we have seen teams hurt their long-term future by re-signing their star running backs.
Both the Dallas Cowboys and Los Angeles Rams put their futures in jeopardy after handing out massive extensions to their new running backs.
The running back position is key, but it is also an easily replaceable spot.
Last season, 15 rushers ran for 1,000 yards or more, but only four of them were top-10 picks.
Three of the top five rushers were taken in the second round or later.
Rushing leaders of the 2019 season 🏃‍♂️ pic.twitter.com/uEIIHnHYtm

— Sunday Night Football (@SNFonNBC) December 30, 2019
From an analytical standpoint it often times doesn't make sense for teams to dish out big money to running backs.
Many organizations like the Browns use analytics to determine the value of each position on the field.
Analytics are not fans of the running back position and place minimal value at that spot.
Star running backs are beginning to sit out a full-length season because organizations refuse to give out massive extensions to them.
This could be an issue that the Browns run into with Chubb..
Chubb & Hunt Extensions?
Both of the Browns star running backs are set to become free agents in the near future.
Chubb is coming off a 2019 campaign where he rushed for 1,494 yards with eight touchdowns.
The 24-year-old made his first Pro Bowl last season, but it likely won't be his last.
Hunt was limited to eight games with Cleveland in 2019, but is expected to see a much larger workload in 2020.
In 2017, Hunt rushed for 1,327 yards which was the most in the league.
Sadly, off the field issues have handicapped him early in his career, but he still has plenty of potential.
Hunt is set to become an unrestricted free agent after the 2020 season.
A strong performance this season could mean Hunt gets a luxurious extension next offseason.
The Browns might only be able to afford to give out one long-term deal to a running back.
Cleveland has other positions to worry about as well, so they probably won't keep both of them.
Who Gets The Extension?
As of right now, Chubb is the running back that Cleveland should keep around long term.
He has proven to be a healthy and reliable option through his first two seasons.
It doesn't sound like he has any plans to sit out if the Browns don't extend him this year.
However, his value could skyrocket if Chubb has another season like he did in 2019.
At the end of the day, it really depends on the type of deal Chubb is seeking.
In the past, the Browns have struggled to find a franchise running back.
One finally falls in their lap, so they shouldn't waste their opportunity.