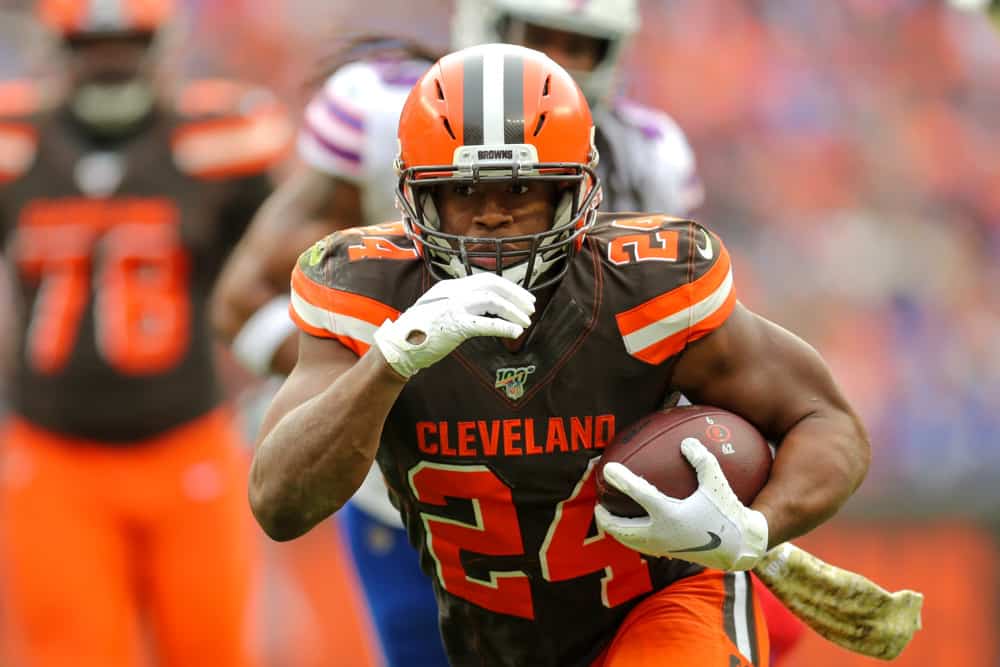 Cleveland Browns running back Nick Chubb is homegrown from Georgia.
The Cleveland Browns running back hails from Cedartown High School in Cedartown, Georgia, where he was a two-sport athlete.
In football, Chubb led the state of Georgia with 2,721 rushing yards and 38 touchdowns as a junior.
Chubb followed that performance with 2,690 rushing yards and 41 touchdowns as a senior.
In track, Chubb holds the school record in the 100-meter dash with a time of 10.69, while capturing the 2014 state title in the Class 4A shot put with a throw of 55 feet.
Chubb continued his football career at the University of Georgia and played in a national championship.
However, everyone knows how great of an athlete Chubb was.
Did you know that is roots make for an even better story?
Chubbtown
When Chubb played his final game at Georgia, he wrote a letter to fans months later.
In the third sentence, Chubb wrote this, "My family created a legacy in Chubbtown, Georgia, and I wanted to make them proud."
Chubbtown is not fake, but an actual town in Georgia, about an hour and a half from Atlanta.
Chubb's family legacy lives in that town.
The eight original brothers John, George, Isaac, Henry, Jacob, William, Thomas, and Nickolus are buried in the cemetery behind the Chubb Chapel United Methodist Church.
The town features 200 residents.
Kenneth Jones, a descendent of the Chubbtown founders, researched the history of John Henry Chubb, his wife, and nine children.
In the 1830 census, he found that the Chubbs lived as free blacks in North Carolina, but journeyed to Georgia to settle near a creek in the northwest corner of the state between 1850 and 1864.
According to the record of Floyd County, which is where Chubbtown is located, Henry Chub (only one b on this last name), purchased 120 acres before the Civil War.
Miss the @CollegeGameDay feature on Nick Chubb and his hometown?

Watch "Chubbtown" here.

— Georgia Bulldogs (@UGAAthletics) October 29, 2016
Surviving The Civil War
Chubbtown survived the Civil War and one story claims a lot of that had to do with the Chubbs being friendly with a sheriff near Rome, Georgia.
According to the lore, Union General William T. Sherman left the town untouched during his march through Georgia in 1864,
It's a mystery to this day that even Nick's father, Henry, cannot understand.
"I've always wondered about that," said Henry, via cleveland.com's Scott Patsko. "How did that happen? And how did they migrate from almost Virginia? But they did it. And it wasn't just a town for blacks. Whites were welcome, too. They just got along."
Growing Up In Chubbtown
As a kid, Chubb spent the majority of his time with his mother in Cedartown, but spent a great deal of time with his father wandering Chubbtown.
His parents divorced when he was just four years old, but his father had joint custody of Nick and his siblings Henry Jr., Zachary, and Neidra.
Watching national championship game. Did you know? Georgia RB Nick Chubb #27 descends from Henry Chubb who founded a colony of free blacks in 1864 called Chubbtown in Georgia. The history of the Chubb family as free blacks dates back at least to 1775. Nicholas Chubb… pic.twitter.com/mI9j7j0zRF

— Raynard Ware, MHSA (@RaynardWare) January 9, 2018
The Chubb family spent plenty of time in Chubbtown growing up.
Nick was an altar boy at the Chubb Chapel and fished near the creek.
Along with his siblings, Nick learned how to swim by getting thrown into Big Cedar Creek according to his father.
When Chubb talks about his childhood, he lights up altogether.
"I've known this story my whole life," Nick said, via Chip Towers of Dawg Nation. "I grew up in Cave Spring, which is maybe one minute outside of Chubbtown. So I grew up there, and my mom and dad used to tell us about it all the time. We used to go down there and visit the old church and the graveyard and the river that runs through it."
In 2015, Chubb told the Atlanta Journal-Consitution that his plans after retirement are to go back and fix up the town.
"That's actually one of my retirement plans, to go down there and build some of those things back up," Chubb said. "When I'm older, of course. But I'd get my family members to help me. We could go in there, get things rebuilt and restructured and get things back to the way they used to be."
Nick's father comes from a farming background and recently bought more land to raise cattle.
Chubb also mentioned coming back to farm alongside his father too.
Lighting Up ChubbTown With Football
When you become as famous as Chubb, one would expect to become a household name around the parts of Chubbtown.
As an SEC freshman in 2016, Chubb rushed for 1,547 yards and 16 touchdowns, and became a candidate for the Heisman Trophy.
This came right after the NCAA suspended Todd Gurley for four games because of NCAA rules violations, which adds to the lore.
Chubb's father remembers the memory like it was yesterday.
Family friends, Erwin and Charles Bagwell rode up to Henry's house and asked if Henry had heard about Nick starting against Missouri.
Henry just shuddered.
"I fell to my knees.," said Henry, via Towers. "My boy? They're throwing my baby out there?!"
The "baby" of the Chubb family didn't look like any baby though.
He rushed for 174 yards on 42 touches, including 38 rushing attempts, and the Bulldogs bounced Missouri 34-0.
The Hardwork Mentality
Chubb credited his success through Chubbtown and its hard work mentality.
Before Chubb was outworking his opponents on the field, Chubb was already a workout warrior.
Before using high-tech weightlifting equipment, Chubb's mother described how Chubb found discarded truck tires and ran sprints with them tied around his waist.
During his freshman season at Georgia, Chubb didn't enjoy spring break like the normal college kid, partying it up.
Instead, he returned to Cedartown, lifted weights and trained with former high school teammates.
The following year, Chubb went viral after a video showed him power-cleaning 400 pounds.
#ChubbStrong #HomeGrown #AlwaysADawg Use whatever hashtag you want – the point is @NickChubb21 is ridiculous, and this 405lb power clean is just further proof.#ATD pic.twitter.com/3yFKg2wtM7

— Georgia Football (@GeorgiaFootball) March 13, 2018
Chubb's former running backs coach at Georgia Thomas Brown had a similar reputation for hard work.
Brown played for Georgia from 2004 to 2007 and knows what it took to be an elite athlete.
"I think (his work ethic) is more impressive than what he does on the field," said Brown, via Towers."He doesn't say anything. He just goes and works."
The hard work mentality of Chubbtown was installed in all of the Chubbs though.
Henry played football in college at Valdosta State, while Henry Jr. played football at Troy, and his older brother Zachary played at the Air Force Academy.
This was no accident.
Gurley Became An Afterthought
In 2014, Georgia had the best running back in college football, but fans didn't know if it was Todd Gurley or Nick Chubb.
Gurley played just six games in 2014 and finished with 911 yards and nine touchdowns due to injuries and the NCAA suspension.
However, along with Chubb's mentioned stats from above, Chubb had the last memory after setting a school postseason record with 269 rushing yards in a 37-14 win over Louisville in the Belk Bowl.
It was also the second-most yards rushed in a game ever at the time.
#UGA tailback Nick Chubb now with 266 yards on 32 carries. Second-most in school history. Herschel Walker had 283 vs. Vandy as fr. in 1980.

— Chip Towers AJC (@ctowersajc) December 31, 2014
After Gurley was drafted, the Bulldogs had Chubb, Sony Michel, and Brendan Douglas.
Not a bad group leading a team, but at the time, the team made no mistake.
True freshman Nick Chubb's last 8 games for #UGA: 1,333 rushing yards and 7.1 yards per carry. That's strong.

— Bruce Feldman (@BruceFeldmanCFB) December 31, 2014
A Change In The Script
Chubb's sophomore season at Georgia was not "The Chubb Show."
Chubb went down with a devastating knee injury and played only six games in 2015.
Yet, Chubb finished the season with 747 yards and seven touchdowns.
Even in times of adversity, Chubbtown remained a thought in the back of his mind during the rehabilitation process.
During his recovery, he remembered what Chubbtown symbolized: strength.
"It's about strength and facing adversity and kind of just always being looked at as a road to your leadership," Chubb said, via Nate Ulrich of The Columbus Dispatch. "And you definitely struggle, but (it represents) overcoming that struggle and proving that you can do anything you put your mind to."
In the meantime, his teammate in Michel rushed for a team-high 1,161 rushing yards and eight touchdowns.
Chubb could have beaten himself up and thought his spot was gone, but he worked his way back into one of the best running backs in the league.
In 2016, Chubb rushed for 1,130 yards and eight touchdowns as a junior, while Michel added 840 yards.
He was easily back in the discussion as a first-round draft pick, but he elected to stay for his senior season.
"It Just Didn't Feel Right"

Five days before Chubb announced he was returning to Georgia, Chubb told himself he was ready to leave for the NFL draft.
Then, something in his head "didn't feel right."
"It just didn't feel right. I felt like if I needed to leave I'd feel it and be able to accept it and move on," said Chubb, via Seth Emerson of Dawg Nation. "Something kept telling me, Nick maybe not right now. It's not the right time."
During that moment, Chubb stayed up late and talked to close friends and family back from his hometown.
He hashed over reasons to go pro but ultimately came back that he was leaving because "things didn't go his way" during his junior year.
"It all came back to the kind of person I am, to not just leave because things aren't going your way," he said. "But to fight through your problems and the adversity, and that's what I feel I did."
At the time, Chubb elaborated even further.
While he did not use Chubbtown's name specifically, when you read between the lines, you know that his upbringing contributed to returning for his senior year.
"My mindset was also, I need to go out there and get this money while I'm still walking, there's no telling how long my knee may hold up," Chubb said. "So when I thought about that in my head, (I realized), Nick this isn't you, you're not the guy to run from any problems. So instead of run from it face it, face to face."
That's what he did.
Chubb came back and Michel and he were the best one-two punch in the entire college football league.
Chubb rushed for a team-high 1,345 rushing yards and 15 touchdowns, looking like the star that broke out his freshman season.
Meanwhile, Michel added 1,227 rushing yards and the Bulldogs made the national championship game before falling to Alabama.
Chubb was then taken by the Browns in the second round, but most importantly, Chubb was back to being himself.
Less than two years after a horrifying knee injury, Georgia RB Nick Chubb is squatting 600 pounds 💪💪 (via @KirbySmartUGA) pic.twitter.com/NWjj7UBLNf

— Bleacher Report (@BleacherReport) July 24, 2017
Reflecting After Football
When Chubb played out his rookie season with the Browns, the injury he sustained in his sophomore year is a constant memory.
Chubb tore three of the four ligaments in his left knee, all but the anterior cruciate ligament, on the first play from scrimmage against Tennessee.
To this day, Chubb remains consistent that he questioned whether he would play football again.
However, his friends and family from back home had his back.
"Maybe for a second, but when I knew I had a chance to come back, there was no second-guessing," Chubb told Ulrich in 2018. "My team, my family, my friends, just everyone in Georgia that wanted me to come back (fueled me). So I couldn't let them down."
An NFL All-Star
From a smalltown kid in Chubbtown, the name Nick Chubb is a household name in the Cleveland area.
Chubb was the 2019 Offensive MVP for the Browns after finishing with the second-most rushing yards in the league (1,494).
If not for a 211-yard outpour from Derek Henry on the final day of the season, Chubb would have led the league in rushing.
Either way, Chubb was named to the Pro Bowl and was one of the best running backs in the entire NFL.
Per SIS, Chris Carson produced 907 of his 1230 rushing yards after contact in 2019. That was 3rd in the NFL behind Nick Chubb (1053) and Derrick Henry (967).

Carson led the NFL in broken tackles with 67, on fewer carries than both Chubb and Henry

— Alistair Corp (@byAlistairCorp) December 31, 2019
How good was Nick Chubb at getting everything possible out of each run this year? Despite a team run-blocking grade of 51.7 (27th), the #Browns earned the highest team rushing grade (88.8).

— PFF CLE Browns (@PFF_Browns) December 31, 2019
What's crazy is that Chubb's season didn't put him on the map.
During his time at Georgia, ESPN's Sportscenter aired a family history of Chubbtown.
But, you didn't have to remind Chubb where he came from.
The Story Lives On
The story of Chubb's arrival and his roots will continue to be told to future NFL prospects if Brian Herrien has anything to say about it.
Herrien was a last-second addition to the first recruiting class by Kirby Smart in Georgia.
By no means, Herrien was a high recruit, listed as a very low three-star recruit.
He also struggled with grades until the back half of his high school career.
In four seasons at Georgia, Herrien finished with 1,394 rushing yards and 12 touchdowns without a fumble.
At the NFL Combine, Herrien made a media appearance and thanked a number of teammates for his college success.
He also talked about an exchange with Chubb.
When Georgia played in the 2018 Rose Bowl, Chubb claimed he had something to tell Herrien, but it never came up.
Weeks later, Herrien reached out to Chubb and his message was simple.
It All Comes Around To Your Roots
Herrien read the message at the media session.
"He was just telling me 'go show them who you are. Tell them that you can be a starter and show them that you can be that guy. Me and Sony [Michel] was always telling you that.'"
Herrien went onto say that it meant a lot because Chubb was "an older guy" on the roster who was at Georgia before him.
For Chubb, he understands Herrien though.
Herrien struggled with grades during his first two years, which hurt his overall draft stock.
In his final semester in high school, Herrien had to achieve all A's and B's and record higher than a 16 on the ACT on his retry.
Herrien accomplished all of those things and was able to attend Georgia.
As Herrien trains for the NFL draft, he will continue to endure a process that will require hard work.
Chubb's message was for Herrien to never forget who he was and where he came from.
Chubb never did.