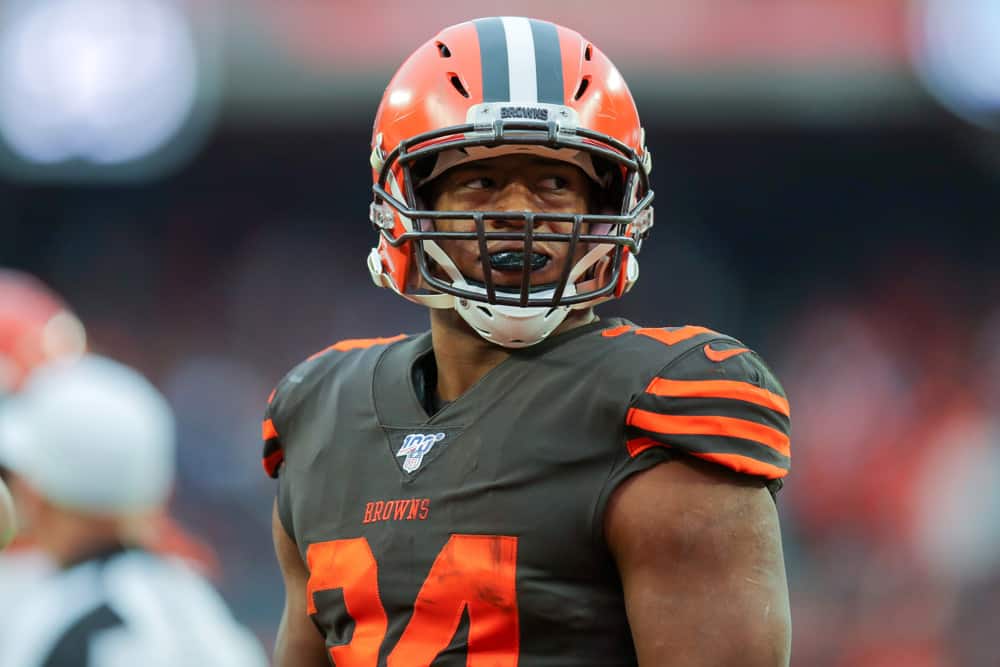 In terms of consistency, you knew what you were going to get from Nick Chubb in 2019
The Cleveland Browns running back was the team's best offensive player of 2019 after finishing the year with 1,494 rushing yards and eight touchdowns.
His yards on the ground were the second-most in a single season and was the league's best before Tennessee Titans running back Derrick Henry passed Chubb on the final day of the season.
Even though he finished second, Chubb was the most consistent workhorse on offense for the Browns all year long.
Chubb's Week 4 Breakout
When the season began, the Browns knew who their starter was going to be.
Chubb was coming off a 2018 season where he just missed the 1,000-yard mark by tallying 996 rushing yards and eight touchdowns.
Chubb began the season with respectable marks.
This included 17 carries for 75 yards against the Titans, 18 carries for 62 yards against the Jets, and 23 carries for 96 yards against the Rams.
It was the Week 4 matchup with the Ravens, which finished 2019 with the fifth-best rushing defense, that Browns' fans knew this would be a special year for Chubb.
Chubb led the Browns with 165 yards rushing, and three touchdowns, in a thrilling 40-25 win over the Ravens, who finished the season as the No. 1 seed in the AFC.
#Browns RB Nick Chubb had himself one hell of a day.

20 carries
165 yards (including an 88 yard rushing TD)
3 TDs

The Cleveland Browns sit in first place in the AFC North after their 40-25 victory over the #RavensFlock pic.twitter.com/0tCBvSpQzM

— #MovingTheChains (@_MTCPodcast) September 29, 2019
Three Daunting Opponents? No Problem
What makes Chubbs following performances even more special is that he did it against three future playoff teams.
Chubb showed that his game against the Ravens was no fluke.
Chubb boasted 87 yards on 16 carries against the 49ers, 122 yards on 20 carries against the Seahawks, and 131 yards on 20 carries against the Patriots.
The Browns lost all three of those games, but at least Chubb was a shining star during that time.
Players with 80+ rushing yards per game:

Nick Chubb: 105
Christian McCaffrey: 105
Dalvin Cook: 103
Leonard Fournette: 99
Josh Jacobs: 89
Ezekiel Elliott: 86
Marlon Mack: 84
Chris Carson: 82
Lamar Jackson: 82

🗣️ Don't bench Lamar vs. the Patriots (not even if there's a fire)

— Ian Hartitz (@Ihartitz) October 31, 2019
No Problem November
Chubb's usage did not dip once we reached the Thanksgiving month.
In each of the Browns' four games, Chubb carried the ball at least 20 times, including a season-high 27 times against the Steelers on November 14th.
What made that game even more special was that Chubb also added 92 yards on the ground just four days after the team played the Bills and Chubb rushed for 116 yards on 20 carries.
At the beginning of the month, Chubb rushed for 65 yards on 20 carries against the Broncos and finished the month 106 yards on 21 carries against the Dolphins.
By the end of November, Chubb was one of the most dependable players in fantasy football, which made him a season-long trade target.
Top 10 most searched players in the #DynastyTradeCalculator for the month of November:

10) Philip Lindsay
9) Dalvin Cook
8) Cooper Kupp
7) Courtland Sutton
6) Kenny Golladay
5) Kerryon Johnson
4) Amari Cooper
3) Nick Chubb
2) Aaron Jones
1) Le'Veon Bell

— Dynasty Trade Calculator™⚖️ (@FFDynastyTrades) November 30, 2018
During November, the Browns beat the Steelers, Bills, and Dolphins, but lost to the Broncos.
With a 5-6 record, the Browns were relevant and barely hanging onto their playoff aspirations.

Don't Stop December
The last two games of the season were forgettable for Chubb, but he started December the same way he had been producing all season.
The Browns dropped to 5-7 on the season after a loss to the Steelers on December 1st.
It was a forgettable game for Chubb, who finished with just 58 yards on 16 carries, while Steelers back Benny Snell Jr. outgained Chubb with 63 yards on the ground.
#Steelers
Devlin Hodges
Benny Snell Jr.
Tevin Jones
and
James Washington…

20 Points#Browns
Baker Mayfield
Odell Beckham Jr.
Jarvis Landry
Nick Chubb
and
Kareem Hunt…

13 Points#CLEvsPIT #PittsburghFinishedIt

— Browns Rally Possum (@Browns_Possum) December 2, 2019
Chubb recovered with two solid performances against the Bengals and Cardinals.
Chubb went back-to-back 100-yard games with 106 yards against the Bengals and 127 yards against the Cardinals.
Not The Ending He Wanted
Sitting at 6-8, the Browns were essentially eliminated from the playoffs, but Chubb was in contention for the NFL rushing title.
Chubb could only muster 45 yards against the Ravens on Week 16; however, Chubb still led Christian McCaffery and Derrick Henry by nearly 100 yards.
Chubb had the golden opportunity to wrap up the rushing title as the Browns took on the Bengals, who finished with the league's worst rushing defense.
Instead, Chubb finished the game with a season-low 13 carries for a season-low 41 yards.
A lot of that likely had to do with the play calling of their now-fired head coach.
Last two games if this season Nick Chubb and Kareem Hunt had their lowest number of touches this year. Chubb comes up less than 10 yards short of 1,500. #Browns

— Chris (@C_Keck) December 29, 2019
To make matters worse, Henry rushed for a season-high 211 yards to steal the rushing title.
Reason No. 1,001 to fire Freddie Kitchens: Nick Chubb entered the day 124 yards ahead of Derrick Henry for the rushing title. Chubb ends up 17 yards behind him. Chubb got 13 carries today, Henry 32. Bengals run defense was 32nd against the run AKA LAST…

— Evan Dennison (@EvanDennison1) December 30, 2019
Derrick Henry of the @Titans won the NFL rushing title despite being 124 yards behind Nick Chubb entering Week 17.

That's the 2nd-largest "comeback" to win the rushing title heading into the final week since the merger. In 1996, Barry Sanders was 139 yards behind Terrell Davis.

— Stats By STATS (@StatsBySTATS) December 30, 2019
The Best After Contact
Chubb was undeniably one of the best backs in the league, but what makes his overall total yardage even more special was how he did it.
Chubb led the league in rushing yards after contact, which included gaining 86 more yards than Henry.
Per SIS, Chris Carson produced 907 of his 1230 rushing yards after contact in 2019. That was 3rd in the NFL behind Nick Chubb (1053) and Derrick Henry (967).

Carson led the NFL in broken tackles with 67, on fewer carries than both Chubb and Henry

— Alistair Corp (@byAlistairCorp) December 31, 2019
Chubb had to gain extra yards because he was running behind one of the worst offensive lines in the league.
How good was Nick Chubb at getting everything possible out of each run this year? Despite a team run-blocking grade of 51.7 (27th), the #Browns earned the highest team rushing grade (88.8).

— PFF CLE Browns (@PFF_Browns) December 31, 2019
Feel like we all love broken tackles for RBs, but they don't really matter for fantasy.

Broken tackles vs. ppg rank (in parenthesis):

1. Nick Chubb: 32 broken tackles (#10)
2. Chris Carson: 28 (#13)
3. Alvin Kamara: 26 (#8)
4. Aaron Jones: 26 (#3)
5. Josh Jacobs: 26 (#16)

— Ryan (@FF_RyanB) December 28, 2019
Looking Back At The Loaded 2018 Running Back Class
It's hard to believe that three running backs were chosen ahead of Chubb in the 2018 NFL Draft.
Maybe, it's hard to believe that at least two were taken ahead of him, but in the end, the 2018 draft was loaded with current running back talent.
The No. 2 overall pick in the draft was Saquan Barkley out of Penn State, which shocked nobody when the Giants selected him.
The next two backs off the board were Rashaad Penny (Seahawks) out of San Diego State, and Chubb's old teammate at Georgia, Sony Michel, who was taken by the Patriots.
Chubb was the 35th overall pick in the draft, taken in the second round by the Browns.
Ronald Jones II (Buccaneers, Kerryon Johnson (Lions), Derrius Guice (Redskins), Royce Freeman (Broncos), Nyheim Hines (Colts), and Justin Jackson (Chargers) were all taken after Chubb at some point.
The draft also saw Ravens quarterback Lamar Jackson taken with the final first-round pick.
Jackson is the likely MVP of the season with 3,127 passing yards, 36 passing touchdowns, and a new league record for rushing yards by a quarterback with 1,206.
Chubb Is Still Second Best
In terms of the best overall running back from 2018, Barkley has Chubb beat for the time being.
Despite out rushing Barkley this season, Chubb does not bring the versatility on offense as Barkley does.
Plus, if Barkley did not miss three games due to injury, he could have been in contention for the rushing title.
Barkley finished the season with 1,003 rushing yards, six rushing touchdowns, 52 receptions, and 438 receiving yards.
Despite playing in three more games, Chubb finished with just 36 receptions for 278 yards.
Chubb was certainly the Browns offensive MVP, but he will never be a league contender due to his inability to be a pass-catching threat.
Give The Man Some Respect Though
Chubb entered the season on some fantasy boards as a borderline top-10 running back.
Some boards had the likes of Melvin Gordon, Le'Veon Bell, Kareem Hunt (despite the suspension), Alvin Kamara, Joe Mixon, and Chris Carson ahead of him.
He is now entering the 2020 season as a potential top-5 running back on some boards.
He was also one of the most worked men in the league.
Chubb finished third in the league for rushing attempts.
End of year rushing ATT stats (all positions):#TEN Derrick Henry, RB – 303#DAL Ezekiel Elliot, RB – 301#CLE Nick Chubb, RB – 298#CAR Christian McCaffrey, RB – 287#SEA Chris Carson, RB – 278#CIN Joe Mixon, RB tied with Carson at 278 but had a 93 more yards than Mixon.

— ZPD (@TheFBWiz) January 2, 2020
A Redzone Nightmare
Chubb's touchdown production was the lone blemish from the 2019 campaign, especially when you look at the final stats of Michel.
The Patriots back, who split time with James White, finished the season with seven rushing touchdowns to go along with his 912 rushing yards.
In overall rushing yards, the gap is pretty wide open as Chubb finished second in the league in rushing yards, while Michell was 17th.
On the flip side, Chubb was tied for ninth in the league for rushing touchdowns with the likes of Kenyan Drake, Raheem Mostert (seven of which came in the final six games), Marlon Mack, and Melvin Gordon (who played in 12 games).
With a poor offensive line, it also limited the run game within the red zone.
Chubb had an outstanding year on the ground, but he tied his rookie season's touchdown mark and statistically was one of the worst red-zone backs in the league.
The #Browns were, by far, the worst rushing team near the goal-line in 2019 thanks to Freddie Kitchens.

48% of the NFL's carries inside-the-4 went for TDs.

Nick Chubb scored a TD on 2-of-15 carries (13%) and had -14 rushing yards here.

— Hayden Winks (@HaydenWinks) December 31, 2019
In Comparison…
Chubb was the best looking running back from the 2018 draft class this season in comparison to production by his draft mates.
Barkley and Michel produced relatively good seasons, but the gap widens after that.
Jones II could be a darkhorse candidate to have a breakout 2020 season by finishing the year with 724 rushing yards after taking snaps away from Peyton Barber.
Gus Edwards, who was an undrafted free agent from the 2018 class, finished right behind Jones II with 711 rushing yards.
Guice was expected to produce for the Redskins the way Chubb is for the Browns, but Guice sustained a torn ACL in the first game of the 2018 season, and a torn meniscus in 2019.
Guice finished 2019 with just three games before being out since December 8th, finishing the year with just 245 yards.
Penny has not lived up to the first round hype either.
Penny finished the 2018 campaign with 419 yards and then dipped to 370 yards this past season due to an injury cutting his time short.
Penny sustained a torn ACL during Week 14 but will have a tough time ever becoming the Seahawks' primary back with Carson ahead of him.
All in all, Chubb is an integral part of the Browns' future success and has the respect of other coaches in the league.
#Ravens coach John Harbaugh said on conference call #Browns' Nick Chubb was his No. 1 RB in 2018 draft class and he thinks Chubb is proving him right. Harbaugh noted he excluded Saquon Barkley in his rankings b/c he knew Barkley would be drafted too early.

— Nate Ulrich (@ByNateUlrich) December 18, 2019
Looking Ahead To 2020
A full season of Chubb and Kareem Hunt could have its pros and cons.
Hunt was suspended for the first eight games of the season due to violating the league's personal conduct policy after a video of Hunt punching and kicking a woman in a hotel surfaced in February 2018.
Hunt was not primarily used in the rushing game when he came back but was utilized more on the receiving end.
Hunt is set to be a free agent and is reportedly wanting to come back to Cleveland.
#Browns RB Kareem Hunt: "Ain't no place like home and this is home for me so I would love to be in my hometown playing for a long time…maybe even finish my career. That would be something special. I'm just excited to see wherever it takes me, they're going to get a ballplayer."

— Keith Britton (@KeithBritton86) December 27, 2019
If Hunt came back, it's unknown how that would affect Chubb's numbers.
The Browns will need to determine who will run the offense since Freddie Kitchens was recently fired.
If Hunt were to come back, the combination of Chubb-Hunt could look like the 2017 New Orleans Saints.
During that season, the Saints boasted the best pair of running backs in the league in (at the time a rookie) Alvin Kamara and veteran Mark Ingram.
The team's offense was second in the league in yards-per-game thanks to huge contributions from Ingram and Kamara.
Ingram led the franchise with a career-high 1,124 rushing yards and a career-high 416 receiving yards.
Kamara added 728 yards on the ground and 826 receiving yards to go with 13 combined touchdowns.
In 2017, Hunt led the league in rushing with 1,327 rushing yards, and Chubb nearly led the league in rushing this season.
See the potential?
Final Thoughts
Despite finishing the year with a 6-10 record, the Browns have a bright future and that all starts with Chubb.
When looking back to 2016, 2017, and 2018, the names for Browns team MVPs are not on the same level as their star running back.
Chubb showed time and time again that he could be dependable for the Browns offense.
For the first time moving forward, the Browns know they have a true running back they can depend on, and that has not happened in years.
Think about the running backs the Browns have had since the new millennium.
That lists includes Peyton Hillis, Isaiah Crowell, Jamal Lewis, Trent Richardson, William Green, Jerome Harrison, and Duke Johnson Jr.
In just two seasons, Chubb is ranked 11th in franchise history for career rushing years.
It's not crazy to think that Chubb could go over the 1,500-yard mark next season, and if that happens, Chubb would become just the seventh Browns running back ever to have over 4,000 career rushing yards with the franchise.
When reviewing the Browns franchise, the Browns have struck out on running backs, which is why all the names with over 4,000 yards are not recent.
Those names include Marion Motley (1946-1953), Kevin Mack (1985-1993), Greg Pruitt (1973-1981), Mike Pruitt, (1976-1984), Leroy Kelly (1964-1973), and Jim Brown (1957-1965).
Finally, the Browns have a true franchise running back.
Now, his future rests in the hands of the next head coach that is employed by the Browns, and history has shown that the Browns have swung and missed on those attempts.