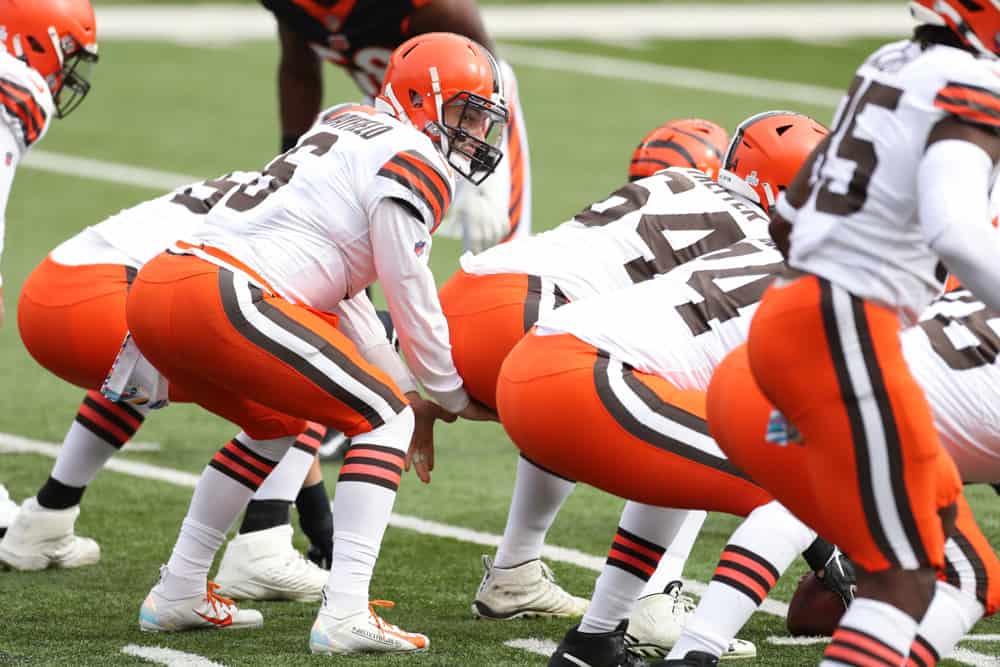 The Cleveland Browns open up the 2021 preseason on the road against the Jacksonville Jaguars.
While we do not know how much the starters will be involved in this game, Coach Stefanski did confirm that quarterback Baker Mayfield will not be playing.
#Browns Kevin Stefanski said Baker Mayfield will not play in the first preseason game against the Jaguars Saturday.

— Camryn Justice (@camijustice) August 11, 2021
NFL fans will tune in to see the first overall pick of the 2021 draft, Jaguars quarterback Trevor Lawrence, take his first professional snap.
Trevor Lawrence seems to be doing alright
pic.twitter.com/1M8jJSDpFa

— Bet The Pigskin (@betthepigskin) August 10, 2021
Here are the details for watching, listening, and streaming the game.
How To Watch Browns Vs Jaguars
The game airs nationally on NFL Network at 7:00 pm on Saturday, August 14, 2021.
Commentators for the game will be Brian Sexton, Bucky Brooks, and Brent Martineau.
Within the Cleveland, Ohio viewing area, viewers can tune into News 5 at the same time to hear Tom McCarthy, Joe Thomas, and Nathan Zegura cover the game.
How To Listen to Browns Vs Jaguars
The four flagship stations for Browns football are:
Note: 97.1 The Fan is a new addition for the 2021 NFL season.
On satellite radio, the Sirius XM Browns broadcast station is Channel 388.
Outside of Cleveland, the Browns radio affiliates are:
Akron
WAKR – 1590 AM
Akron
WONE – 97.5 FM
Canton
WHBC-AM – 1480 AM
Canton
WHBC-FM – 94.1 FM
Columbus
WTOH – 98.9 FM
Corry (Pa.)
WWCB – 1370 AM
Dayton
WHIO-AM – 1290 AM
Dayton
WHIO-FM – 95.7 FM
Dayton
WZLR – 95.3 FM
Dover
WJER – 1450 AM
Erie (Pa.)
WPSE-AM – 1450 AM
Erie (Pa.)
WPSE-FM – 107.1 FM
Fostoria
WFOB – 1430 AM
Geneva
WKKY – 104.7 FM
Jamestown (N.Y.)
WQFX – 103.1 FM
Lima
WWSR – 93.1 FM
Mansfield
WRGM – 1440 AM
Mansfield
WVNO-FM – 97.3 FM
Marietta
WJAW – 100.9 FM
Norman (Okla.)
KREF – 1400 AM
Sandusky
WMJK – 100.9 FM
Tulsa (Okla.)
KAKC – 1300 AM
Uhrichsville
WBTC-AM – 1540 AM
Uhrichsville
WBTC-FM – 101.9 FM
Wooster
WQKT – 104.5 FM
Youngstown
WKST – 1200 AM
How To Live Stream Browns vs Jaguars
Those interested in live streaming the game can access it on the following platforms:
How the Browns fare in the preseason is not an indicator of the regular season, but the absence of preseason games in 2020 has fans clamoring for preseason action in 2021.
Regardless of who plays or for how long, it will be fun to watch the 2021 Browns in action for the first time this year.