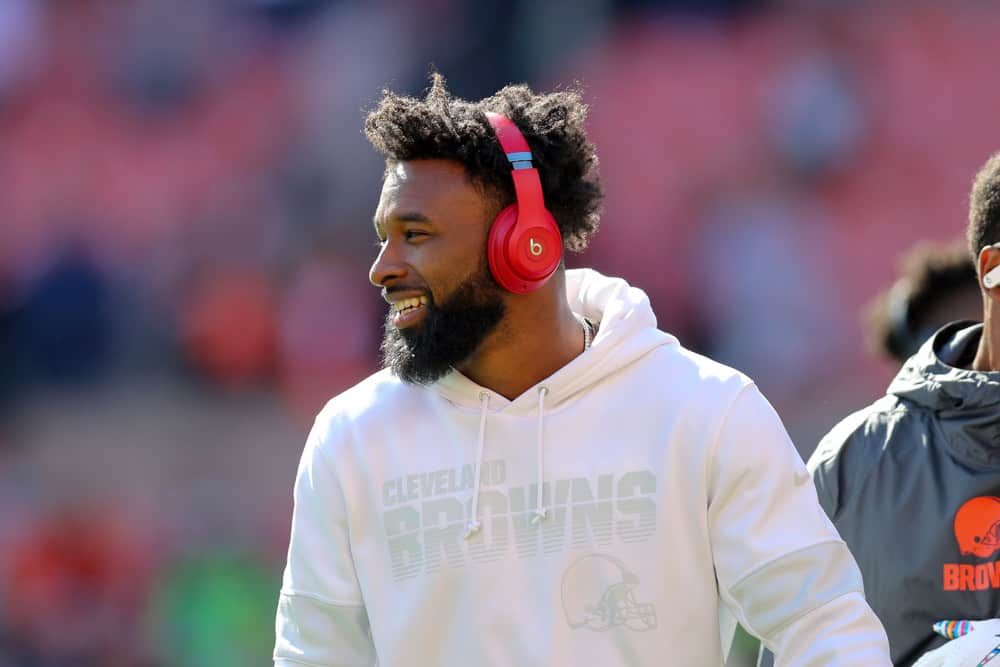 On Sunday, Jarvis Landry is looking like he is on the positive side of questionable as he is planning to debut new Mac Miller-themed cleats:
.@God_Son80's custom Mac Miller cleats for the Steelers game 🙏 @brkicks @brgridiron

(via @MACHE275) pic.twitter.com/l9JgMDUMNn

— Bleacher Report (@BleacherReport) October 17, 2020

Dan "Mache" Gamache made these tremendous cleats that Landry plans on wearing during this week's contest.
Rapper, singer-songwriter, and record producer Mac Miller died tragically in 2018 at the young age of 26.
Miller was born in Pittsburgh, Pennsylvania on January 19, 1992.
He was raised in Pittsburgh as well, which understandably made him a Pittsburgh Steelers fan.
Although the Cleveland Browns are bitter rivals with the Steelers, Landry is paying tribute to the fallen rapper during Week 6.
In 2018, the Steelers paid tribute to Miller, and running back James Conner debuted his own Mac Miller cleats.
Conner accumulated 65 yards from scrimmage and a touchdown in Pittsburgh's loss to the Kansas City Chiefs that day.
Will Jarvis Landry Actually Be Able to Debut the Cleats on the Field Sunday?
The Browns and Steelers are facing off in an early-season matchup that could determine the fate of the AFC North in 2020.
Fortunately, a report came out Saturday night stating that Landry is expected to play:
Couple of receiver updates:

*Jarvis Landry (questionable, ribs/hip) expected to play vs. Steelers, per source. Landry hasn't missed a game in six-plus NFL seasons.

*Breshad Perriman (questionable, ankle) expected to play vs. Dolphins, per source. Jets need playmaking help.

— Jeremy Fowler (@JFowlerESPN) October 17, 2020
Landry is hoping that the new cleats can get him into a groove at Heinz Field.
Last year, the Steelers defeated the Browns, 20-13, on December 1 in Pittsburgh.
The Week 13 matchup did not include Myles Garrett though because he was serving his season-ending suspension.
In the loss, Landry was by far the Browns' leading receiver, but he caught only six of his 11 targets for 76 yards.
Cleveland's receiving corps did not haul in a touchdown that game.
The team's lone endzone score came on a 15-yard pass from Baker Mayfield to Kareem Hunt in the second quarter.
If Mayfield can keep the interceptions to a minimum, the Browns can be successful.
In his career, Cleveland is 0-5 when he throws more than two interceptions.
Fortunately for Browns fans, Mayfield had just one interception against the Steelers in 2019.
In Mayfield's rookie season, he faced Pittsburgh once and was intercepted just one time.
Can Landry Catch His First Touchdown of the Season in Week 6?
Landry threw for a touchdown in Week 4's victory at Dallas.
However, he has yet to catch a score this season.
In 2019, Landry set a new career-high with 1,174 receiving yards.
He also brought in six touchdowns last year, which ranked second for his career.
As Landry looks to increase his counting statistics, his season thus far has been successful in terms of catch percentage.
The former Miami Dolphin has caught 21 of his 28 targets this season.
If he keeps at this pace, Landry will be in the end zone very soon.
In addition, in 2019, Landry's top three receiving games (167, 148, and 97 receiving yards) all produced victories.
Landry has surpassed the 85-receiving yard mark once this season, and that came in Week 5.
His season-best 88 receiving yards came on just four receptions in the victory against the Indianapolis Colts.
However, he caught just four of his nine targets.
The Browns hope that there will be more efficiency between Mayfield and Landry in his new cleats on Sunday.