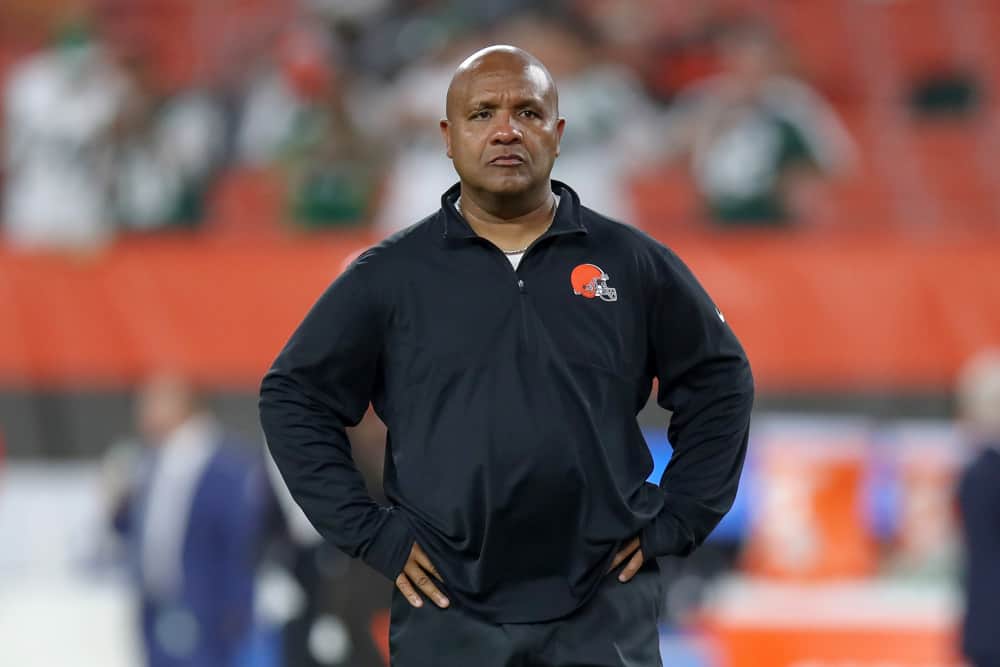 The Cleveland Browns struggled heavily under former head coach Hue Jackson.
Jackson went 3-36-1 before being let go by the organization mid-way through the 2018 season.
One of the biggest issues during that time was the dispute between Jackson and quarterback Baker Mayfield
Neither Jackson nor Mayfield saw eye-to-eye while the two were together in Cleveland.
However, Jackson says that he believes in Mayfield's ability to be a good NFL quarterback.
Appearing on ESPN Radio 850 in Cleveland (h/t ESPN's Jake Trotter), Jackson said his issues with Mayfield had nothing to do with his talent as a player.
"I still think this guy is going to be a really good player. … The player, I've never had a problem with the player," he said.
Hue Jackson never had a problem with Baker Mayfield as a player. pic.twitter.com/JEEOst8V83

— Everything Cleveland (@EverythingCLE_) June 5, 2020
Jackson did not appear to be the biggest fan of Mayfield while he was coaching the Browns.
However, Jackson admits that his issues with Mayfield have nothing to do with his talent as a player.
Mayfield vs Jackson
Jackson believes that the reason he was fired by the Browns was because of the on-field struggles by Mayfield.
It is quite surprising that Jackson would blame Mayfield after Jackson failed to win more than three games during his time as head coach.
Most organizations would not give a head coach as long as the Browns gave Jackson.
After Jackson was let go by the Browns, it didn't take him long to find another job in the league.
He almost immediately took a special assistant job with the Cincinnati Bengals.
Mayfield was not a fan of Jackson taking a job with their division rival after leaving Cleveland.
#Browns Baker Mayfield admitted he didn't like Hue Jackson defecting to the #Bengals so soon. Gave him a chilly reception pic.twitter.com/hF480gMc7N

— Mary Kay Cabot (@MaryKayCabot) November 25, 2018
Mayfield called Jackson "fake" and mentioned that he wanted revenge against Jackson when the Browns face off against the Bengals.
"I'm not gonna lie to you and say that the first time I played Hue did not feel good. It's human nature to want to get revenge," said Mayfield.
Mayfield has never been shy about sharing his feelings, but maybe saying all of that to the media wasn't the best idea.
Nonetheless, it sounds like Jackson is not holding any hard feelings against Mayfield.
Mayfield's Performance After Jackson's Departure
The 25-year-old quarterback had a record-setting rookie campaign, but struggled to find consistency during his sophomore season.
Mayfield threw for 3,725 passing yards with 27 touchdowns and 14 interceptions during his rookie year.
His rookie season was under Jackson and Gregg Williams as head coach.
Williams was able to go 5-3 with Cleveland, but the organization decided to hire Freddie Kitchens as the full-time head coach after the season.
That decision ended in disaster for the Browns and they probably wish they kept Williams as the head coach.
Browns have fired head coach Freddie Kitchens, per @AdamSchefter, @mortreport pic.twitter.com/bBoE5MFEEc

— Bleacher Report (@BleacherReport) December 30, 2019
Mayfield threw for 3,827 passing yards with 22 touchdowns and 21 interceptions under Kitchens as coach.
Those 21 interceptions were the second-most in the league last season.
Part of the blame falls on Mayfield, but it is tough for him to succeed when he has a new coach seemingly every season.
Hopefully, Mayfield will be able to bounce back under new head coach Kevin Stefanski.
He was the offensive coordinator for the Minnesota Vikings last season and was able to help them get into the playoffs.
Jackson didn't do a lot of things right during his time as the Browns head coach.
However, he is hopefully right about Mayfield being a good player and having the talent to be a reliable NFL quarterback.
The Browns have put Mayfield in some toxic situations, but Stefanski seems like the answer the organization has been waiting for all this time.